By: Vaibhav Bhargava, Executive Sous Chef, Hotel Sheraton, New Delhi
About
A fusion Japanese-Chinese preparation where black beans provide the predominant flavor topped by a delightful complexity rendered by fresh mango and wasabi.
---
I came across this exciting dish paired with Mud House Pinot Noir wine from New Zealand at a wine dinner organized jointly by Sheraton Hotel New Delhi and Sula Selections- the importers of the wine. It was one of those WOW pairings that one doesn't come across so often. No wonder it compelled me to request  the  chef for the recipe and share it  here. 
---
Ingredients
600 gms jumbo prawns
20 gms black beans
10 gms ginger
10 gms garlic
60 gms wasabi mayonnaise
60 gms potato starch
100 gms ripe mango
100 gms mango purée
10 gms table salt
5 gms castor sugar
20 gms seasoning powder
100 gms unsalted butter
40 ml oil
10 gms crushed black pepper
5 gms chilli flake
100 gms flour
3 egg whites
40 ml cooking sake
10 gms fresh red chilli
60 gms dehydrated pineapple
For the crumble
200 gms panko
200 gms tempura flakes
20 gms seven spice
Preparation
De-shell and de-vein the prawns and marinate them with salt, flour and egg white.
Dab the prawns in potato starch and deep fry until crisp. Remove and drain the excess oil on kitchen paper.
Sauté garlic with oil and butter till golden brown. Add chopped fresh red chillies and red chilli flakes. Add  precooked black beans and cook till the flavors ooze out.
Pour in the cooking sake and simmer on low heat. Add the chopped mango and the mango purée and season the sauce. Once the sauce is ready, add the fried prawns to it and toss. Finish with wasabi mayonnaise. Remove from heat.
Place the crumble at the base and put the prawns on top. Garnish with dehydrated pineapple. Serve immediately.
For the crumble:
Sauté the panko in a dry pan till golden colour. Add tempura flakes, seven spice and mix together.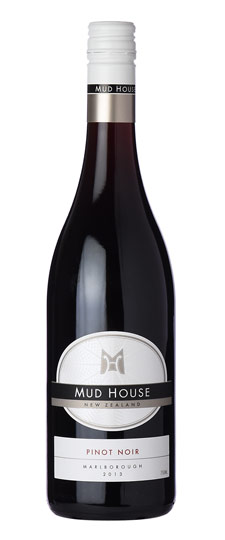 Wine Pairing: Mud House Pinot Noir 2013 (retails at Rs. 3100 in New Delhi)
Country: New Zealand
Tasting notes: From the Marlborough region of NZ famous for its Pinot Noir wines, this is a deep ruby coloured wine with firm structure and round tannins. The wine's expressive nose of red berries, spice  and fallen leaves was followed by a luscious palate of ripe cherries,raspberries, caramel and green spice. The wine fit  snugly around the mango and black bean prawns, complementing its bitter-sweet caramelised flavours and a savoury character.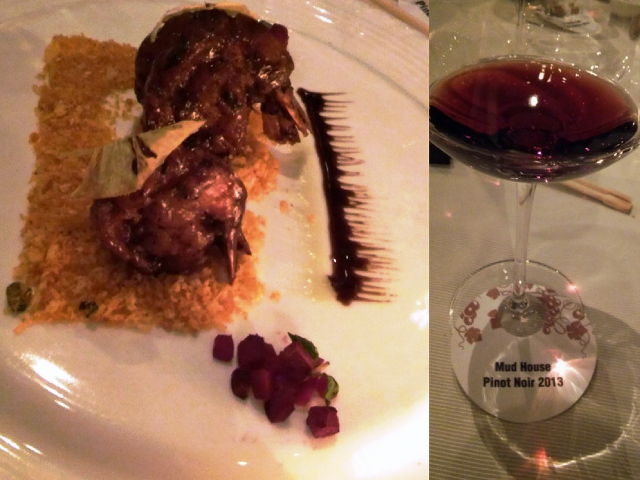 ---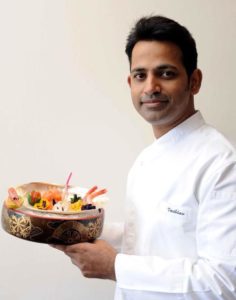 Chef Vaibhav Bhargava is currently the Executive Sous Chef at Sheraton Hotel New Delhi, where he spearheads the hotel's Pan Asian restaurant.  His expertise in Oriental cuisine has been the foremost enabling factor in giving an innovative and contemporary touch to the classic dishes on their menu.
Chef Vaibhav is a proud member of ICF (Indian Culinary Forum) and WACS (World Association of Chef's Societies).  His glorious career includes training at NOMA restaurant Denmark, two Michelin star restaurants, Pellegrino (best restaurant in world 2011/2012) and Zuma (Abu Dhabi).