Winners often do a high five to celebrate victory. India's biggest wine producer Sula Vineyards just did that with wine aficionados in its 10th edition that concluded recently in the country's wine capital Nashik. Located 180 kms from Mumbai, Sula is the crowning jewel of the Nashik winescape which is dotted with more than 60 wineries and often eulogized as the "Napa of India".
So what was #SulaFest2017? In the digital times of hashtagging pardon my language insolence in the quest of rendering the essence of a festival that India doesn't experience too often. An event that  connected with thousands of wine and music aficionados who eventually entered its portals to discover a world of festive revelry centered around wine.
The genesis
Started in 2008, SulaFest has become the hallmark of wine celebration in India. Being my first time at the fest, I scoured information on its previous versions and discovered many stages of its evolution. From a day long concert, it has graduated into two, and in the latest edition, 3 days of celebration. Arenas have been added, numbers swelled, infrastructure augmented and diversity of offerings expanded over all these years to keep in tune with popular sentiment. No wonder that the fest has been selling out since the last five years including the just concluded version. Let us take a look at the "High Five" of SulaFest 2017.
#1 Music- the soul of the fest
It is widely acknowledged that wine is more of a cultural drink. What better way then, to have music at the epicenter of a wine fiesta, that too in the midst of vineyards. Music has been an inseparable part of SulaFest from the outset, spanning genres like World Fusion, Electro Acoustic, Techno, House, Pop, Electronica, Electro-Swing, Disco, Garage, Rock, Percussion, Indie, Reggae, Afro, Irish and Bass.
At SulaFest 2017 simultaneously conducted musical dos were rostered between three arenas – Amphitheatre, Atmasphere and Tropical Stage. The arrangement was quite like an open air multiplex  where preferred performances could be enjoyed at will, with unhindered movement.
To mark its 10th anniversary, SulaFest decided to promote homegrown talent, dedicating the first day of the festival to Indian artists. Nucleya, The Raghu Dixit Project and Indian Ocean were the most notable performers, while several others got a rousing reception from the audience as well.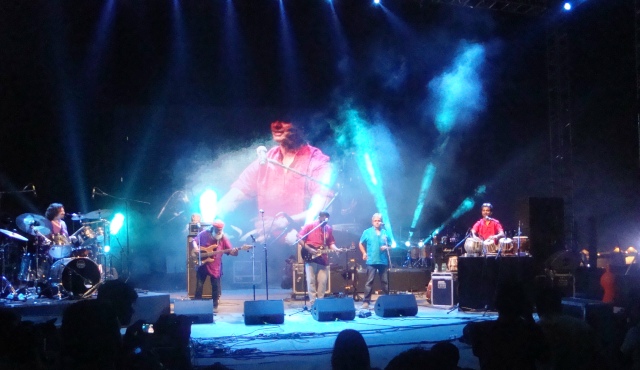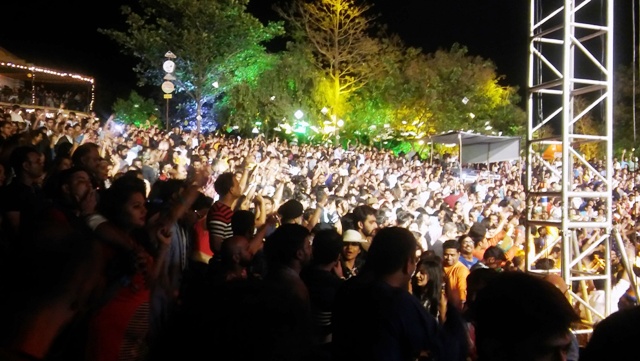 On Days 2 and 3 reputed international bands kept the event cruising. Headliner bands were scheduled towards the end of each day, providing a crescendo to daylong performances. UK band Bloc Party delivered their first ever performance in India and proved why they are so sought after. Been around for 16 years and having sold 3 million albums worldwide the band performed several chartbusters including the ones from their recently released album 'Hymns'.
The culminating performance at SulaFest 2017 was delivered by Israeli band Infected Mushroom with its pulsating Electronica that has earned it millions of fans worldwide. Though I had privileged access to the VIP gallery that offered the best possible view, I quickly chose to melt into the amphitheatre for an unparalleled feel of the live performances.
---
Seeking to establish the connect between wine and music in such fests, I took the opportunity to converse with the members of Indian Ocean and popped the question- does music further the wine cause or is it the other way round? Prompt came the response- while music undoubtedly had an appeal to one and all, there was also an opportunity for young artists to perform in front of an enthusiastic gathering. Hence it was a win-win situation for both.
---
#2 Beverages Democracy
Some prefer wine, others spirits, yet others non alcoholic beverages. SulaFest 2017 had something for all. The event demonstrated a healthy coexistence between Sula and non Sula brands where you could find interesting cocktails with Jack Daniels, Aperol, Jägermeister, and many others, apart of course a fully loaded Sula portfolio. A special section called Globe in the Glass offered Sula's imported wine and spirits brands. Choices came aplenty- to say in the least.
There were also some interesting non alcoholic inclusions. A range of cold pressed juices from Raw Pressery offered rejuvenating hydration and a purportedly "one shot remedy" called Dot Shot made of turmeric extract promised to ward off hangover blues the next day.
Exclusively tasted at Sula Fest 2017- a limited production (36 cases) Chardonnay Sparkling Wine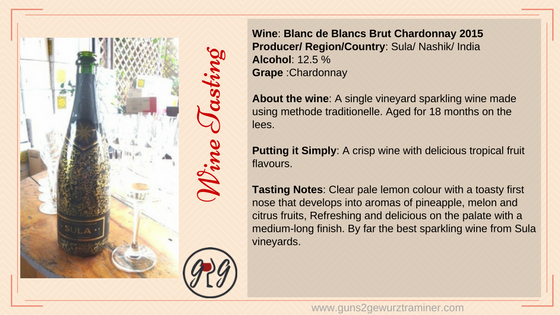 #3 Divertissements
If SulaFest was only about drinking and dancing, it could have been a drag after sometime. A carnival of such proportions must have activities capable of sustaining consumer interest across demographic profiles. Organized run, yoga classes, wine tours and tastings, grape stomping and a variety of other activities kept people engaged in alignment to their interests. For those in love with vineyard ambience (most of us are!) the option of camping in a 'Tent City' amidst expansive vineyards was a great option.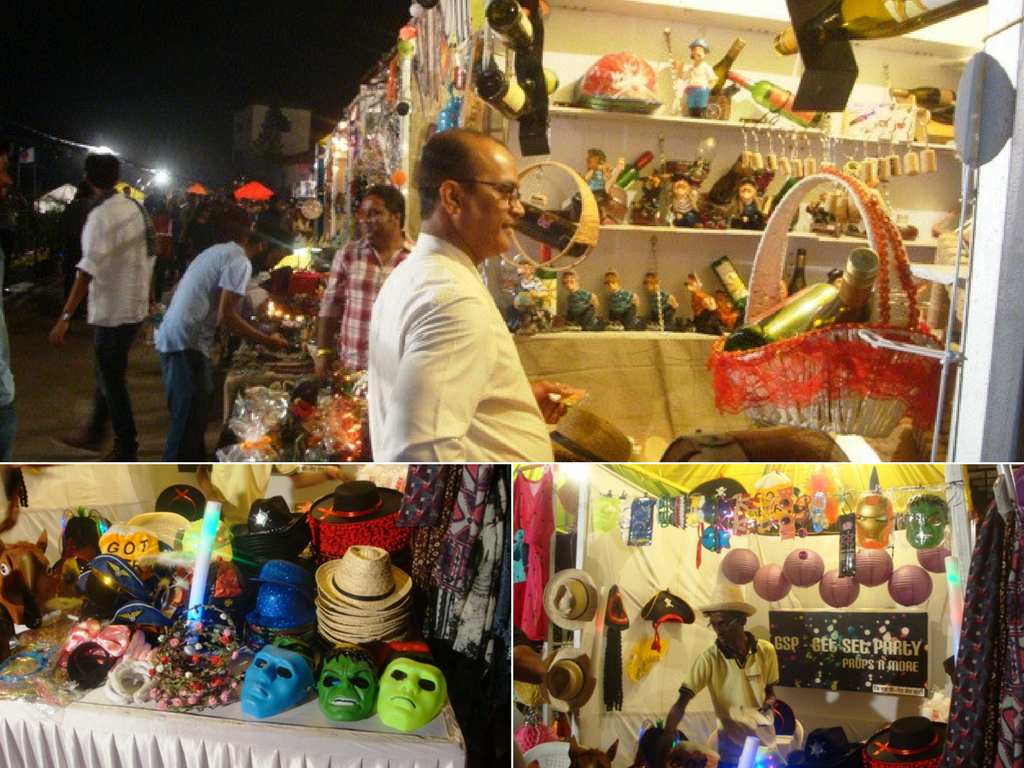 SulaFest Bazaar – a shopping street of the kind you would commonly find in hill stations, had curios unlikely to be found elsewhere. Wine accessories, accoutrements, SulaFest merchandise, foot massages, tarot reading, tattoo station and caricature studio made the bazaar lively and colourful.
#4 Foodie's Paradise
A wine snob (okay, a die hard vino too) would often look to food and wine pairings as a matter of habit. The fest had sufficient depth to provide such avenues. Still better, it was fantastically oriented towards majority of people who couldn't care about pairings as long as they enjoyed their food and drink choices.
Food options from Bombay Food Truck, Busago, Mainland China, Maroosh and several others presented a wide choice of cuisines to try with the vast range of drinks options. My favourite was the "Coastal Kitchen" located near the tropical stage that served fresh and authentic seafood typical to the Konkan area of south western India. Their Prawn Koliwada, Surmai Fry, Pomfret Fry, Fish Curry with Rice had some ready beverage companions from the nearby Sula bar.
#5 Organization and Administration
Finally it was the efficient management of the festival that sewed up its individual components aesthetically together. Most appreciated by revelers was that there was no unruliness despite the mammoth crowds inside the venue. Starting from the ticket counters, the flow of attendees was managed professionally yet unobtrusively. Adherence to event timings made sure that there was no confusion that could lead to chaos. Availability of shuttles between parking areas and the venue alleviated  traffic travails to a large extent. However, the last mile connectivity to the venue was an issue due to overcrowding especially towards  the day-end exodus. Something that can be fine tuned by the organizers in the next versions.
The euphoria generated by SulaFest 2017 is bound to last until then.
SulaFest Random Images