Product: Eclipse
Category: Whisky
Producer: Artisan Spirits (A wholly owned subsidiary of Sula Vineyards)
ABV: 42.8%
Bottle size: 750 ml
Price ex Delhi: Rs. 1250.00
A couple of years back, a vodka distilled from grapes was introduced in the global market. It stirred the purists' hornet's nest . How could a vodka be made from grapes? Many debates and representations later, the concerned tipple continues to retain its nomenclature as well as a dedicated fan following.
India's largest wine producer Sula, has charted a similar course with its first ever whisky called Eclipse. Launched in Jan 2017, the whisky goes against the generally accepted norm for a whisky as a grain based product. Eclipse contains a certain percentage of grape spirit too, which makes it a unique proposition.
My first encounter with Eclipse was on a challenging note- at a blind tasting with nearly all genres of  world whiskies. There was a particular whisky  that had most of us flummoxed. It appeared close to a light and fruity lowland malt albeit with a peaty finish. Being something new on the palate, we could only hazard a considered guess-  in my case  a particular Speyside whisky matured in two types of barrels.
Needless to say, I felt quite stupid when the shrouds were removed to disclose Eclipse.  The consolation however was that nobody else could get within  smelling distance (pun intended) of Eclipse. And better, I landed a prize in the tasting, thanks to some old favourite brands that I could discern correctly.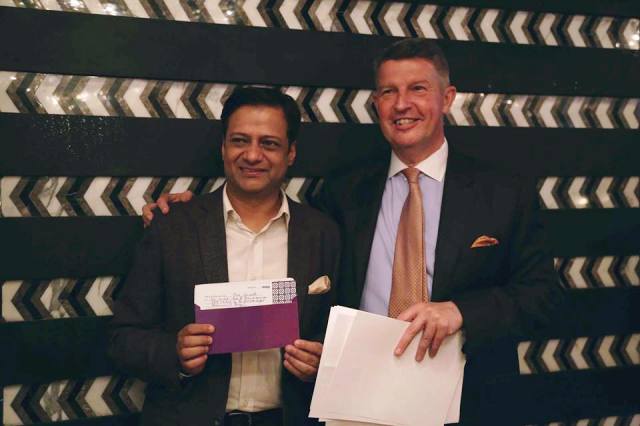 What's in a Name?
So what is Eclipse all about? In the words of Yogesh (Yogie) Mathur, VP Manufacturing at Sula Vineyards, who is also the Master Blender of the whisky, the name itself implies "auspicious beginnings" that a solar eclipse symbolizes. According to Yogie, Eclipse is modern yet traditional, the twist of grape spirit  imparting it a mellow and smooth experience.
The blend of Eclipse constitutes matured grape spirit, grain spirit, malt scotch (I am told that it is from Loch Lomond distillery in the Scottish Western Highlands) and 4.5 years peated malt spirit from a top producer in India. The whisky is aged in Limousin oak barrels (Cognac casks) after its assemblage- a discreet advantage of Sula's association with renowned French group Rémy Cointreau .
The Habillage
The  somewhat squat, rounded bottle of Eclipse has a petite form factor which makes it convenient to hold.  A glossy label and a high resolution plush motif in the front imparts it a luxurious feel. But the real surprise comes as you try to unscrew the bottle cap like a regular whisky bottle. Eclipse's  Fabrizio closure telescopes out, which means that you don't have to remove the cap to pour out the whisky. The  sideways pouring aperture gives a similar output like other standard pourers,  surely a welcome detail for proponents of free pour.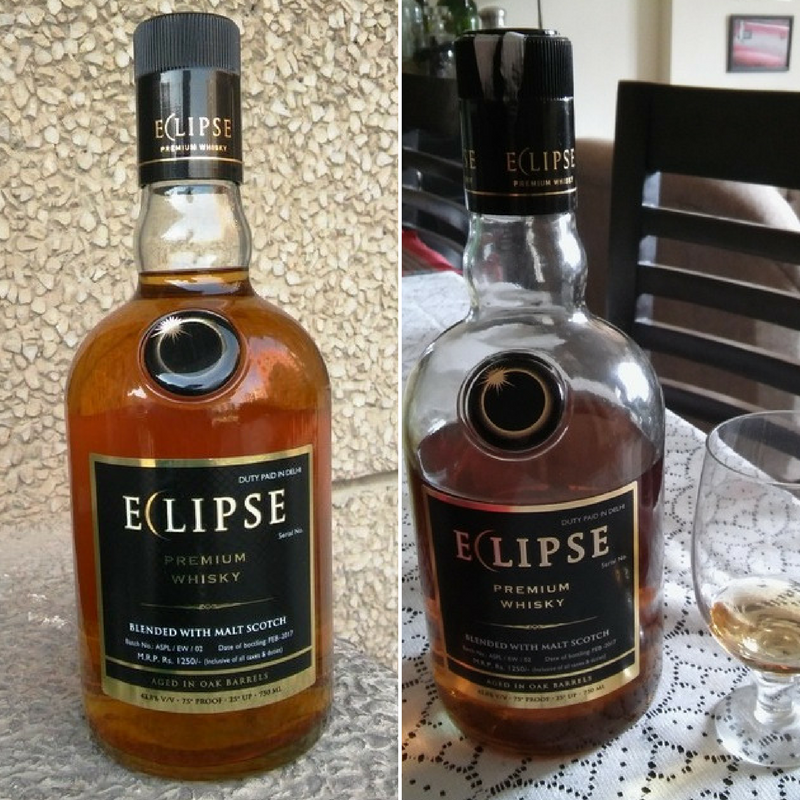 According to Yogie, they used the Fabrizio closure with the environmental concern of eliminating plastic waste, as the said closure can be removed in its entirety at the time of recycling the bottle. A noble thought indeed!
The spoiler though, is the ubiquitous  Excise  sticker, the remnants of which refuse to budge even after the most earnest peeling attempt. The excise guys have done their job well, but being unmindful of the aesthetics.
Initially starting at 5000 cases, Sula is targeting 15000 cases of Eclipse this year with the possibility of commencing exports in the near future. The whisky is placed in the same segment as  Teachers Highland Cream, 100 Pipers  and VAT 69- brands that are already in the firmament. But there is no dearth of consumers wanting to explore and that is where Eclipse can score a point, something which is being validated by its accelerating sales.
Eclipse is presently available in Delhi, Goa, Andhra Pradesh and Telangana with more Indian states to follow.
Tasting notes
Colour: Amber-gold
Nose: Lemon grass, orange peel, wild flowers, vanilla
Palate: A distinctly malty first impression with a hint of sweetness, in all likelihood due to the grape component. The flavor profile develops into citrus fruits and sweet spice, followed by a peatish finish.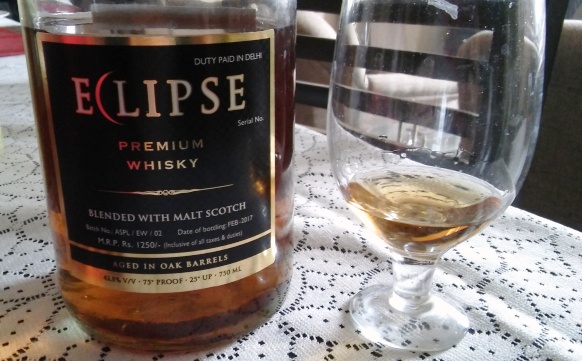 The Verdict
Eclipse is likely to appeal to those who enjoy light and  fruit forward whiskies without particularly overwhelming attributes such as peat, iodine et al. Its flavour profile  is inclined towards malt whiskies from the Scottish lowlands and its smoothness emphasizes its premium demeanour.
My recommendation to savour Eclipse would be  in a 1:2 ratio  with chilled water or with 5-6 ice cubes gradually diluting the tipple.
But try it, you must!
| | |
| --- | --- |
| Packaging: | (4.0 / 5) |
| Smoothness: | (4.0 / 5) |
| Complexity: | (3.5 / 5) |
| Value For Money: | (3.5 / 5) |
| Overall: | (3.7 / 5) |