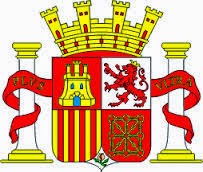 This October 9th as I attended the reception hosted by H.E. Gustavo de Aristegui, Ambassador of Spain in India to celebrate Spain's national day that falls on 12 Oct, it was quite logical to expect some good Spanish wines . Amidst the celebrations as the guests stood in attention to the reverberating Indian and Spanish national anthems rendered by the synchronous Indian Navy band, it was also a Guns to Gewürztraminer moment for me since the Spanish national day also happens to be their Armed Forces day! Wine being an important part of the Spanish culture, I thought it was a good occasion to refresh my knowledge on the major Spanish grape varietals that I am sharing in this post.
Background
The third largest country in Europe, Spain is amongst the top three wine producing nations of the world, the other two being France and Italy. Wines in Spain are made largely from native grape varietals but international varietals like Cabernet Sauvignon, Merlot, Sauvignon Blanc, Chardonnay too are being increasingly planted.
Red Varietals
Tempranillo (Tempra-neeyo)
Also called Tinto Fino, this thick skinned grape varietal produces age worthy wines quite close in style to Cabernet Sauvignon. It is the highest planted red varietal in Spain, particularly so in the famous Rioja region. Wines from Tempranillo have dark berries and spice characteristics . You may like to keep these wines few years from the date of bottling before uncorking them!
Garnacha
Dark coloured and thinner skinned than Tempranillo, this varietal produces luscious and juicy wines with red fruit flavours that can easily classify it in the gourmet league. It is the second most planted red grape varietal of Spain and is the same as Grenache of France. It also has a refreshing and flavourful white version called Garnacha Blanca.
Monastrell
Also known as Mourvèdre in France and Mataro in Australia, this varietal originated in Spain but is lesser planted in the country of its origin. It has concentrated sugars due to its small berries and hence a potentially high alcohol content and good level of tannins. The flavours are dark fruits with savoury characteristics and it is used mostly in blends with Garnacha.
Cariñena (Kari-nyena)
Also known as Carignan in France , Cariñena has been considered a difficult to cultivate varietal for long due to its susceptibility to various vine afflictions but is being revived on both sides of Pyrenees mountain ranges in France and Spain. It is used mostly in blends but single varietal wines are also becoming popular of late.
White Varietals
Parellada (Paa-rey-yaada)
Together with the following two varietals (Macabeo and Xarel-lo) this grape varietal from Catalunya region is well known for producing the Spanish sparkling wine Cava. It is also used for single varietal still wines or blended with Chardonnay,Sauvignon Blanc and Garnacha Blanca. On it's own it has floral as well as fruity flavours with decent acidity but if not made properly, could turn out insipid easily.
Macabeo(Maka-beeyo)
A Catalan grape varietal again, it is intriguingly called by another name (Viura) in the Rioja region of Spain. The wines from this grape have floral characteristics but the acidity level has to be carefully handled like in case of Parellada. The USP of this varietal is that it can tolerate the vagaries of weather rather well and hence is widely planted in Northern Spain. Used mostly in blends, notably so with its Cava compatriots.
Xarel-lo (Sha-rello)
One of the powerful white varietals, it is known to give Cava it's citrus and fruity overtones. As a still wine too, it has vegetal to stone fruit flavours and good acidity/sweetness balance.
Albarino
Cultivated mostly in the Rias Baixas region in Spain, this varietal is known as Alvarinho in Portugal which lies south of this Spanish region. The grape is thick skinned and produces aromatic wines with good acidity levels and a slight element of bitterness you would probably encounter in a Viognier.
Moscatel
One of the oldest grape varieties, it is also known as Muscat in France and Moscato in Italy. It has further sub varieties and in Spain, Moscatel de Alejandria is widely cultivated. The wines from this varietal are aromatic and with good alcohol potential. Moscatel is largely used for sweet and fortified wines.
Palomino
Connoisseurs of Sherry would need no introduction to this varietal. Cultivated mostly in the Andalucia region in south-west Spain where the iconic town of Jerez is located, this grape varietal has low acidity and sugars that make it suitable for sherry production. Palomino is also popular as a table grape.
Pedro Ximinez (Pedro Shiminez)
A thin skinned white grape varietal which is traditionally dried in the sun to produce sweet and syrupy wines that are mostly used for sweetening the fortified blends. Also known as PX, this varietal is native to the Andalucian region.
Wines at Spanish National Day celebrations 2014
White
Torres Viña Sol– Parellada
Torres San Valentín – Parellada and Garnacha Blanca
Torres Viña Esmeralda – Moscatel and Gewürztraminer
Red
Torres Mas Rabell – Garnacha and Cariñena
Torres Celeste– Tempranillo
Torres Coronas– Tempranillo, Cabernet Sauvignon
Sweet
Torres Floralis Moscatel Oro– Muscat de Alejandria