With the passage of time, Austrian wines are gaining more and more recognition in newer wine countries like India. But there is still a long way to go. Despite putting earnest efforts, Austrian wines have so far had limited success in  India. One Austrian winery however, has defied such trends, being successfully present in India for around 10 years. I am talking of Schloss Gobelsburg, one of Austria's oldest wineries whose wines are being imported in the country through their importers Aspri Spirits Pvt Ltd.

A First Hand Perspective
Recently, Michael Moosbrugger, CEO and winemaker of Schloss Gobelsburg arrived in India for his routine connect with the Indian market. I was invited to attend his deep dive master class in New Delhi which covered his wines as well as the generic region where they come from. Before the master class, I stole some moments for a quick chat with Michael. The first encouraging sign was his positive perception of the Indian market:
Being a winemaker, I have learnt to be a little patient before I can reap dividends for my effort. If I am planting a vineyard today, I'm not doing it for myself anymore. It will be for the next generation. In the same sense, we have to be patient with developing markets like India. It is only then we can count the benefits
These are surely words of encouragement for his fellow winemakers back home. Michael further explained that over the past two decades, wine lovers and sommeliers  have been more occupied with learning about French and similar appellations, having little time for other regions.  He believes that people are now starting to get interested in things outside these appellations.
I think that in the next 5-10 years, we will see more and more interest in Austrian wines as well as wines from other reputed regions
The Rewards of Passion
Coming from a hotel family in Lech/ Arlberg, Michael worked for a few years in the hotel business before transitioning into winemaking- his field of passion. No wonder then, that his career path has been full of achievements, including the following:
---
2006– Winemaker of the year by the wine magazine Falstaff.
2007– Golden Glass by the Swedish Food & Wine magazines Allt om Mat' and 'Allt om Vin' (a first for an Austrian winery).
2009, 2010, 2011, 2013 & 2014– Listing in Top 100 Wineries of the year by Wine and Spirits magazine.
2009– Champion of Value award by the Wine & Spirits Magazine.
---
The Master Class
A personally conducted master class by a winemaker often tells you what books and internet are not capable-of.  Michael's master class proved exactly that, sharpening the focus on his famed estate by bringing out many knowledge bytes.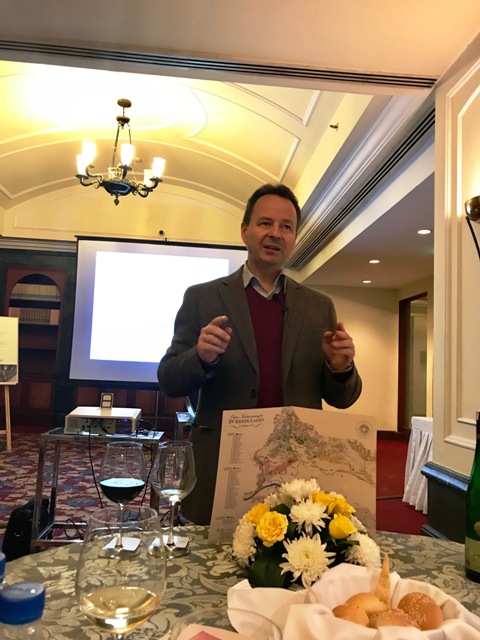 Centuries Old Legacy
Situated in the Niederösterreich (Lower Austria) wine region, Schloss Gobelsburg has 1000 years of wine history (further dating back to the Bronze Age). Over the period it saw several ownership changes, settling down eventually with the Monastery of Zwettl- a Cistercian monastery, which acquired the estate in 1740. The monastery managed the estate directly until 1995, before handing over its reins  to Eva and Michael Moosbrugger in February 1996.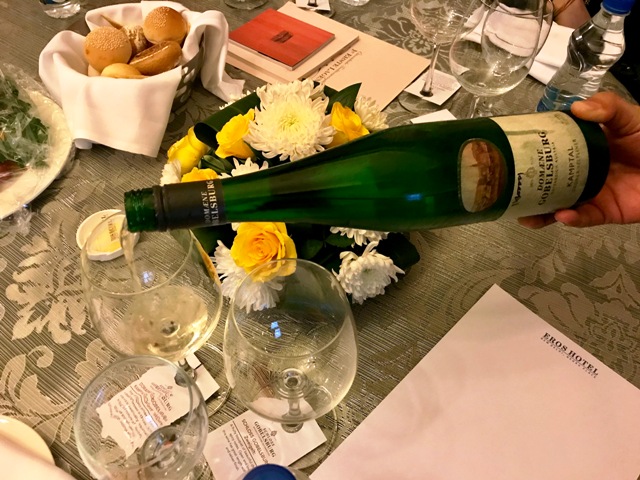 ---
Click here for my earlier article detailing Austria's wine regions 
Click here for all previous articles on Austrian wine on this blog
---
Diverse Terroir and Famed Varietals
Schloss Gobelsburg is largely known for its Riesling and Grüner Veltliner wines- white wines forming two thirds of its production. The Riesling feels at home on the meagre and stony terraces of Heiligenstein and Gaisberg, while Grüner thrives on the sandy loess soils courtesy its Danubian legacy. The remaining one third production is red wines, largely from the Pinot Noir lineage viz. Zweigelt (Austria's largest planted red varietal), Sankt Laurent and Blauburgunder, though a little Merlot is also produced.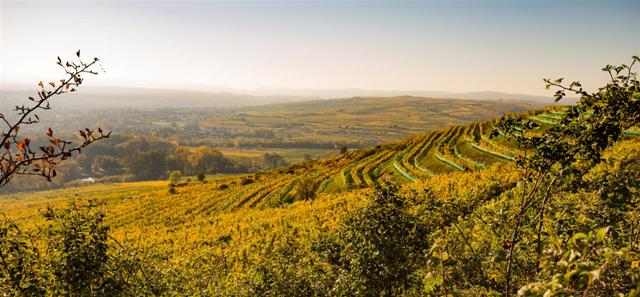 The Schloss Gobelsburg estate has vineyards situated in Kamptal, Kremstal and Traisental with some 70 hectares of historical vineyard sites located around the castle. Each site has its unique terroir which can be classified into three categories:
Terraces along river Danube having a high mineral content- suitable for Riesling (25% of production).
Loess/clay soils- suitable for Grüner Veltliner (55% of production).
Danube sedimentation (along old path of Danube)- suitable for Pinot Noir, Sankt Laurent and Zweigelt (20% of production)
---
Kamp, Krems and Traisen are distributaries of Danube river and "tal" means "valley" in German language.
---
The Cistercian-Benedictine Divide
An interesting aspect brought out by Michel during his master class was the basic premise of Schloss Gobelsburg that defines its DNA till date. To distant watchers, monastic communities may look more or less similar with an ascetic way of life and religious orientation. But delve deeper and you would find a unique order to each.
In contrast to the Benedictine order that has monasteries atop mountains on the premise of being nearer to God, the Cistercians emphasize closeness to ground and the belief that energy flows from water. Hence Cistercian monasteries are situated on valley floors. Against the Benedictine thought, Cistercian monasteries also shun towers as they see it as a symbol of power.
All the above translates into the Cistercians emphasizing on "Simplicity and Strictness". According to Michael, it reflects on the winemaking philosophy of Schloss Gobelsburg as well. Some highlights of this philosophy are:
Casks from Regional Trees
While the larger wine world is heavily inclined towards French and American oak to mature wine, Schloss Gobelsburg utilizes regional wood (oak trees from the Manhartsberg , a region north of Langenlois) grown under the same climatic conditions as the vines in the vineyards. This symbiotic union promotes individual wine character rather than international styles.
Wine of origin is the centre point of our production. Hence our focus remains appellation wines in all categories viz. regional wines, village wines and single vineyard wines. Besides that we have specialties like sparkling, sweet and historical wines, which is a hobby of mine
Dynamic Cellar Concept
This concept developed by Moosbrugger stemmed from maintaining traditionalism while not ignoring technological advances. It hence focussed on what technology could be left away rather than what could be adapted. The 'Dynamic Cellar Concept' involves transporting wine in 'barrels on wheels' from one part of the cellar to the other, as against pumping it across locations. This enables different temperature zones for the wines without having to control the ambience through technology.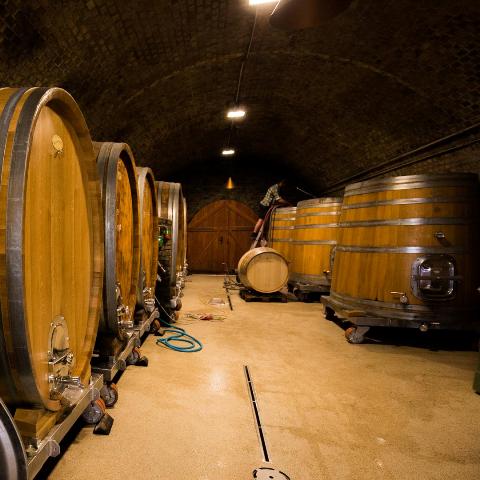 Certified Sustainable
The monks of the Zwettl Monastery, used organic fertiliser, abstained from employing herbicides, and endeavoured to reduce the use of plant protectors. The practice continues strictly till date and  Schloss Gobelsburg is a Certified Sustainable estate, 100% free from pesticides.
Steel tanks Vs Oak Casks
Schloss Gobelsburg winery has not at all shunned steel fermentation tanks just in the name of tradition. While they still ferment their reds in wood, white wines are largely fermented in steel tanks. According to Michael, steel tanks support the grape varietal while wooden casks support origin wines. Also since drinkability is a focus in Austria which has a high per capita consumption (30 litres per year) of wine, steel fermented white wines work well.
I define a good wine as one which finishes the fastest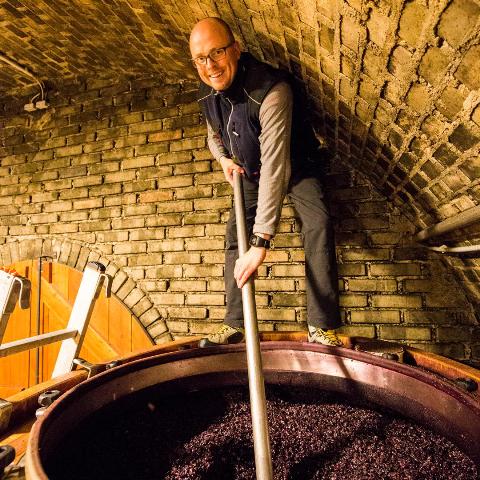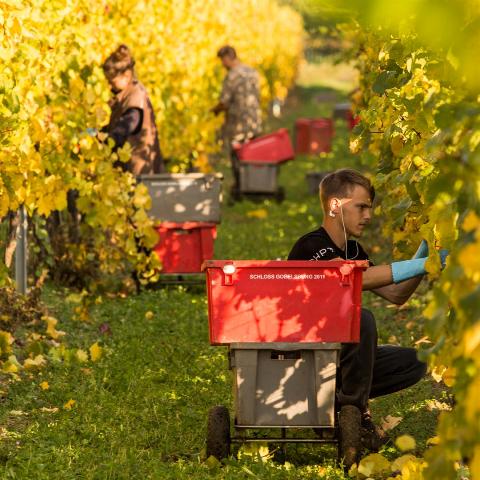 The Larger Cause
But it is not only his estate that Michael is concerned about. He is also the Chairman of Verein der Österreichischen Traditionsweingüter (Association of Austrian Traditional Wineries) which was founded in 1992 as the first such association in Austria to classify vineyard sites in the Danube area. The association has already classified 61 vineyards in the Erste Lage (akin to Premier Cru) category . After the classification of Erste Lage sites is complete, they will turn to Grosse Lage (akin to Grand Cru) with the ultimate aim of incorporating this classification as part of the Austrian wine law.The wines so classified will have the relevant imprints on capsules and labels of the bottles.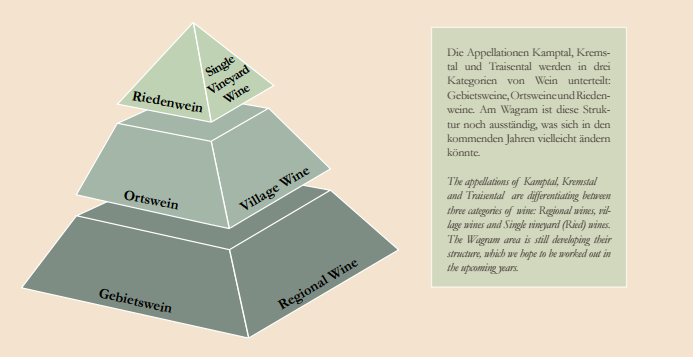 Also noteworthy to mention is that in accordance with the DAC regulation, just the two most traditional grape varieties of the Danube region viz. Grüner Veltliner and Riesling can be used for these wines and these must be vinified in dry style.
Over a period of time, many fantasy names have creeped into Austrian wine labels which sound like single vineyard names. So it is more than fair to develop a system that not only makes it possible in Austria but also at an international level to distinguish easily between fantasy and the actual single vineyard names
Plan Next for India
Currently, two of Schloss Gobelsburg wines (described below) are available in India. According to Arun Kumar, Partner, Aspri Spirits, the wines have been consistently faring well and they cherish their partnership with the producers. On my query to Michael regarding the future plans related to India, he expressed his keenness to bring more labels to India. He would particularly like to see their Zweigelt Rosé in the country, which has been doing well in markets like the U.S.A.
The evolving wine consumer of India is likely to welcome such possibilities.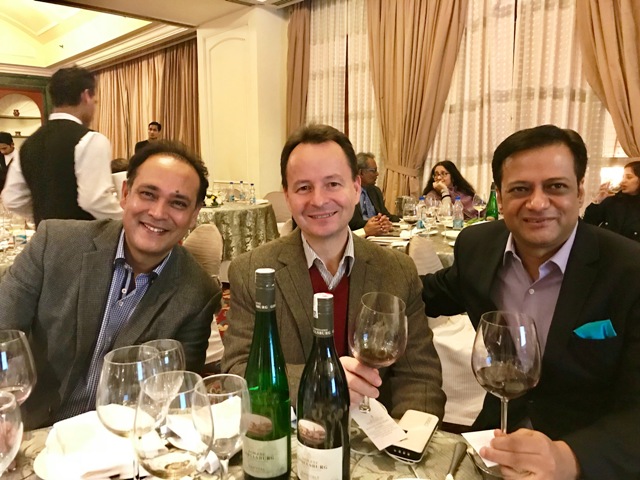 Schloss Gobelsburg Wines Tasted during the Master Class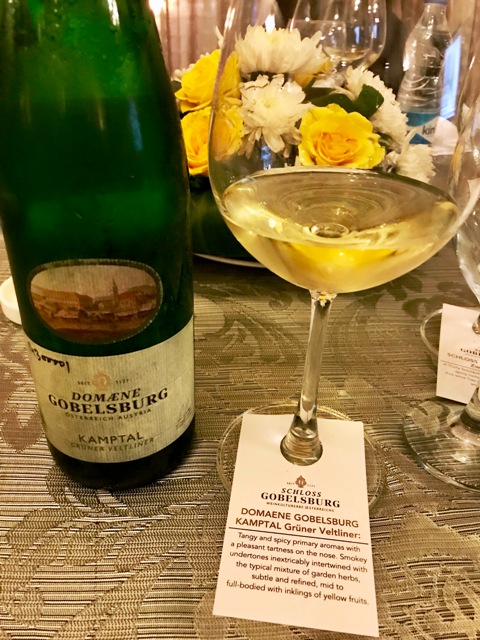 Domaene Gobelsburg Kamptal Grüner Veltliner (For winemaker's notes see image details)
Retail price: INR 3610.00
My notes:
Pale lemon colour with a floral and citrusy nose. Crisp flavours of peaches, pear and grapefruit on the palate, rounded off by a mineral finish. This is a refined expression of a Gruvee (short for Grüner Veltliner) that you can enjoy on its own or with food.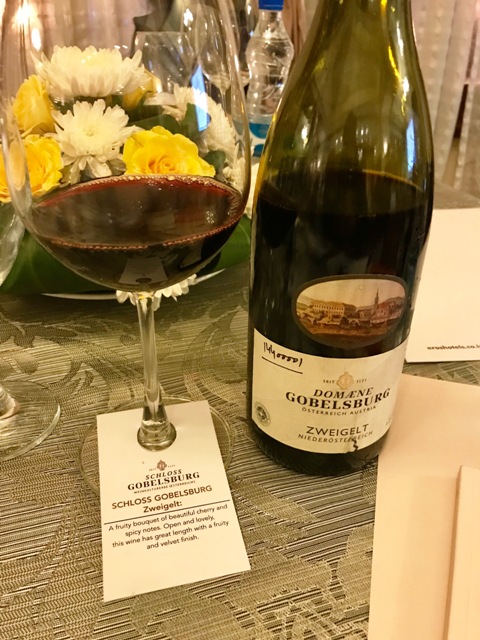 Domaene Gobelsburg Zweigelt (For winemaker's notes see image details)
Retail price: INR 2590.00
My notes:
Deep garnet colour with luscious red fruit aromas. Juicy on the palate with  abundance of red cherries and a spicy finish. This is a wine you would love with mouth filling starters like creamy mushroom canapés or succulent chicken tikkas)