By: Luigi Ferraro, Italian Chef, Shangri-la's Eros hotel New Delhi
About
A mushroom risotto typical to the Sibari sub region of Calabria, Italy
Ingredients
To serve 4
320 g Carnaroli rice of Sibari
40 g extra virgin olive oil
20 g chopped onions
50 ml white wine Gavi di Marchesi di Barolo (or use any other dry white wine with moderate acidity)
1 litre vegetable stock
4 g parsley
2 g thyme
2 g garlic
salt and black pepper
50 g king oyster mushroom
50 g button mushroom
50 g porcini mushroom
20 morels
50 g butter
50 g parmigiano reggiano cheese
Preparation
Heat olive oil in a saucepan, sauté chopped onion till golden brown, add the rice and sauté it for a few seconds, deglaze with white wine.Once the wine evaporates, add stock little by little and cook the rice on slow heat, keep on stirring the rice with wooden spoon.
In another pan cook all mushrooms with butter. Once cooked, keep aside some mushrooms for the plating and add rest of the cooked mushrooms in risotto pan. Add thyme and keep cooking the risotto on slow fire, adding the stock little by little .Check the doneness, once 80% cooked, stop adding the stock.
Adjust the seasoning with salt and pepper, finish the risotto with butter.
Finally add chopped, parsley and grated parmesan cheese.
Serve in a risotto plate and garnish with sautéed mushrooms, parmesan chips, extra virgin olive oil and micro greens.
---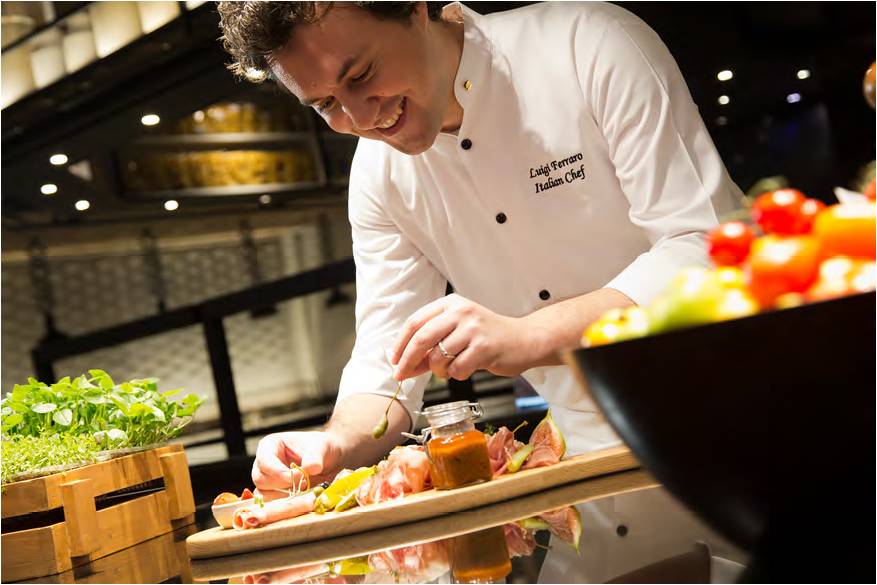 Chef Luigi Ferraro began his culinary journey as a commis chef and continued working his way up, holding many significant positions in more than two decades of hospitality experience across the globe.
Before moving to India, Chef Luigi served as executive chef for a luxury restaurant, Café Calvados in Moscow, He also served as executive chef at La Tenuta Dei Frati, a catering company in Castrovillari, Cavallino, a Mediterranean restaurant in Marina di Sibaro, Italy and Borghetto Hotel and Residence in Italy, where he handled the complete management of the kitchen for over 300 guests.
Chef Luigi also has a book to his name titled "Calabria, in tutti i sensi". The book was edited on the occasion of a particular journey that led him to discover the treasures of his native land, Calabria.
Throughout his career, Chef Luigi has won many culinary accolades, including the "Section Taste Award" in Rome, the "Column of Capocolonna", in Crotone, the "Italian Excellence Award" in Reggio Calabria, and a gold medal under the main restaurant hot food category at the International Kremlin Culinary Cup, to name a few.
His extensive culinary experience and wide repertoire in Mediterranean and international cuisine are accentuated by his philosophy of serving dishes orchestrated with passion and crafted to evoke full flavors through the use of the highest- quality seasonal ingredients, creative composition and sound cooking technique.