Most wine lovers would agree that there are some wines which we meet as if they are well known friends. 'They' are quite familiar in terms of behavior, inclinations et al. These are often wines that we have encountered more than once, sometimes in their land of provenance. Torres wines from Spain and Chile are some such wines for me.
Though I had sampled Torres wines several times before visiting their facilities in Catalunya and La Rioja, it was only after my visit that I  became close to them in the real sense. Having  physically seen their vineyards and wineries, meeting their winemakers and sharing lunch with the top man- Miguel A Torres himself (read my interview with Miguel A Torres), I became so  familiar with their labels as to recognize them easily beyond the realm of legibility, with their respective cuvée compositions coming automatically to the mind.
Hence I was quite enthused when Prestige Wines and Spirits, Torres' importers in India invited me to a dinner with Mireia Prim, the brand's ambassador responsible for India.  Mireia arrived on a three city tour to conduct trade sessions, interact with consumers and media, as also to get a first hand feel of the Indian wine environment . The rendezvous gave me an excellent opportunity to revisit some of my favourite wines,  and to catch up on friends made during my visit of 2014.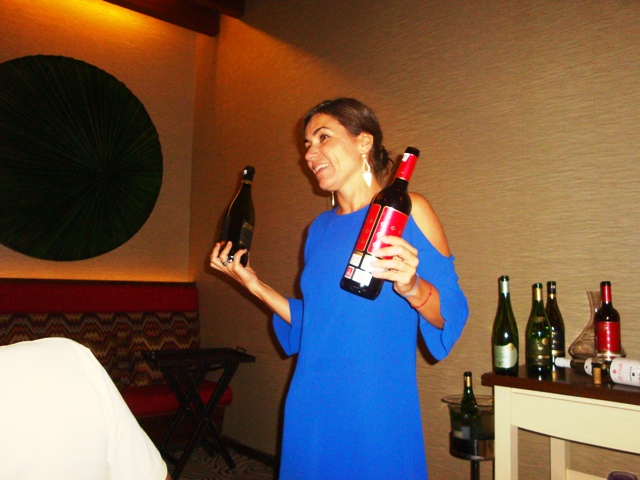 For the uninitiated, Torres S.A. is a prominent Spanish winemaker, widely acclaimed as having single-handedly  revived the fortunes of wine trade in  the Penédes  region. It was these efforts  that led to the region's recognition as a DO (Denominación de Origen) in 1976 after the Appellation regulations came into effect. The Torres Family has since then ventured much beyond Penédes owning  more than 2,400 hectares of vineyards, most of which are located in Spain apart from the ones in Chile and California. These wines are exported  to more than 160 countries across the world-  including India.
For my meeting with Mireia, I arrived  a little early at  'Honk', the Asian cuisine restaurant at hotel Pullman-Novotel. My deliberation of donning the Torres necktie worked, as she instantly noticed the detail. Knowing further that the tie was gifted to me by none other than Miguel Torres Maczassek, fifth generation of Torres family and General Manager Torres SA during his visit to Delhi last year, she suggested that we click a photo which she could show back home. I obliged readily.
After a brief one-on-one conversation, we moved al fresco to sample the first wines of the evening- Torres De Casta Rosé, which was served around starters as the guests assembled. The engagement continued indoors with an innovatively paired menu called "Spanish Moves on Asian Tongue" curated by the hotel to showcase the compatibility of Torres wines with culinary influences from diverse regions of Asia.  Also, each course was prepared using different cooking methods – from steaming to Robata (Japanese styled grilling), Charsiu ( a Cantonese method to flavor and prepare barbequed food) and likewise. The concept afforded to showcase  the dexterity of  wines in adapting to Asian food.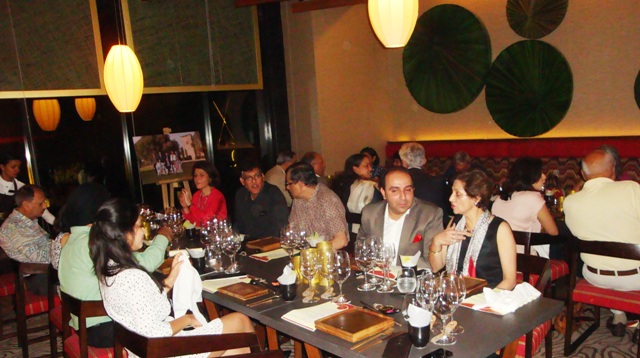 Wines and their pairings (Prices ex Delhi retail)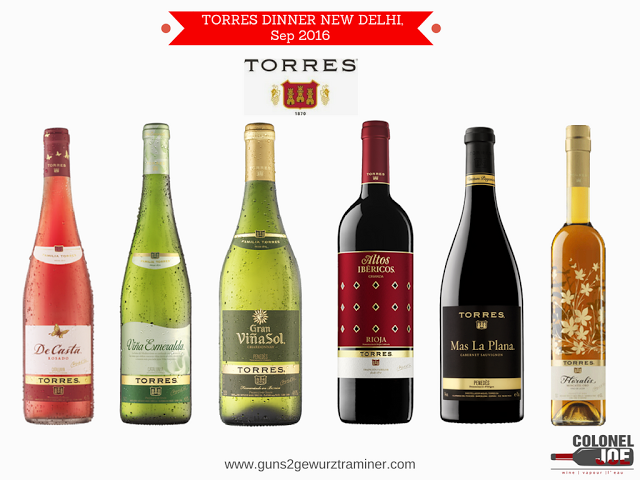 Torres De Casta Rosé 2015 (Garnacha+Cariñena+Syrah+Tempranillo)
Price: ₹ 1730.00
Paired with: Assorted Starters
A refreshing Rosé with amazing levels of complexity to go with a range of foods. I liked it particularly  with sushi and assorted skewers doing the rounds.
Torres Viña Esmeralda (Moscatel+Gewurztraminer)
Price: ₹ 1650.00
Paired with Herb and Star Anise Smoked Prawn Har Gow
Viña Esmeralda has been a popular wine in India owing to it's distinct lychee and melon aromas recognized well in the land. Apart from tropical fruit aromas, the wine has perfumed floral highlights which develop further on the palate into an abundance of flavours.  The wine worked well with the aromatic Har Gow (traditional Cantonese dumplings).
Torres Gran Viña Sol ₹ 1500/- (Chardonnay+Parellada)
Price: ₹ 1500.00
Paired with:  Salmon Robata and Miso Garlic
Another of Torres' value for money wines considering that some Indian whites are selling at approximately the same price despite the tax advantage! While the Chardonnay gives this wine its crispness, Parellada lends it the aromatics and body. Reason enough  to pair it with the savoury dumplings at this dinner.
Torres Altos Ibéricos Crianza 2012 (100% Tempranillo)
Price: ₹ 2500.00
Paired with: Roast Duck
The last time I enjoyed Altos Ibéricos, was with Vine-Grilled Lamb Chops and Patatas Riojana  in a Spanish countryside grill restaurant with none else than the winemaker for company This time too, the wine was a delight with it's pairing  of Roast Duck, which had a nice texture to complement the wine's restrained power.
Mas La Plana 2009 (100% Cabernet Sauvignon)
Price: ₹ 6500.00
Paired with Pork/Chicken/Eggplant Charsiu
Chicken/ Wild Mushroom Lo Mai Gai
Mas La Plana is not only Torres' Prestige Cuvée, it denotes an outstanding adaptation of an international varietal to local terroir. The wine is a gourmand's delight, having the depth to accommodate several flavours/textures- maybe  reason why the hotel offered it with two pairings. This full bodied wine with rounded tannins and notes of dark berries, chocolate, vanilla and mint, didn't disappoint either.
Torres Floralis Moscatel Oro (100% Moscatel)
Price: ₹ 1850.00
Paired with Berry Parfait, Lemon Curd, Raspberry Coulis, Strawberry Sorbet
Floralis Moscatel Oro is my go-to dessert wine for majority of wine dinners that I host in India. Reason? It has all the ingredients desirable of a dessert wine- balance, spiciness and long finish, made more attractive with a favourable price as compared to equivalent dessert wines. The sweet and sour components of the dessert integrated seamlessly with the complex flavor profile of the wine.
Sumit Sehgal, CEO Prestige Wines and Spirits Pvt Ltd informed me that they periodically conduct such sessions to highlight their wines' compatibility with different types of cuisine. The arrival of Brand Ambassadors to connect with trade and consumers, on one hand emphasizes the brand's seriousness towards the visited markets and on the other, gives them feedback to carry out course correction if any.
Going by the response at the dinner, the Torres Wine Armada appears well on course!