For several years  now, the Chilean embassy in New Delhi has been hosting a reception for wine and food lovers that sees good attendance from a diverse section of denizens of the Indian capital, at just the right time of the year when you neither sweat in a jacket nor shiver without one. This was my first year  at the do, and it had me really impressed with the exquisite collection of wines and gourmet spread that conveyed the essence of the country fittingly. It was also an opportunity  of privilege to meet the newly arrived Ambassador of the country H. E. Andres Babre Gonzales and  Trade Commissioner Nestor Riveros , who has been the driving force over the years to popularize Chilean culture in India.
Being an early bird at The Lalit, Barakhamba Road where the event was held, I had a good opportunity to take photos of  the place at leisure and meet my friends from the wine industry who had put up their wines for tasting. In an event of this kind, it is a tough proposition to sample everything on offer,  hence the most effective way is to shortlist the 'must try' items on agenda- which again is facilitated by arriving early. I decided to pursue the wines, with food being an indulgent factor as an  aftermath.
As the saying goes, a picture is worth a thousand words (a megabyte in  the digital age); and the focus here being the event itself, it would be best to let the pictures  do the talking. However, some  facts  on Chile with reference to its wines would definitely not be out of place: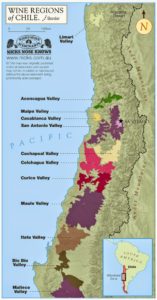 Chile has the distinct advantage of having mountains, ocean, forest and desert surrounding its different directions and hence, produces varied styles of wines. The largest and the oldest wine producing region of the country is the Central Valley  comprising of Maipo, Rapel (incl Cochapoal and Colchagua), Curicó and Maule), but other regions too(see map), have come up progressively in the preceding decades.
Though Chile has a wine history dating back to 16thcentury, it is counted amongst the new world wine producing nations due to its wines really coming to world's attention in the last one century. Moreover, it gives prominence to   cépage (grape varietals) rather than terroir (region), which is typical to the new world wine production philosophy.
Owing to its  geographic location, Chile was spared the scourge of the deadly  pest Phylloxera, that wiped out  large swathes of vineyards across Europe, meaning that it still produces a lot of wine from original ungrafted vine rootstocks, which makes them quite unique.
Chile is the world's eighth largest producer and fifth largest exporter of wine. It exports 70 percent of its overall production, making it one of the most export-oriented wine producing countries.
The grape varietals typical to Chile are Carménère  and País both of which are red . Whereas Carménère  is a thick skinned varietal that produces deep coloured and full bodied wines, País is one of the oldest Chilean varietals that produces lighter bodied and flavourful wines.
Main grapes cultivated in Chile in the present day are mostly the international varietals with Cabernet blends ruling the roost, and Merlot aplenty. Due to investments by major producers from Spain, France and the USA , the ambit over the period has spread to other varietals like Chardonnay, Pinot Noir, Sauvignon Blanc, Riesling, Viognier and Malbec as well. The Spanish wine giant Miguel Torres (see my earlier post Torres, Tapas and Toro) has had a large role to play in Chile for developing the wine  industry.
As compared to equivalent wines from elsewhere, Chilean wines are priced  highly competitively (as you would see from the average prices given with the wines listed below). Most of them have fruit orientation and less of ageing potential. However, with increased use of oak, there are some age worthy wines too.
Coming to the pictorial:
Brand: Miguel Torres Chile
Region: Central Valley, Limari Valley
Importer: Prestige Wines and Spirits Pvt Ltd
Wines: Santa Digna Estelado (Sparkling Rosé) Santa Digna(Cabernet Sauvignon). , Hemisferio (Sauvignon Blanc),  Hemisferio (Cabernet Sauvignon) , Cordillera (Chardonnay), San Medin (Cabernet Sauvignon)
Price Range: ₹ 1290 – 3000
My favourites: Santa Digna Cabernet Sauvignon (₹ 2900)– Big bold and flavourful with rounded tannins and a solid backbone.
Santa Digna Estelado (₹ 2950): An energetic and fruity Rosé Sparkling – the only one in the world made  from  Chile's indigenous and one of the oldest País grape varietal.
Brand: Balduzzi
Region: Central Valley (Maule)
Importer: Natures Bounty Wines
Wines: Cabernet Sauvignon Reserva and Merlot Reserva
Price Range:  ₹ 1450 each
My favourite: Balduzzi Merlot Reserva (₹ 1450) : Deep ruby with an explosively fruity nose. Full bodied on the palate with flavours of wild berries rounded tannins and a long finish.
Brand: Anakena
Region: Central Valley (Rapel)
Importer: High Spirits
Wines: Sauvignon Blanc,  Syrah Rose, Pinot Noir, Chardonnay
Price Range:  ₹ 1320 – 1850
My favourite: Anakena Chardonnay ( ₹ 1530 )– Light lemon colour and aromas of tropical fruits with a light, minerally palate of ripe fruity flavours.
Brand: Emiliana
Region: Central Valley, Casa Blanca Valley
Importer: Hema Connoisseur Collections Pvt Ltd
Wines: Sauvignon Blanc, Chardonnay, Cabernet Sauvignon, Merlot
Price Range: ₹ 1400 each
My favourite: Emiliana Sauvignon Blanc (₹ 1400 ) – Pale lemon with green tints, citrus and tree fruit aromas, complex on the palate.
Brand: Montes Alpha
Regions: Central Valley , Casa Blanca Valley
Importer: Brindco
Wines: Sauvignon Blanc, Chardonnay, Cabernet Sauvignon, Merlot
Price Range: ₹ 1330-1470
My favourite: Montes Merlot (₹ 1410) A well structured and rounded wine with ripe red fruit aromas and a voluptuous body.
Brand: Cono Sur
Region: Central Valley
Importer: Sula Selections
Wines: Chardonnay, Pinot Noir, Merlot, Reserva Cabernet Sauvignon
Price Range: ₹ 1000-1960
My favourite: Cono Sur Reserva Cabernet Sauvignon (₹ 1960) – Firm as steel wine with black currant, dried fruits aromas , silky tannins and a refined palate.
Brand: Valdivieso
Region: Central Valley
Importer: Agnetta International
Wines: Single Vineyard Malbec, Cabernet Sauvignon, Pinot Noir, Blanc de Blanc, Brut Sparkling, Sauvignon Blanc
Price Range:  ₹ 1500-3060
My favourite: Valdivieso Pinot Noir (₹ 2850) A fresh and juicy wine with vegetal and red fruit aromas.