By: Neeraj Rawoot, Executive Chef, Hotel Leela Ambience, Gurugram
Prep time: 15mins
Cook time: 20 mins
Serves: 4
About Pandi Curry
A popular preparation of the Kodavas (Coorgis), an ethno-lingual tribe from the Coorg Region of Karnataka. Pandi means 'pork' in the Kodava language.
This preparation usually tastes better the next day as masalas steep into the pork. The preparation also depends on the quality of pork which needs to have a thick layer of fat.
Ingredients
Pork belly with fat, cut into 1 ½" cubes – 1 kg.
Cooking oil – 2 tbsp.
Marinade 
Red chilli powder – 1 tsp
Turmeric powder – ½ tsp
Salt to taste
For the Green Paste
Garlic – 10 cloves
Ginger – 1 " piece
Green chillies – 3-4 nos
Coriander leaves – 3-4 sprigs
Onion – 2 no (1 in paste; reserve 1 sliced)
Kachampuli Vinegar – few drops
For the Masala (Spice Powder)
Coriander seeds – 2 tbsp
Cumin seeds – 1 tsp
Mustard seeds – 1tsp
Fenugreek seeds – 3-4 seeds
Cinnamon stick – 1"
Cloves – 5 nos
Green Cardamon – 3-4 nos
Peppercorns – 12 – 15 nos
Curry leaves – 10 – 12 leaves
Whole dry red chillies – 2 nos
Raw rice – 1 tsp
I first got the chance to savour this intense, rich and flavourful meat dish while having dinner hosted by Mrs Meena, owner of a homestay in Coorg. Since then, I have been longing to prepare it myself but couldn't manage to get one of its special ingredients – kachampuli or the Coorgi vinegar.
I searched the net and got in touch with Mrs Asha who hails from Coorg and is settled in Delhi. I managed to speak to her and she not only shared the contact of the supplier but also gave a bottle of Kachampuli to try. Hats off to her… to help a stranger.
– Chef Neeraj Rawoot
Preparing Pandi Curry
Marinate the meat with red chilli powder, turmeric powder, and salt for 15 mins.
Meanwhile, prepare a green paste with onion, ginger, garlic, coriander leaves, chillies and 1 onion. Slice the other onion and reserve.
Dry roast coriander seeds till it turns golden brown. Add rest of the spices and roast further till the colour turns dark. Cool and dry grind to get a dark coffee coloured powder.
Heat oil, sauté the pork pieces lightly to get a caramelized flavour. Add sliced onion, green paste, little water and slow cook for 15 mins in a covered pan or pressure cooker.
Once the meat is tender, add 1 heaped teaspoon of the dry roasted masala and few drops of kachampuli vinegar. Season and cook for 5 more minutes till the liquid evaporates and the meat becomes smothered with masala.
You can serve this with steamed rice, rotis (Indian flat bread), neer dosa (a crêpe prepared from rice batter) …. or the chef's favourite… appams (recipe given below).
Chef's Notes
Kachampuli or Coorgi vinegar is derived from a fruit called Kudampuli (Garcinia Cambogia). It can be substituted with thick tamarind juice or lime juice but it definitely brings in difference in the taste and colour of the dish.
Kachampuli is available online @ coorgshoppe.com
Holding the prepared dish for a day enhances the flavour.

Wine pairing: Grover La Réserve
Country: India
Blend: Cabernet Sauvignon- Shiraz
Tasting notes: Powerful bouquet of luscious ripe red and black fruits. Full bodied wine combines grace and splendour on the palate. Intense flavours, smooth tannins and a persistent finish characterise this wine. It compliments well, the Coorgi Pandi Curry which has an intense rich long lasting flavour.
Recipe for Appam
Prep time: Over night
Cook time: 2- 3mins
Serves: 4
Ingredients
Raw rice/ Basmati Rice – 3cups
Poha (flaked rice) – 1cup
Thick coconut milk – 2 cups
Sugar – 2 tbsp
Salt – 1 tsp
Wet yeast  – ½ tsp
Preparation
Wash and soak rice for 4-5 hrs. Drain.
Add washed poha and grind the grains with water and coconut milk to a thick smooth batter.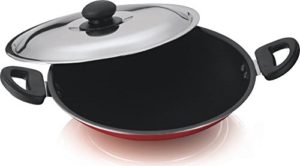 Soak yeast in little water, salt and sugar. Keep aside for 10 mins. Add this yeast in the batter and mix well. Let it ferment in a warm place for 4-5 hrs. The batter raises upto three times.
Heat a non stick appam kadahi (resembles a scaled down shallow wok), pour a ladle of batter, Spread and cook it single side, covered for few minutes.
Serve hot with the pandi curry.
---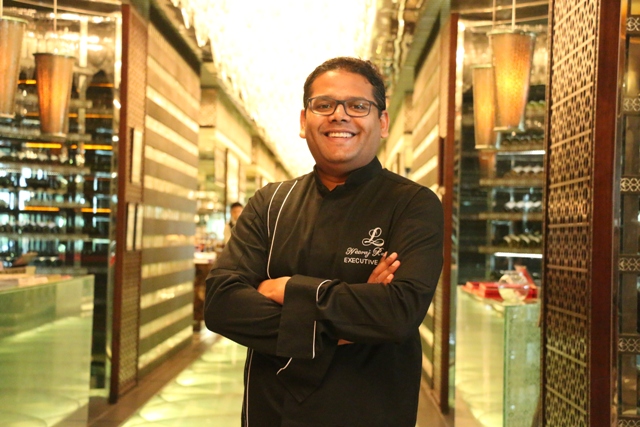 Chef Neeraj Rawoot brings with him a rich culinary experience of 18+ years in Hospitality Industry in India and abroad.
He joined Leela Ambience Gurugram as Executive Sous Chef in 2015, and has quickly climbed the ladder, attaining the well deserved role of Executive Chef. His culinary experience includes renowned chain of hotels like Radisson Delhi, Marche Bangkok, Grand Hyatt Mumbai, Hilton Chennai and Double Tree by Hilton, Bangalore.
In his last assignment, Neeraj was the Executive Chef with Double Tree Suites by Hilton, Bangalore. He has done his 3 years diploma in Hotel Management from Institute of Management, Catering and Nutrition, New Delhi and is a commerce graduate as well.
Neeraj is passionate about Asian & Indian Cuisine with a rustic touch. Music, movies and swimming is what he likes when he is off duty.