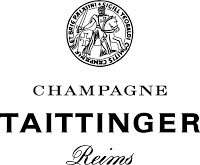 La Marquetterie! The enchanting  18th century Taittinger Estate,   that   must feature on the itinerary of  any visitor to this Champagne house if the visit is to be considered complete!  These were the thoughts that crossed my mind while I partook of the 5 course gourmet  dinner accompanied with their finest Champagnes at the manor. And to think that I had already started summarizing my visit to Taittinger after admiring their picture perfect cellars earlier in the day!
La Marquetterie is the French word for 'The Chequerboard' and the estate is named so due to the alternately planted plots with Pinot Noir and Chardonnay grapes. During autumn when the leaves of these different grapevines turn into hues of red  and yellow, the whole estate looks like  God's own chess board – albeit in colour. The magnificent Chateau de la Marquetterie also has a depth of historical significance being  originally a  Military Headquarters during the first world war where many a battle was planned. It was during those times that Pierre Taittinger, a Cavalry man with the French Army fascinated about returning back some day and acquiring the estate. Return he did- and voila! Seeds were sown for one of the well known Champagne houses of  of the day. Despite a turbulent past where the control of the Champagne house slipped from the hands of the Taittinger family, it is once again back  with the family with Emmanuel Taittinger at the helm and his children Clovis and Vitalie playing active roles in keeping up with the times.
So much for history. Coming to  serious Champagne business, our visit to Taittinger kicked off with a visit to their famous cellars at the Saint Nicaise Abbey- one of the erstwhile abodes of Benedictine monks that was once a chalk quarry . The Benedictine monks enlarged these 4th century chalk quarries to create  an  optimum environment  for storing Champagne with just the right levels of humidity and temperature. Taittinger acquired these cellars in 1931, and since then, millions of their bottles age in this wine friendly environment. In one of these caves, we came across an overwhelming 1,00,000 bottles of their prestige cuvée Comtes de Champagne resting before their tryst with the outside world!
Following the visit to cellars, we were received at La Marquetterie by Madame Dominique Garreta, Directrice Communication at Taittinger and  proceeded immediately to the vineyards adjoining the manor. While we soaked in the breathtaking landscape with Pinot Noir and Chardonnay on  either sides ready for harvest, the first Champagne of the rendezvous- Comtes de Champagne Blanc de Blancs 2002 was offered for tasting. The experience was as under:
Comtes de Champagne Blanc de Blancs, 2002
Taittinger calls this as its 'Holy Grail' due to its out and out exclusivity. It is a vintage Champagne  matured for 8 to 10 years in the chalk cellars  and is made entirely from Chardonnay grapes grown in the best Grands Crus of Cotes des Blancs. Only First Press wines are used for this cuvée that impart  it the finesse so rightly associated with it.
Tasting Notes
Pale gold colour with abundant  bubbles forming a persistent mousse. The bouquet is fresh and mineral with citrus and toasty notes. A refreshing palate with flavours of pineapple, melon and toasted  brioche. With smooth long finish, this wine can work as an aperitif and also with rich and creamy food. We sampled it with finger food ranging from puffed pastries, to  assorted skewered meats.
After sampling this exclusive wine, we moved inside Chateau de la Marquetterie for dinner at a round dining table with historical artifacts all around. The Champagnes served with the dinner were:
Taittinger Prélude Grands Crus Brut
A 50:50 blend of Pinot Noir and Chardonnay, the grapes for this wine are sourced from vineyards with a 100% rating in the Champagne classification system. Again, only First Press wines are used in this blend and it is aged in the cellars for several  years more than the stipulated minimum regulation (15 months for a Non Vintage Champagne).
Tasting  Notes
A shimmering pale gold colour with aromas of citrus fruits and white flowers. The palate is refreshing with flavours of  peaches,geen apples and a pleasing minerality. The finish is rich and explosive that lingers for a long time. Good as an aperitif or with seafood. We were served this with the Entrée course of grilled petit vegetables and roasted shrimps.
Taittinger Brut Millésimé 2005
This Brut vintage cuvée is a blend of equal parts of Grand Cru Chardonnay from Cote de Blancs and Grands Crus Pinot Noir from Montagne de Reims and top of the Marne valley. Made exclusively from First Press juice, it matures for a long time in the cellars.
Tasting Notes
Bright golden straw yellow colour with vigorous effervescence. The nose is intensely aromatic with initial flowery notes developing into ripe fruit and dried fruit aromas. The palate is complex and rich with a fruity character that lends it a subtle sweetness. A long and fine finish makes it a good food wine. We appreciated it with the main course of Fish Fillet  stuffed  with scallops,nuts and saffron and Zucchini Ribbons in fresh butter.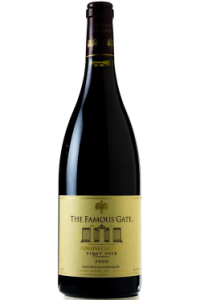 The Famous Gate Carneros 2006
This wine is a Pinot Noir from Taittinger's wine estate Domaine Carneros in Napa Valley, California held jointly with Kobrand Corporation of the USA. Domaine Carneros produces three sparkling wines (note that these cannot be called Champagne) and two still red wines.
Tasting Notes
Bright and deep cherry colour. Explosively fruity on the nose accompanied  with an earthy aroma. Medium bodied and fruity on the palate with flavours of raspberries, red cherries and a hint of spice. Light tannins  and a medium-long finish make it an easy drinking red wine with a lasting impression We relished it  with the Fromage course of aged cheeses and dry fruits compote.
Taittinger Nocturne Sec
Taittinger highlights this as a Night Time Champagne due to its propensity to accompany the sweeter  things in life, and with perfect  reason-  this Champagne has 17.5 grams per litres of dosage(added sugar in the last stage of Champagne production) that classifies it as Sec (Dry). As compared to Brut, Extra Brut and Brut Nature Champagnes, Sec Champagnes are sweeter but only subtly. The added sugar lends them a fuller and rounder body that makes them good accompaniment with a host of desserts. the compostion of this wine is 40% Chardonnay and 60% of  Pinot Noir and Pinot Meunier.
Tasting Notes
Pale bright lemon  colour . A delicate nose of peaches, dried apricots and white flowers. A smooth full bodied  creamy palate with good levels of acidity and a sensation of ripe fruits and  raisins. The finish is long and smooth with layered complexity. A good dessert wine but could also be enjoyed on its own- maybe as a digestif. We sampled it with Pistache Macarons, Strawberry Sorbet and a collection of Red Fruits.
The indulging dinner concluding, we bade farewell to Madame Dominique Garreta and the house of Taittinger with a hope of finding these wines more abundantly at customer friendly prices in India in the near future. As per Taittinger, the present volumes are not significant in India primarily due to the high landed cost of wines, but there is great hope due to the ongoing  dialogue  of trade concessions between India and the European Union. Needless to say that as wine lovers  we would wait impatiently for that to happen!