Approachability in the context of wine implies the wine's palate friendliness. Typically, it would relate to a wine with unaggressive tannins, well-balanced acidity and uncomplicated serving requirements. One such wine that unabashedly fits this groove is Mouton Cadet- the cult wine brand from Bordeaux.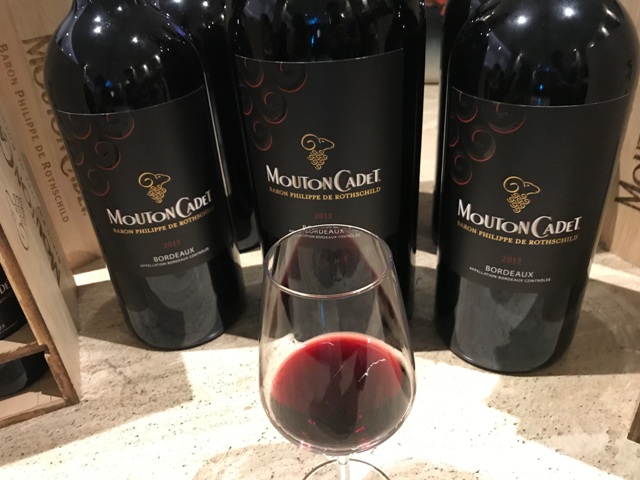 Quite recently, Mouton Cadet was unveiled in India in its uber new avatar as Mouton Cadet 3.0. This is the second major revamp of the brand ever since it was founded by the legendary Baron Philippe de Rothschild in 1930.
Just 20 years when he took over the reins of his family wine business, notably Château Mouton Rothschild, Philippe de Rothschild created Mouton Cadet working around a less than adequate vintage of their flagship wine."Cadet" in French means "the youngest member of a family" and he named the wine so, in coherence with his then youngest status in his family.
---
With Mouton Cadet, Baron Philippe de Rothschild intended to bring the prestigious Bordeaux terroir to a wider cross-section of wine consumers.
---
But the Baron wouldn't probably have visualized that this workaround was going to eventually result in the most successful wine brand from Bordeaux. Today, the label has transcended well beyond the generic Bordeaux wine to the more terroir-specific Réserve versions from Médoc, St Émilion, Graves and Sauternes in addition.
Whither Mouton Cadet 3.0?
So what's new with Mouton Cadet 3.0? Florent Bouvier, Business Development Manager, Asia-Pacific for Baron Philippe De Rothschild (BPDR) arrived in New Delhi to share the idea behind this new incarnation. At a seven-course dinner hosted by Brindco Limited-the wine's importer in India- along with their retail venture La Cave Fine Wines and Spirits and Sommelier India wine magazine, Bouvier highlighted the brand's evolution over the years. The dinner was preceded by an aperitif round with Mouton Cadet Blanc and Rouge where Bouvier made his presentation in a setting resembling an art gallery peppered with bits and pieces of the brand's history.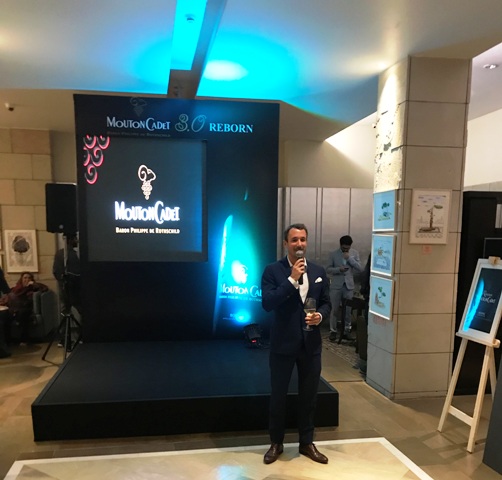 For starters, Mouton Cadet signifies the change of guard at BPDR with the third generation- the three children of Baroness Philippine de Rothschild- taking over the reins of the company after their mother's demise in 2014.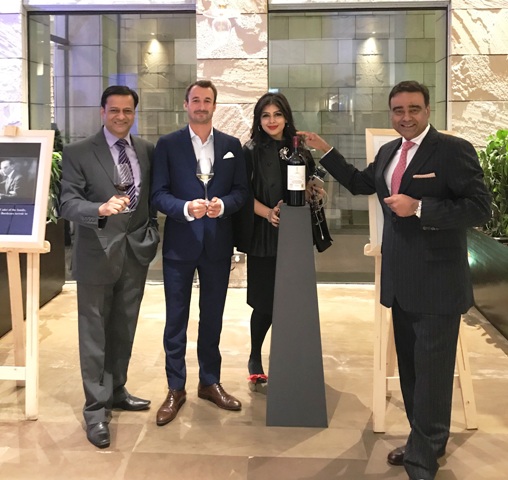 Apart from this transition in management, the blends of Mouton Cadet wines as also their branding have seen changes to keep pace with the current consumer expectations. According to Bouvier, the wines are more rounded and fruitier while maintaining a decent structure. The third generation of BPDR has also taken great pains with the new label design which looks more chic and futuristic.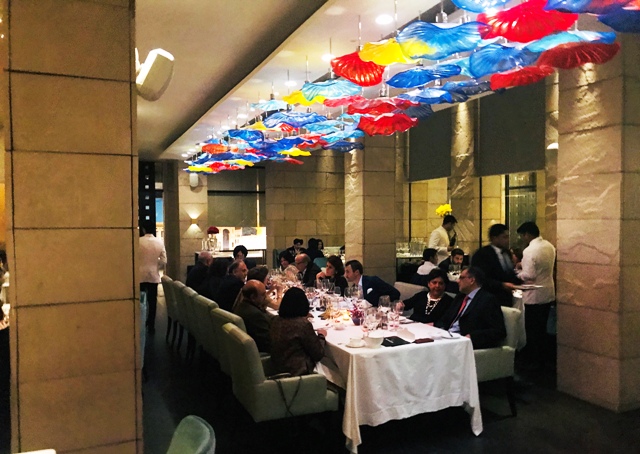 At the New Delhi dinner, we sampled 5 Mouton Cadet wines, including one 'surprise wine'- the Mouton Cadet Réserve Sauternes- announced towards the end. The exquisite French menu by The Lodhi New Delhi played up perfectly with all the essentials- Entrée, Plat Principal, Fromage, Dessert and Petit Fours interspersed with soup and an Italian element of Pasta/Risotto.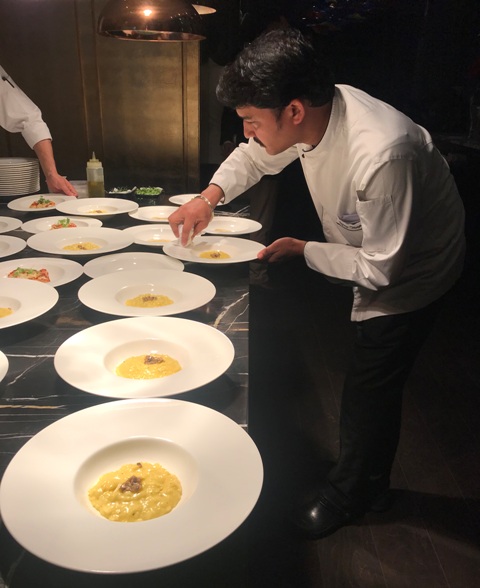 Wines at the dinner
Mouton Cadet Blanc 2016
Retail Price: (₹ 2580)
Grapes: 67% Sauvignon Blanc, 31% Semillon, 2% Muscadelle
An expressive wine with floral and stone fruit aromas. Crisp and balanced on the palate with flavours of peach and apricot. Served with Green Mission Figs, Roasted Sweet Pepper and Shaved Fennel, the wine imparted a fresh and flavourful sense of balance.
Mouton Cadet Rouge 2016
Retail Price: (₹ 2750)
Grapes: 83% Merlot, 10% Cabernet Sauvignon, 7% Cabernet Franc
A ripe and delicious wine with aromas and flavours of red berries and a hint of sweet spice. As expected, the wine had soft rounded tannins. I opted for the Chestnut Stuffed Baked Paccheri (large tubular pasta), and the pairing worked well with the "firm-outer-creamy-inner" dish marrying up well to the wine's lusciousness.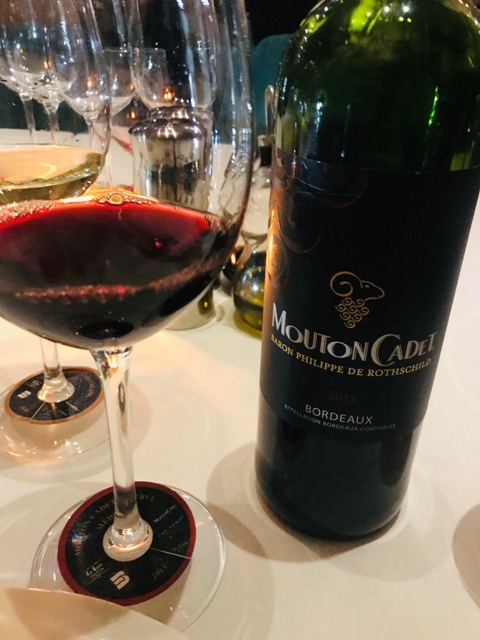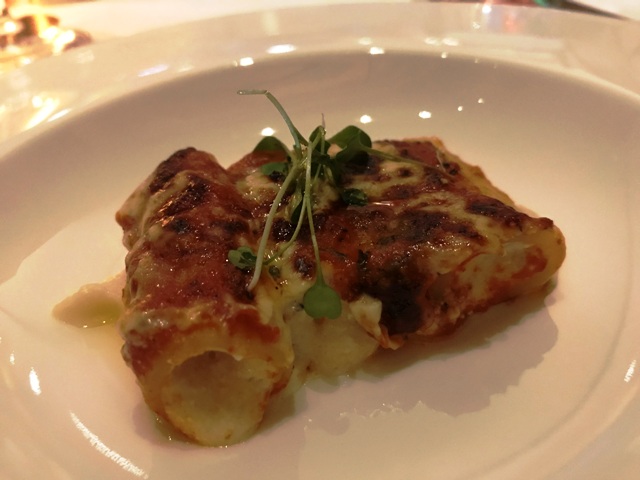 Mouton Cadet Réserve Médoc 2013
Retail Price: (₹ 3010)
Grapes: 61% Merlot, 39% Cabernet Sauvignon
Sampling a Mouton Cadet Réserve wine for the first time ever, I could notice its greater complexity as compared to the generic rouge. The wine's velvety but grippy tannins lent it a powerful character that made it a great fit with the Cured Confit Duck Leg and Tartiflette. As compared to the other reds for the day,  this wine had a higher percentage of Cabernet Sauvignon, well justifying its vintage to be older than the others served at the dinner.
Mouton Cadet Réserve St Émilion 2016
Retail Price: (₹ 4150)
Grapes: 85% Merlot, 14% Cabernet Franc, 1% Cabernet Sauvignon
Whoever believes that fish cannot be paired with red wine must visit pairings like this one that I tried with Mouton Cadet Réserve St Émilion at this dinner.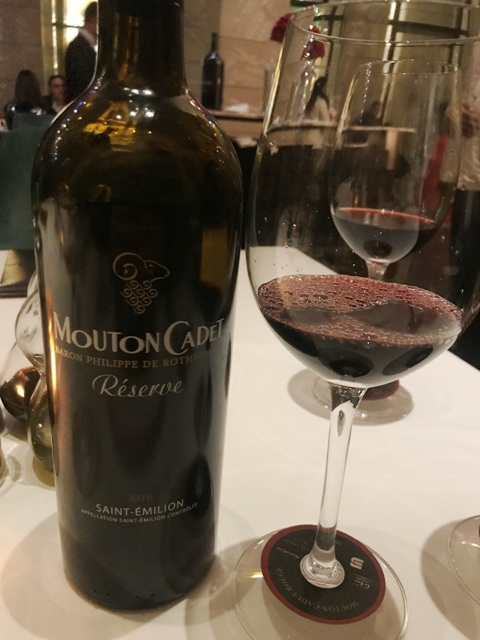 Mouton Cadet Réserve St Émilion 2016 turned out soft and expressive wine with a strong backbone. The wine filled the mouth with lively black fruits, coffee and sweet spice flavours.  The Pan Roasted Sea Bass in Saffron Vanilla Sauce served on a bed of Arrow Leaf Spinach offered it a variety of textures and flavours to play around with.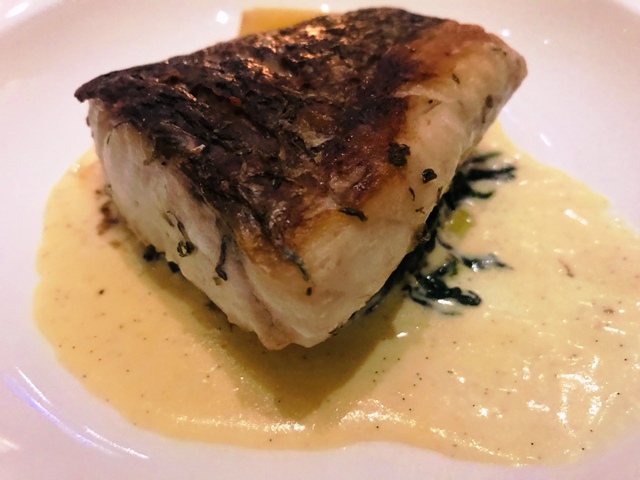 A Sweet Surprise!
Not all was over on the wine front as a "Surprise Wine" printed on the menu card turned out to be a pleasant Mouton Cadet Réserve Sauternes 2014 (Retail Price: ₹ 6560).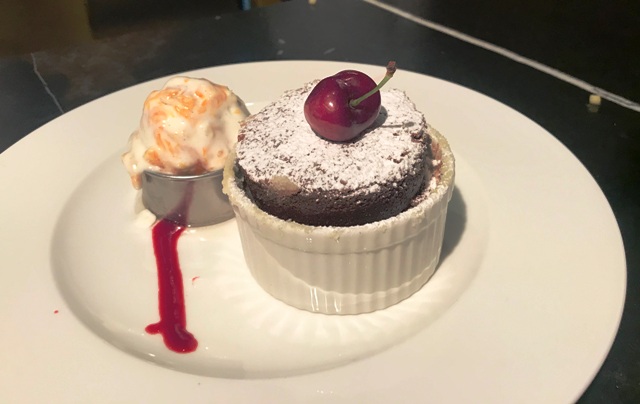 As compared to other Sauternes and Barsac wines I have experienced, this one was a tad thinner on the palate but with flavours intact nevertheless. The wine had floral and baked fruit aromas leading to a great sweetness-acidity balance and a spicy finish. It matched up reasonably well with the Chocolate Juniper Soufflé, Tangerine Ice Cream and Winter Fruits Salsa with Raspberry Coulis.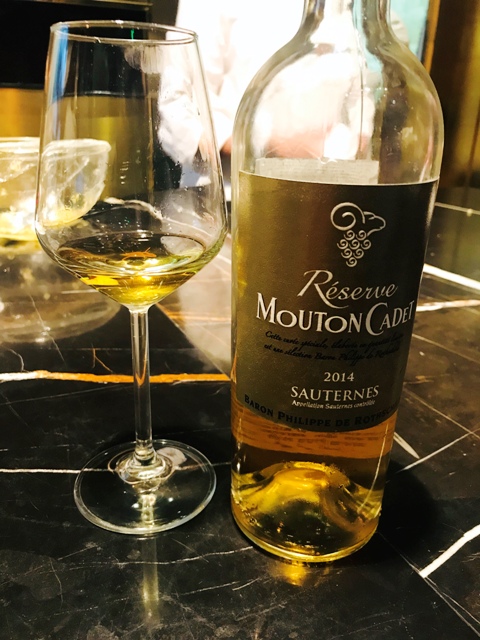 The dinner concluded with a tastefully assembled goodie bag for the guests containing branded Mouton Cadet souvenirs. Something to remind of a much celebrated "rebirth".