If you were asked to name top wine producers of India, Grover Zampa Vineyards (GZV) is likely to be one of the foremost. Counted as one of the pioneering winemakers of modern day Indian wine industry, GZV represents India's wine pride on the global stage. In a country where whisky flows in cusecs rather than the comparative trickle of wine, it is no mean feat!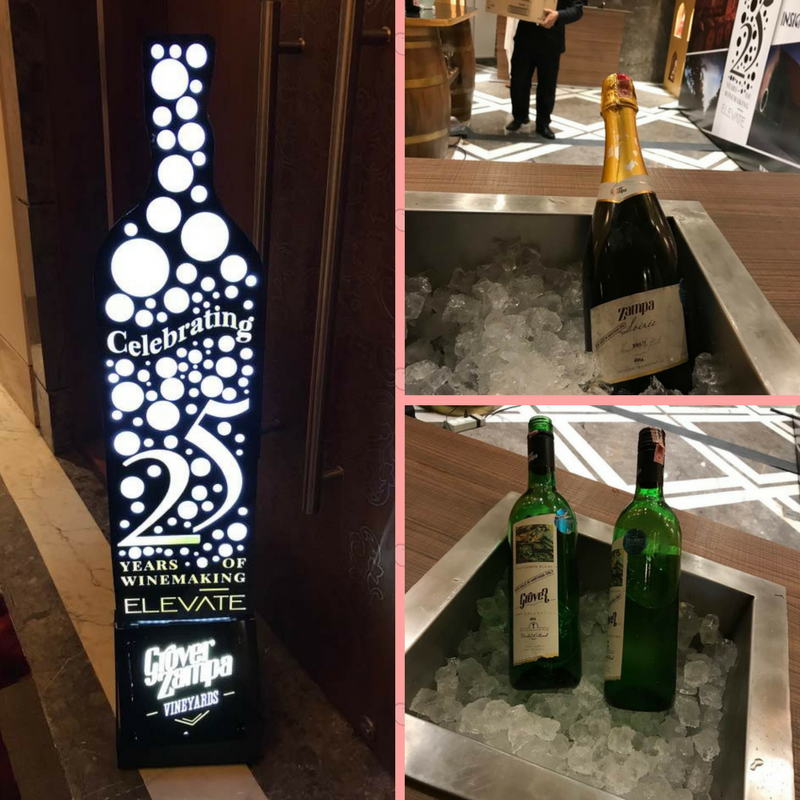 There was good reason therefore, for GZV  to celebrate their 25 years of winemaking this year through two events in Delhi and Mumbai respectively. The Mumbai event (01 Nov 17) also saw the launch of  their latest offering Auriga– a Méthode Traditionelle Brut sparkling wine .
Grover Zampa Vineyards- A Recap
It was in the late 80s, that Kanwal Grover, founder of Grover Vineyards, who had been importing technology equipment from France, decided to pursue his dream of producing quality wines in India. Scouting for suitable sites for planting vines, he zeroed-in on Nandi hills, the famous-to-be  vine growing region situated north of Bangalore. The rest is history, as Grover Vineyards went on to become a leading winemaker of India.
The legacy of Kanwal Grover has since been carried forward with aplomb by his son Kapil Grover, the current Chairman of GZV. He is actively aided in this, by his winemaker daughter Karishma Grover. In 2012, the erstwhile Grover Vineyards merged with Nashik based Vallée de Vin (VDV) to form Grover Zampa Vineyards, giving them  presence in two states of India viz. Karnataka and Maharashtra. The merger untangled many regulatory kinks for the new entity. Incidentally, 'Zampa' name belonged to the portfolio of wines being produced by VDV prior to the merger.
Key milestones that have made GZV the brand as it stands today, include the launch of India's first reserve wine Grover Zampa La Réserve in 1998, working with noted Bordeaux-based oenologist Michel Rolland from 1995, launch of Chêne, India's first Tempranillo blend in 2013, the introduction of the Vijay Amritraj Reserve Collection in 2014 in partnership with the legend himself and the recent launch of Insignia, their most premium single vineyard wine sold only by invitation through the cellar door.
A Global Footprint
Apart from being India's major wine producer,  GZV  exports its wines to more than 30 countries- their top markets being France, Japan and the United Kingdom.  80% of their production is consumed domestically with rest 20% being exported to more than 30 countries. It is hence quite usual to find GZV wines on international shelves, as also prestigious restaurants, that include the three Michelin starred L'Arpège, Paris.
GZV wines have won several awards in the international wine arena, with  93 awards coming since 2013 itself. These include the Decanter Awards, DAWA Awards, Sakura Japan Women's Wine Awards, New York International Wine and Spirits Competition and Asian Wine – The Silk Route, Beijing.
25 Years Celebrations in New Delhi
In a well curated event  at hotel  Leela Ambience, Gurugram on 24 Oct 17, wine connoisseurs sampled a pie of GZV history alongside their prized wines, all in an evening  steered by Karishma Grover, supported by her admiring father who chipped in with intricate details of their winemaking legacy . On offer was a vertical  tasting of their flagship wine La Réserve, followed by a food and wine pairing  and a gala dinner towards the end.
Vertical Tasting: La Réserve 2011, 2013, 2015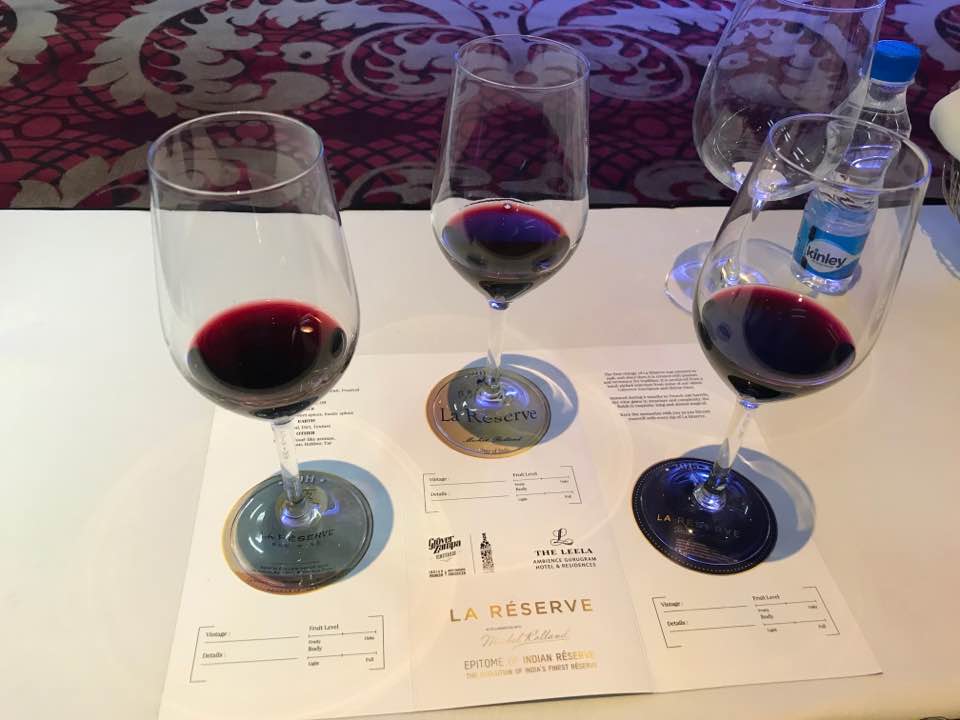 La Réserve 2011
An expressive nose of dark berries and spice. Luscious on the palate with medium tannins and flavors of mixed berries and sweet spice, followed by a lingering finish. It was the most liked wine of the assembly.
La Réserve 2013
A wine with a somewhat restrained nose, but conveying latent potential. Full bodied with black fruit flavors and rounded tannins, that turned grippy towards the finish.
La Réserve 2015
Given the most recent vintage, the wine was comparatively austere on the nose as well as the palate. However the tannins were rounded and that made it well drinkable. Oak was quite prominent too, likely to get subdued in a couple of years. Overall, the wine would do well in the cellar for around two years, when it is likely to bloom fully.
Wine and Food Pairing
The wine and food pairing session- again steered by Karishma- showcased pan-Indian delights from Diya restaurant paired with 5 award-winning wines from the GZV stable. The general belief that wine and food from the same land tend to pair well, was highlighted well during the tasting. Wines showcased were:
Zampa Soirée Brut
Grape: Chenin Blanc
A respectable sparkler from India made using Méthode Traditionelle. Zesty on the palate with a lingering finish.
La Réserve Blanc
Grapes: Viognier, Sauvignon Blanc
The white variant of La Réserve has a touch of Sauvignon Blanc to keep  acidity levels decent. Karishma informed that a 100% warm weather Viognier would otherwise tend to get flabby. The wine was extremely aromatic and pleasing on the palate with grassy and tropical fruit notes.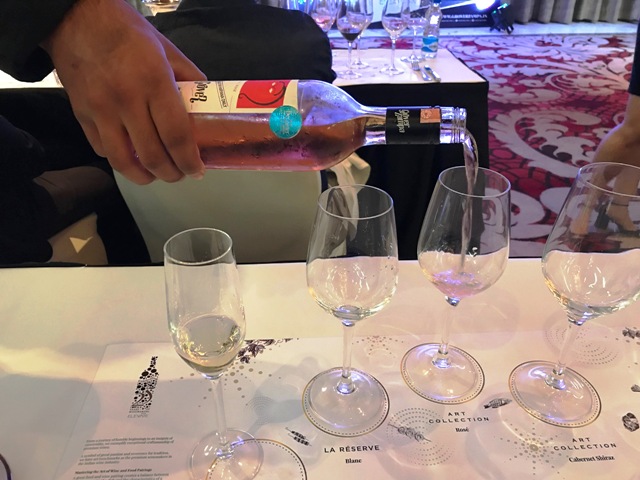 Art Collection Rosé
Grape: Shiraz
The baby pink wine had a nose of candied fruit and flowers. It was delectable on the palate with lots of fresh berries and a decent finish.
Art Collection Cabernet Shiraz
Grapes: Cabernet Sauvignon, Shiraz
This is a wine that I have been frequently consuming thanks to the 'value for money' it provides. The wine had an expressive nose of black berries, plum and spice followed by a full bodied palate and rounded tannins .
Vijay Amritraj (VA) Réserve Collection Red
Grapes: Cabernet Sauvignon, Shiraz, Viognier
VA collection red is an elegant expression of the Cabernet-Shiraz blend with a touch of Viognier to add fruitiness. A clichéd yet apt description of the wine would be "iron fist in a velvet glove". It shows through beautifully on the nose and palate with layers of complexity.
Swirling the GZV Rosé wine
The Gala Aspect
The celebrations culminated into free flow of GZV wines with a vast range of Indian cuisine from  Diya restaurant of the hotel which has recently seen a revamp of the menu, to represent various regions of India. Preparations like Kosha Mangsho (Bengal) Litti Chokha (Bihar) and several others offered an ample playing ground to experiment with food and wine pairings.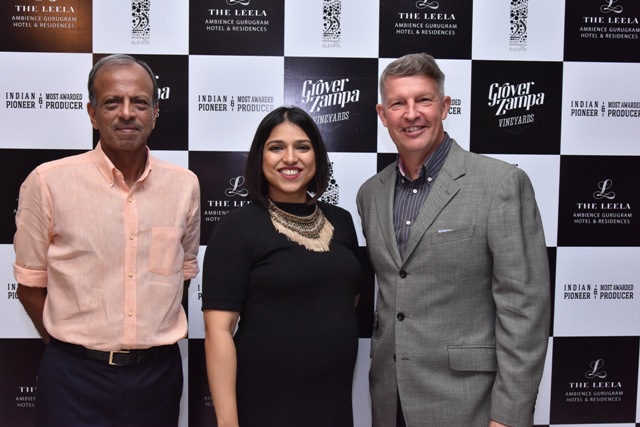 Speaking about the 25 year celebration of the brand,  Kapil Grover, Chairman GZV said: "For most, journey is about travelling from one place to another. For us, it is about reaching a higher ground as we grow. It has been 25 years since we produced our first wine in 1992, a dream envisioned by my father. Today, we boast the most impressive pedigree in the Indian wine industry. However, this is just the beginning, for we will continue to raise the quality of our wines and  the level of consumer experience through innovation and continuous education."
Sumedh Singh Mandla, CEO, GZV added , "In an era of wine enthusiasts wanting a value choice of wines of different styles and origins, GZV has developed a global portfolio that would suit a diverse palate. Also, with the growth of global wine enterprises presenting an interesting and contemporary dimension, we represent an important connection between producers and consumers. In the last 25 years, we have raised the bar steadily for quality wines, consumer experience, international distribution and wine education thereby contributing immensely to the globalization of the Indian wine industry."