One for sour, two for sweet, three for strong and four for weak- this is not a rhyme that I am trying to narrate- though rhyme, it does. This is instead a bartender's universal formula that lays down the proportion of ingredients of a well balanced cocktail.
The secret was shared by  Yangdup Lama, India's avant garde mixologist and the occasion was "Great American Whiskey Experience" – a workshop conducted by the Distilled Spirits Council of the United States (DISCUS), a trade association representing US producers, marketers, and exporters of distilled spirits products.
In an ongoing initiative to promote American whiskies India, Lama was on a five city spree to whip up some delightful potions just after his return from the US as the newly appointed Brand Ambassador for American whiskies.
The US Embassy in New Delhi supported the endeavour with Jonn Slette, Senior Attache for Agricultural Affairs introducing the session at Qla– a popular fine dining space amid heritage surroundings, near the imposing Qutub Minar. I found my place  courtesy Vikram Achanta, owner Tulleeho Portals Pvt Ltd, a leading beverage services provider of India who were entrusted with the event execution.
(Click on respective images to magnify)
India is a major whisky drinking country and the fifth largest Spirits consuming nation of the world-poised to be the fourth largest soon (source: IWSR report for 2012-17). Though a large percentage of this consumption is fuelled by domestic production, imported brands have their well carved niche. Jim Beam and Jack Daniels are the top recognized  American brands in India, though others like Maker's Mark and Woodford Reserve have been gaining ground fast.
Lama took all on a trip down the annals of whisky, highlighting the pioneering role of Americans in evolving cocktails with their whiskies. Six cocktails, including Old Fashioned, Manhattan and Whisky Sour did the rounds to drive the point home (see recipes towards the end).
What is American Whiskey?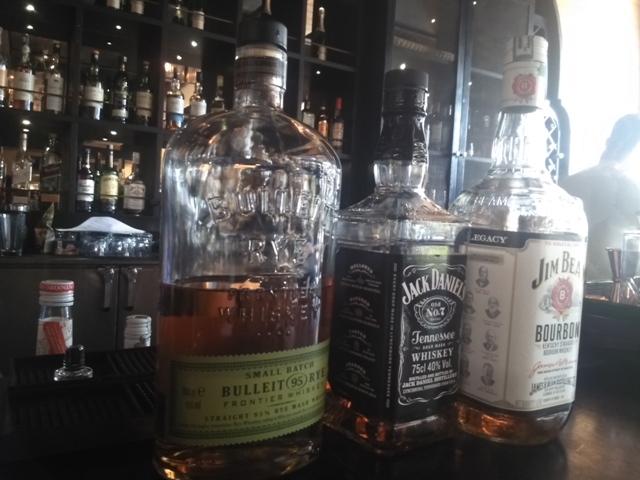 Whisk(e)y is a vast world in itself. With different grain sources, distillation methods and ageing and blending philosophies, an overwhelming number of possibilities make the beverage possess a universal appeal.
What is then different about American whiskies that make them stand out? Lama started with the basics of American whiskey:
There are largely 3 styles of American whiskey- Bourbon, Tennessee and Rye. A Bourbon and Tennesse whiskey must contain at least 51% Corn based spirit while Rye whiskey, 51% Rye.
An American whiskey should be distilled to a minimum strength of 80% alcohol by volume (ABV).
The essential difference between a Bourbon and Tenneesse whiskey is that the latter undergoes an additional process of filtering through several layers of maple wood charcoal. This process, called the "Lincoln County Process" makes the whisky mellower.
By US law, Bourbon, Tennessee and Rye whiskies must be aged in charred new oak barrels.
No colouring or flavouring additive is permitted to be added in an American whiskey.
When aged for two years or more, an American whiskey is called a straight whiskey.
Whiskey or Whisky?
Most of the world writes it as "Whisky", whereas the Irish and the American write it with an extra 'e' . Lama revealed that many whiskies produced in the US that do not strictly fall under the definition of American whiskies as above, may use the term "whisky" as well.
Cocktails with Whiskey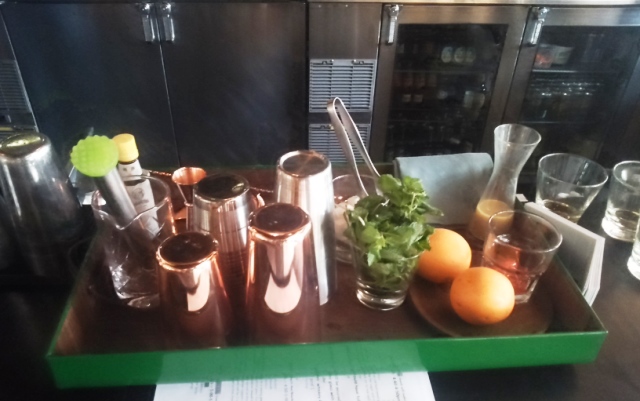 Hard core enthusiasts wouldn't like to mix their whiskey with anything else than plain water or ice . Cult whiskey cocktails are a different matter though. Many of these came into existence during the prohibition era in the US when drinks had to be surreptitiously passed around . This casual use led to  some magical combinations that furrowed the distinct groove of American whiskey based cocktails . Can you imagine a "Jack and Coke" or  a "Mint Julep" with any other whisky? Probably not.
Lama chose to showcase six delicious cocktails to emphasise this uniqueness of American whiskies, while offering the audience an opportunity to prepare some of these at their own tables. The result was an all pervasive enthusiasm that concluded with a lingering taste of American whiskey. Here are the recipes:
Note: In all cocktails, Bourbon/Tennessey can be used interchangeably
Old Fashioned
45 ml Bourbon
1 sugar cube
5 drops aromatic bitters
orange peel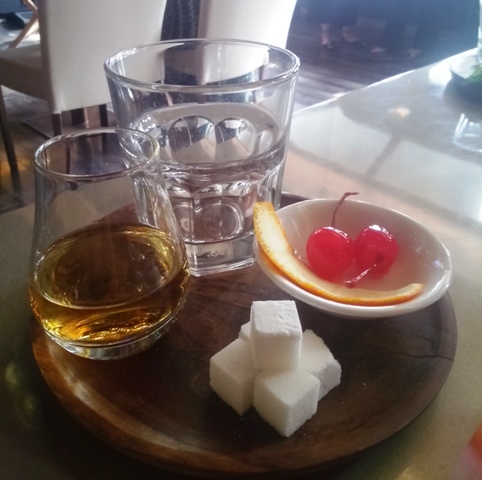 Place the sugar cube in an Old Fashioned (whisky) glass, soak in the bitters. Thereafter, break the sugar and mix well. Fill the glass with ice, pour in the bourbon and stir well. Release the oils from orange peel and drop into the glass before serving.
Whisky Sour
45 ml Bourbon
15 ml Fresh lime juice
15 ml sugar syrup
3 drops aromatic bitters
1 egg white (optional)
1 orange peel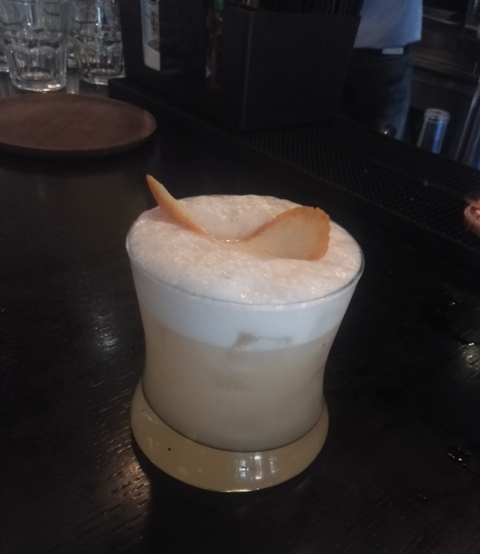 Half fill a cocktail shaker with ice, pour all ingredients and shake well. Strain the ice out and give a reverse dry shake (i.e. shake without ice). Pour into an old fashioned glass filled with ice. Release oils from the orange peel, drop into the glass and serve.
---
Decoding Lama's universal formula for a perfectly balanced cocktail (see beginning of this article)
1 part sour ingredient (e.g. lemon juice)
2 parts sweet ingredient (e.g. sugar syrup, bar syrup etc)
3 parts of alcoholic beverage
4 parts diluting mixer (water, soda, tonic water etc)
---
Manhattan
45 ml Bourbon
10 ml sweet Vermouth
3 drops aromatic bitters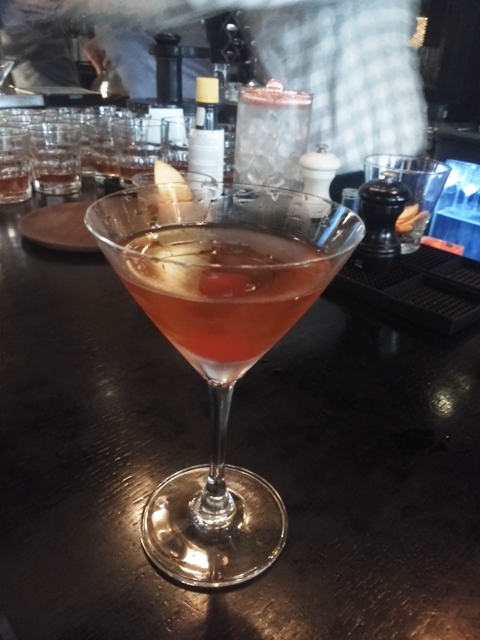 Pour all ingredients in a whisky glass half filled with ice and stir well. Strain into a chilled cocktail glass. Garnish with a cherry or orange peel.
Mint Julep
45 ml Bourbon
3 drops aromatic bitters
4 fresh mint sprigs
10 ml simple syrup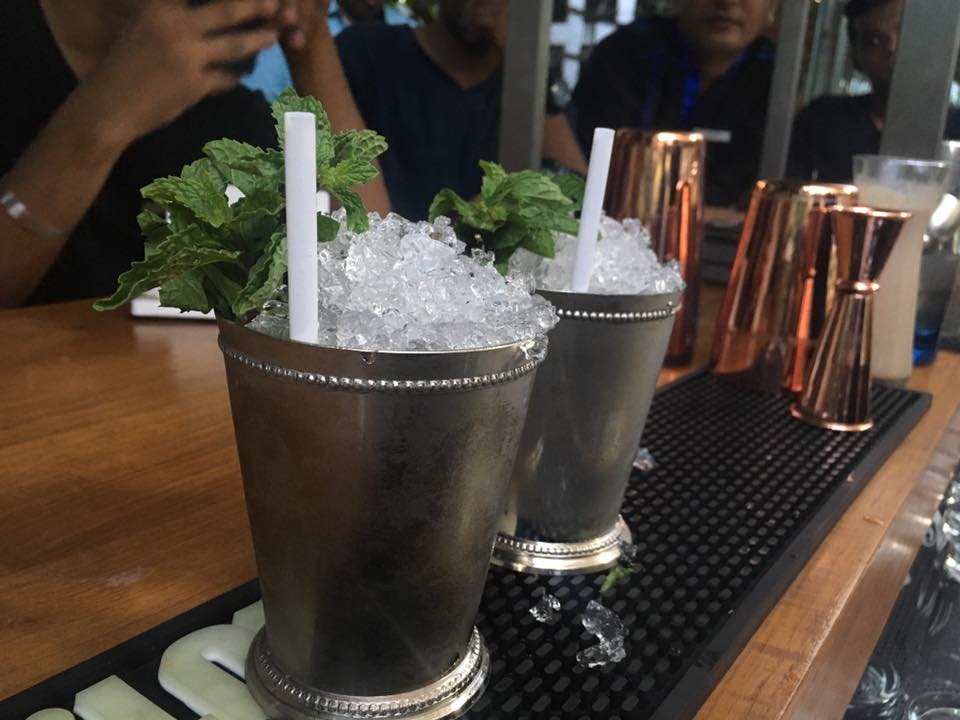 In a Julep cup, drop the mint sprigs, add aromatic bitters, simple syrup and bourbon whiskey and muddle. Fill the cup with ice and mix well. Garnish with a mint sprig and serve with a straw.
The Ginger Baker
45 ml Bourbon
10 ml fresh ginger juice
10 ml fresh lime juice
10 ml Orgeat syrup (almond and orange blossom flavoured syrup)
30 ml pineapple juice
In a cocktail shaker half filled with ice, pour all ingredients and shake well. Strain into an old fashioned glass. Drop a sphere of ice, garnish with a dehydrated pineapple and two almonds and serve
Spiced Boulevardier
30 ml Bourbon (infused overnight with cinnamon, ginger,cloves, pepper and black cardamom)
7.5 ml sweet Vermouth
7.5 ml Campari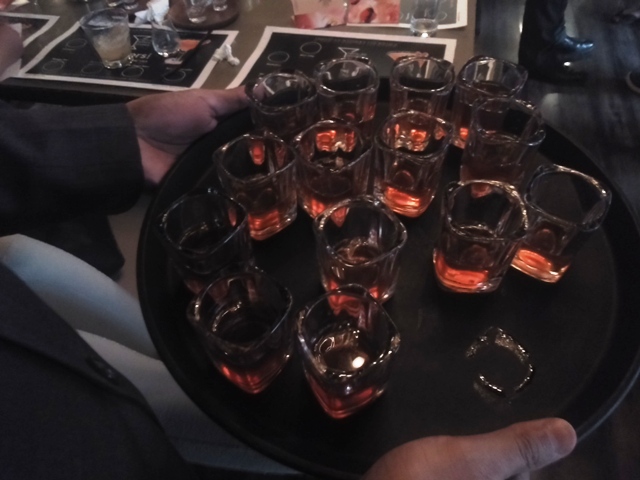 In a mixing glass filled with ice, stir all ingredients and strain into an old fashioned glass filled with ice. Garnish with an orange peel and cinnamon stick before serving.