The economic crisis in Greece seems to have blown over and I sincerely hope that the country will have plenty of right reasons to be in news in the coming times. What makes me so optimistic is due to -what else- but Greek wines that bring a lot of promise to wine passionates.  I recently experienced some delicious Greek wines in New Delhi that made me wonder why I was not tasting them often. The tasting was held at the Embassy of Greece in New Delhi, with the Ambassador H.E. Ioannis E Raptakis playing  keen host.
The wines were from Vaeni – a cooperative from Naoussa region in Macedonia famed for some great red wines made from the indigenous Xinomavro (In Greek, Xino means acid and Mavro means black – implying high acidity and high tannin grapes) varietal.  Greek wines are known to be localized to specific regions where all the country's 15 major grape varietals  are not to be found outside their respective regions. For Naoussa, the crowning glory is  the Xinomavro grape varietal and it was only befitting that Fountoulis George, President of Vaeni Cooperative arrived himself  to conduct the tasting with all passion.
Greek wines – a historical perspective
History has it that Greece is one of the pioneers of winemaking with evidence of vineyards dating back to 2000 B.C. It was the Greeks, who transported wines to most of Europe through the Mediterranean. The country went into oblivion for a very significant period before the modern wine industry took shape post the world wars. The industry firmed up as Greece joined the Eurozone – and this brought investments and modern technology to its shores.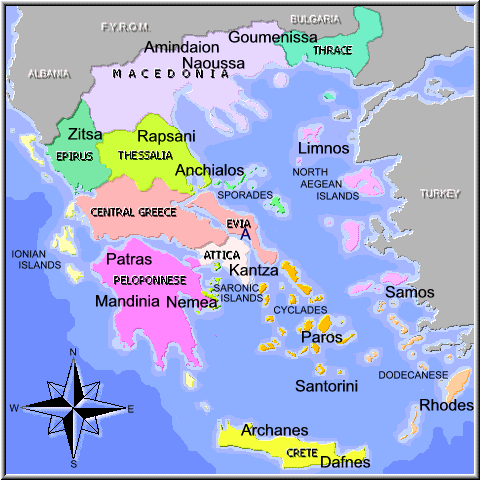 Viticultural regions are found all over Greece – the major winemaking regions in Greece are Northern, Central, Peloponnese and certain islands off its coast. Greece retains several indigenous grape varietals – the major red varietals are Aghiorghitiko, Limnio, Mandelaria and Xinomavro and the whites are Assyrtiko, Malagousia, Savatiano and Robola – and they produce remarkably unique wines.
The Vaeni Cooperative
Vaeni Cooperative was formed in 1983 when 330 vine growers of Naoussa came together with an aim to make better use of their crop and act as a counterbalance for private companies. Mr George informed me that  their production philosophy is about keeping pace with the times by adapting new technology while still maintaining the considerations of their heritage. The cooperative today exports 30 per cent of its sales to 27 countries and Mr. George is quite optimistic about India becoming the 28th! They are also socially sensitive by providing direct employment to more than 250 families and indirectly to many more.
The tasting
The wines being from Naoussa, all of them, whether white or red,  were from 100% Xinomavro varietal.  One could relate to these wines by drawing parallels with international varietals but their USP lay in their distinct character. One could actually feel that these were high quality wines from a different genre that packed the necessary punch for an altogether different wine experience.
Makedonikos 2014 (white) Alc 11.5%
This wine is made from  free run/first press juice and in fermented in stainless steel tanks- hence it was very fresh and aromatic. The nose was reminiscent  of  white flowers, ripe peaches and pears while the palate was refreshing and delicious. With a residual sugar of 9 g/l the wine's off-dry disposition was matched well with ample acidity. The wine was a big hit during the tasting.
Naoussa 2010 (Red) Alc 12.5%
A light ruby wine with fresh red fruits nose, most prominently red cherries. Light-medium bodied on the palate with an emphatic yet gentle structure, which came as a pleasant surprise going by the visibly low colour extraction. A wine that is good with savoury food.
Damaskinos 2011 (Red) Alc 13%
Damaskinos means aromas of prunes, that according to the winemaker, gives this wine an unmistakable character. Sure enough, the medium ruby wine had cooked and dry fruit aromas along with a hint of mixed sweet spices such as vanilla and cinnamon. This was supplemented by a luscious palate of red apples, poached pears backed up by a smooth lingering finish.
Naoussa Grande Reserve 2008 (Red) Alc 13%
According to George, just the aromas of this wine could make you discern it's rich character. Aged for two years in French oak barrels and rested in the bottle for at least two years before release, the wine had an expressive nose of black fruits, vanilla and a little spice. It had a palate coating consistency with pleasant tannins and lots of mixed berries on the palate.
My host, H.E. Ioannis E Raptakis, the Ambassador of Greece in India, informed me that after consistently promoting Greek olive oil and Feta cheese in India, the next step is to create an awareness of Greek wines in the country. The Ambassador  expressed lots of optimism about the prospect of Greek wines in India saying that India is one of their focus countries.
For the love of wine, this focus is more than welcome Mr. Ambassador!