A few moons back when Sumedh Singh Mandla relinquished his post as the CEO of Grover-Zampa vineyards- speculation was rife. Why would somebody bow out of a high profile position, that too from the cruise mode? The transition obviously had to be bigger than what Sumedh was already doing. The speculations continued as Sumedh- a renowned food and beverage personality- chose to stay away from the limelight for a considerable period.
Came November 2018 and the suspense was finally broken. Sumedh, as CEO of his new company VBev formally announced its becoming at a maiden dinner with the famed French house of M. Chapoutier. The announcement could not have been more sensational.
An Emphatic Start
A new kid on the Indian alcoholic beverages space, VBev is engaged in the import, marketing, sales and distribution of international spirits, wines and beers in the Indian sub-continent. The fledgeling company has already covered a lot of ground with brands like Stolichnaya Vodka, Charger Scottish Lager and Heverlee beers as well as wines from M. Chapoutier (France), Codorniu (Spain) and Zenato and Santa Margherita (Italy) under its belt. The company is fast developing its footprint across the Indian sub-continent through channel partners in Horeca, premium retail and travel retail segments.
Our vision is to offer new trends and the finest selection of Wine & Spirit brands to our discerning
consumers across the Indian sub-continent. M. Chapoutier is an iconic and top awarded wine
producer from France and we are thrilled to bring this historic brand to the Indian market.  We are confident that the quality and variety of our M. Chapoutier selection will find acceptance and appreciation from the wine lovers in India.
– Sumedh Singh Mandla (CEO – VBev)
---
VBev segments of operation across the Indian subcontinent:-
On-premise covering major star hotels, restaurants and clubs in India.

Off-premise including premium supermarkets and

stand-alone

retail shops in India. 

Global Travel Retail comprising of

duty-free

shops at airports and seaports in India and South Asia.




---
A befitting debut with M. Chapoutier
If you count the top wine brands of the world, M. Chapoutier would certainly be one of the foremost to cross your mind. The French winemaker, who has been producing iconic wines from the Rhône Valley since 1808 has some of the oldest vineyards in Côtes-du-Rhône appellation. While they export their wines to 130 countries worldwide, Chapoutier also has vineyards outside France- in Australia, Portugal and Spain. Very recently M. Chapoutier was the first to be awarded as the most admired French wine brand by the Drinks International Report 2018.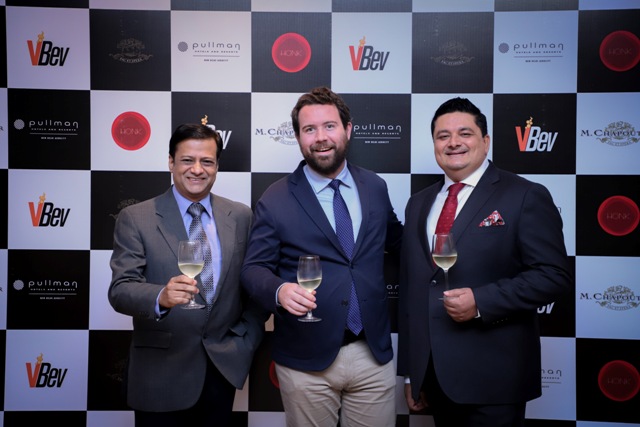 VBev's debut event with Chapoutier wines was held at hotel Pullman New Delhi Aerocity where Edouard Payot the brand's Export Director for Asia, Africa & Middle East arrived specially to present his wines. The dinner was even more inviting as it saw French wines being paired with some great Indonesian food by Chef Hari Haryadi, the visiting Chef from Pullman Jakarta who had arrived for a week-long Indonesian Food Festival at the Delhi hotel.
---
The Chapoutier USP
First to introduce braille on their labels in 1996. 

Hold the record for a 100 point rating from Robert Parker 33 times till date.

Are the preferred French wine brand for worldwide

duty-free

and leading airlines like Air France, Emirates, Etihad, Air India and many more.

Since 1991, Chapoutier vineyards have only been cultivated organically and biodynamically.




---
Chapoutier wines being imported by VBev did the rounds as Payot introduced each one of them and their respective USPs. Here's a snapshot:
Marius Blanc & Rouge, Pays d'Oc
Grapes: Marius Blanc-Vermentino, Terret , Marius Rouge– Grenache, Syrah
Retail price (both variants): ₹ 1990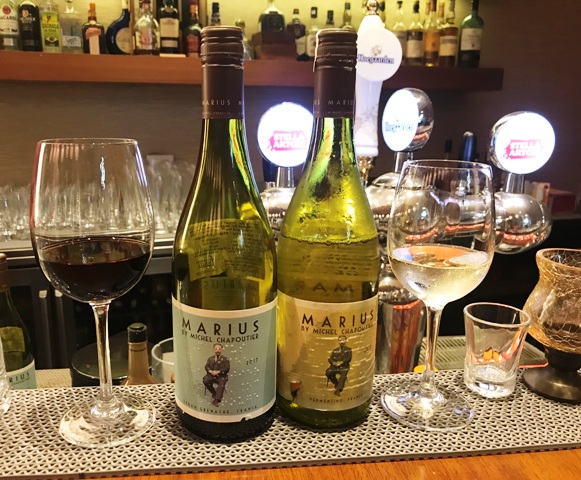 The Marius label by Chapoutier pays homage to Michel Chapoutier's grandfather Marius who believed in a good wine as the one which people would want to drink again and again. Payot highlighted the USP of this entry-level wine during the hors d'ouevre at the dinner. Marius wines are easy drinking and approachable, true to their intended character.
M. Chapoutier, Belleruche Côtes-du-Rhône Blanc 2017
Grapes: Grenache Blanc, Clairette and Bourboulenc
Retail Price: ₹ 2950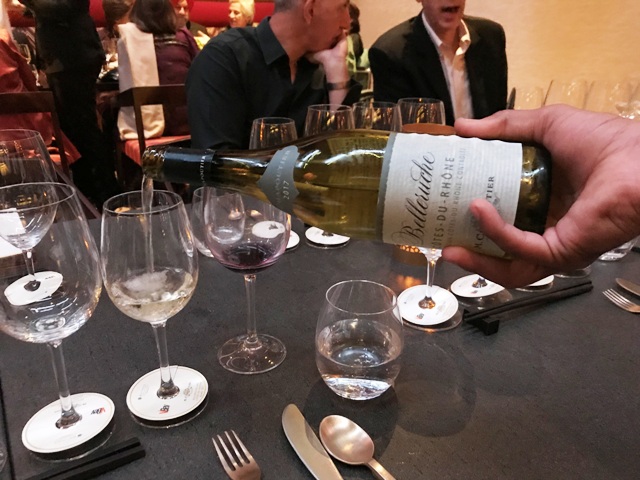 An expressive wine with citrus and green apple aromas, Belleruche Côtes-du-Rhône Blanc has a refreshing palate with tree fruit flavours followed by a long finish. The wine, with its crisp acidity worked well with Tahu Telur Surabaya (East Java Fried Chicken and Egg Beansprout) which was crispy and savoury.
M. Chapoutier, Bila-Haut Côtes du Roussillon Villages 2017
Grapes: Syrah, Grenache and Carignan
Retail Price: ₹ 2360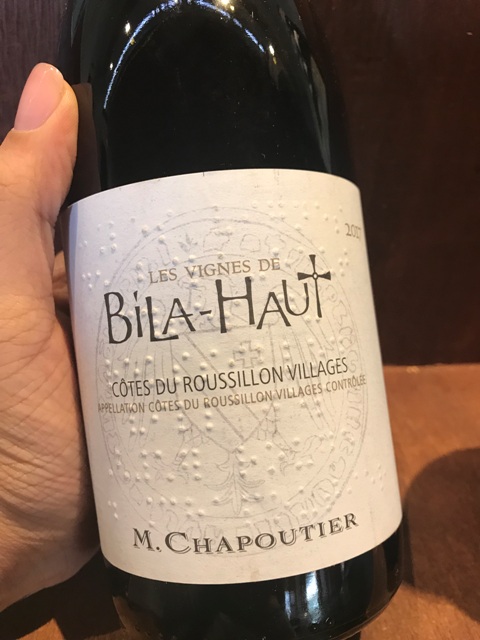 This wine comes from the Roussillon region known largely for its affordable and value-for-money wines. Chapoutier Bila Haut is a pleasant red wine having black fruit aromas, a medium body and smooth tannins. It was served with the coconut milk based Soto Medan (North Sumatera Milky Soup). The combination was not bad per se, but I would rather prefer this wine with something like a chunky and juicy starter or even on its own.
M. Chapoutier, Les Meysonniers Crozes-Hermitage 2016
Grape: Syrah
Retail Price: ₹ 4990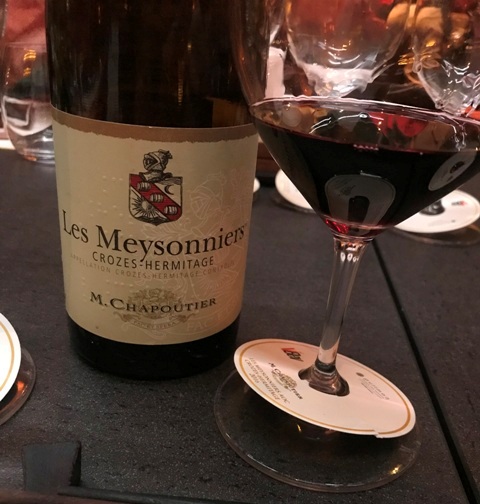 The first look at the menu and I was eagerly awaiting this wine owing to its very provenance. Crozes-Hermitage is an acclaimed sub-region in the Northern Rhône that produces some most powerful and long-lived wines.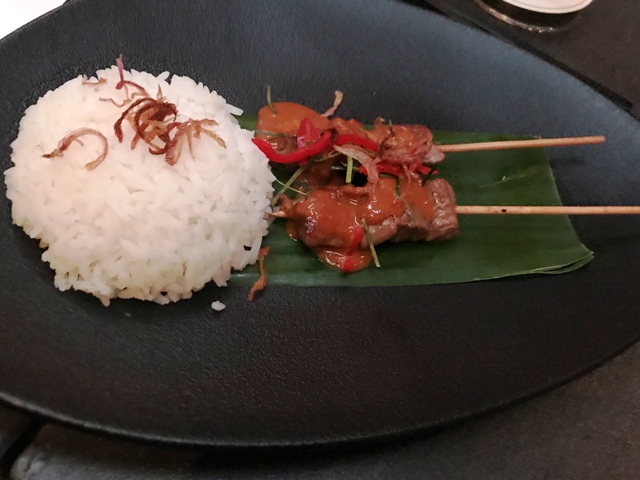 The wine did not disappoint either, with its red fruit and spicy aromas that gave way to a full-bodied lingering palate. The robust Satay Kambing (Balinese Lamb Skewer) worked perfectly well with this beauty. As anticipated this was my favourite wine of the evening.
M. Chapoutier, La Bernardine Châteauneuf-du-Pape
Grapes: Grenache with smaller percentages of Syrah and Mourvèdre.
Retail Price: ₹ 8900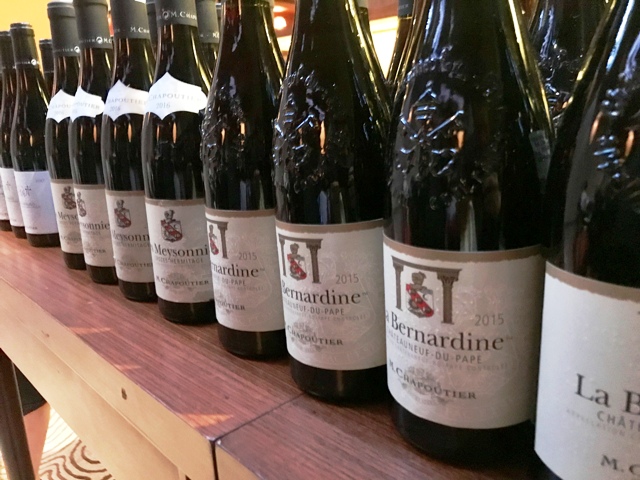 Another famous type of wine from the Rhône Valley, Châteauneuf du Pape wines have attained cult status as much for their signature blends that can have as many as thirteen grape varietals, as for their erstwhile association with the papacy. La Bernardine Châteauneuf-du-Pape can well be called a GSM blend but has a clear Grenache dominance with a juicy-spicy character.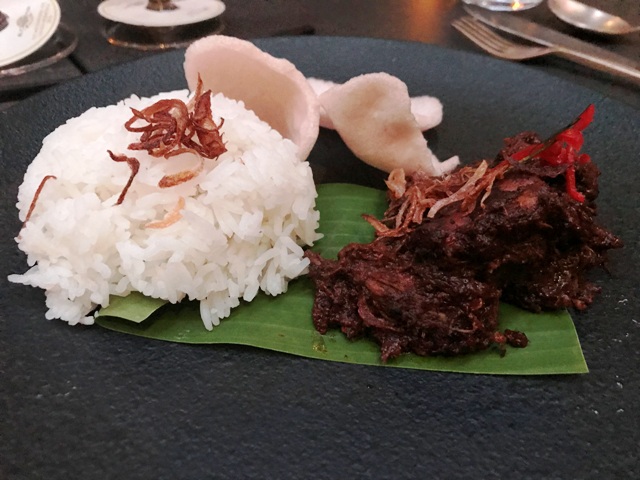 The full-bodied wine has a well-rounded structure and flavours of red fruits culminating in a liquorice finish. The Lamb Rendang served with the wine, although marvellous by itself, was too spicy for the wine hence I saved the CNDP for post-meal deliberations.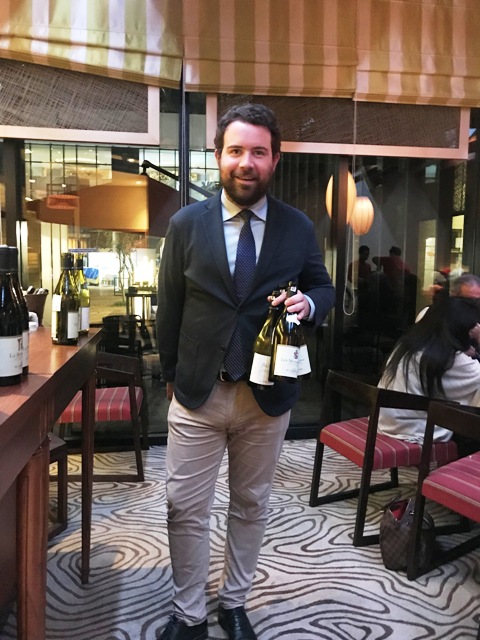 Optimism all around
VBev's debut event was attended by selected media and wine lovers from the Indian capital as well as the hotel's resident guests. Speaking on the occasion, Edouard Payot expressed his optimism about the future of Chapoutier wines in India given that the country is awakening to quality wines every succeeding year. He feels that there is a good market in the country for terroir-driven elegant wines which Chapoutier produces. He is also confident about their partnership with VBev to pitch these wines in the right earnest.
Such confidence certainly bodes well for VBev and its envisaged agenda.