"On the good side of the hill"- says their Instagram profile, but the privileged geographical contours of Tedeschi wines have existed centuries before the Instagram era. A prominent winemaker from the Valpolicella region situated around the city of Verona, Tedeschi is known for its wines that are highly representative of their region's terroir and a toast of many around the world.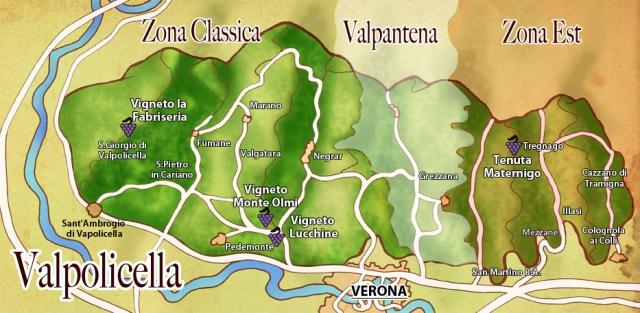 For a producer that exports more than 85% of its production, Tedeschi has recently added India to its export destinations. Maria Sabrina Tedeschi, the Marketing Head of her family enterprise, arrived in the country for the first time ever to connect with this growing market. I had the privilege to dine with her at Sorrento, the Italian restaurant at Shangrila Eros hotel in New Delhi. It gave me an excellent opportunity to learn more about their famous wines that are now available in India in retail as well as in restaurants.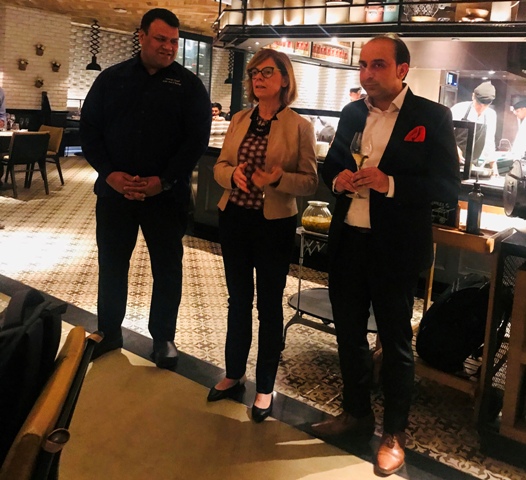 The Tedeschi Legacy
Historical records validate the Tedeschi family as making wine in the Valpolicella region since 1630. They are renowned for their Valpolicella, Amarone and Recioto wines made with the popular Veronese varietals like Corvina, Corvinone and Rondinella, as also the lesser known Oseleta, Dindarella, Negrara, Rossignola and Forselina. Apart from wine they also produce limited quantities of Olive Oil and Grappa.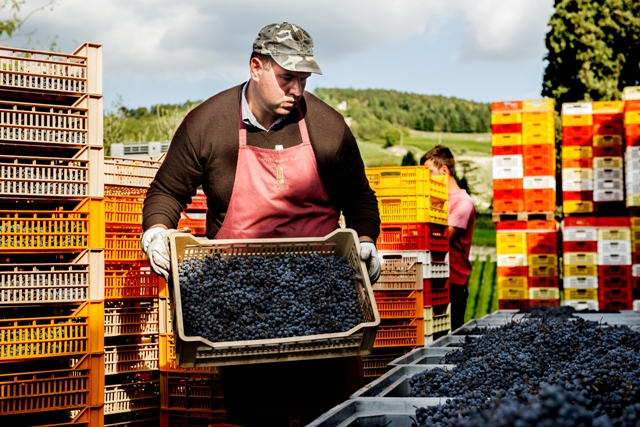 If there is one thing that the Tedeschi family is really proud of , it is their foresight over generations in adapting to the changing requirements of winemaking. It has enabled them to produce quality wines vintage after vintage in a sustainable way. A perfect example comes from the 1960s when their family patriarch Lorenzo (Renzo) Tedeschi decided to separately vinify grapes from their now flagship Monte Olmi vineyard, thereby creating one of the very first single-vineyard wines from Valpolicella.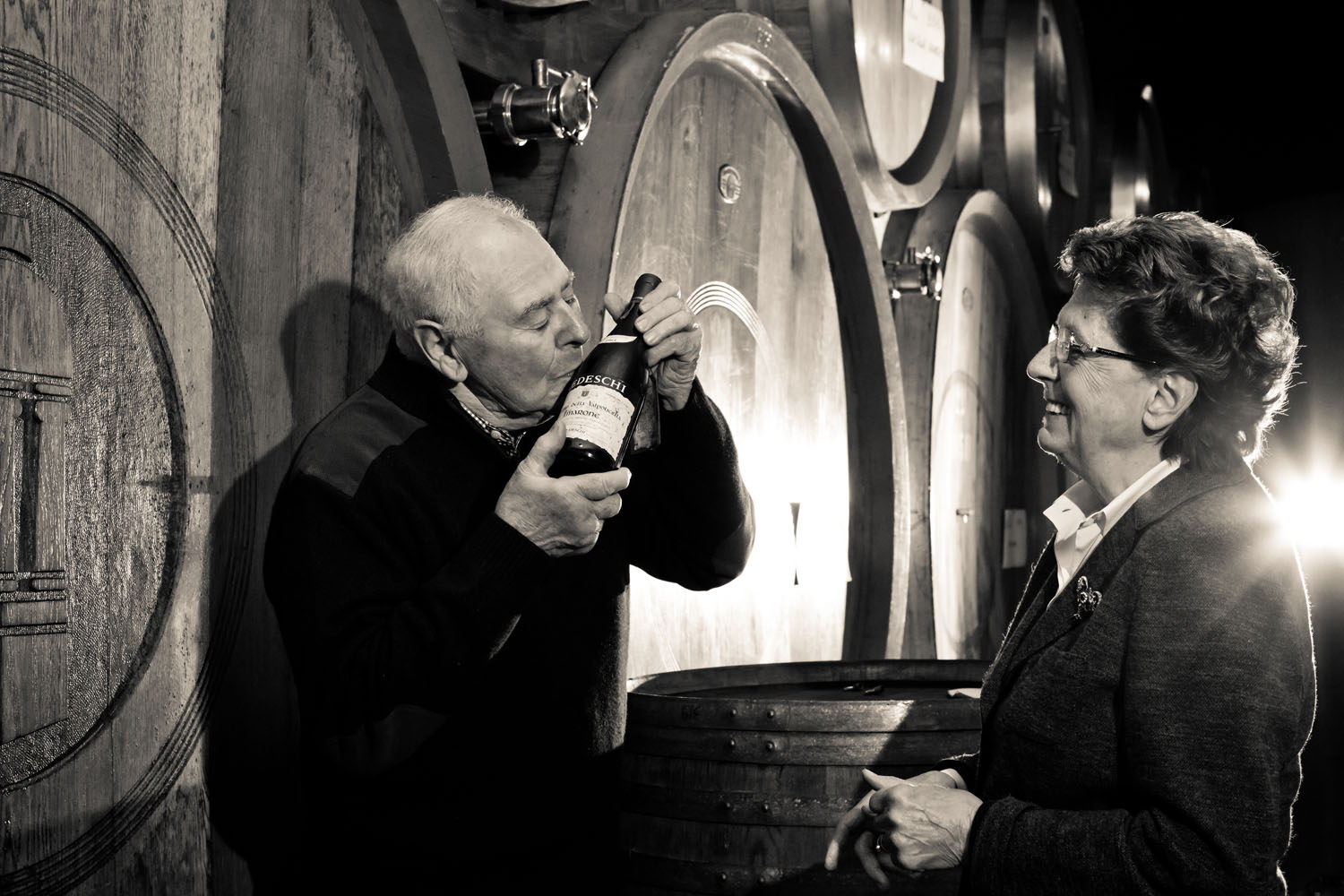 More recently in 2010 the Tedeschi family started a "zoning" and "characterization" program that traces the different behaviour of vines despite homogeneity of their land composition. The research has enabled them to intervene in the vineyards in a targeted fashion, thus ensuring uniform vegetative development. Similar such initiatives have allowed their winery to become completely sustainable in agricultural management and in the wine industry. For their sustainability initiatives, Tedeschi has received the Biodiversity Friend certification and is also under certification according to the Equalitas standard.
The Tedeschi family has always sought to produce terroir wines, i.e. wines that are only produced with grapes from the hills.
-Maria Sabrina Tedeschi
Today the Tedeschi family business is headed by Renzo actively supported by his three children Antonietta, Sabrina and Riccardo. Family being the key element of their success, they continue together the interpretation of terroir that their ancestors began centuries ago.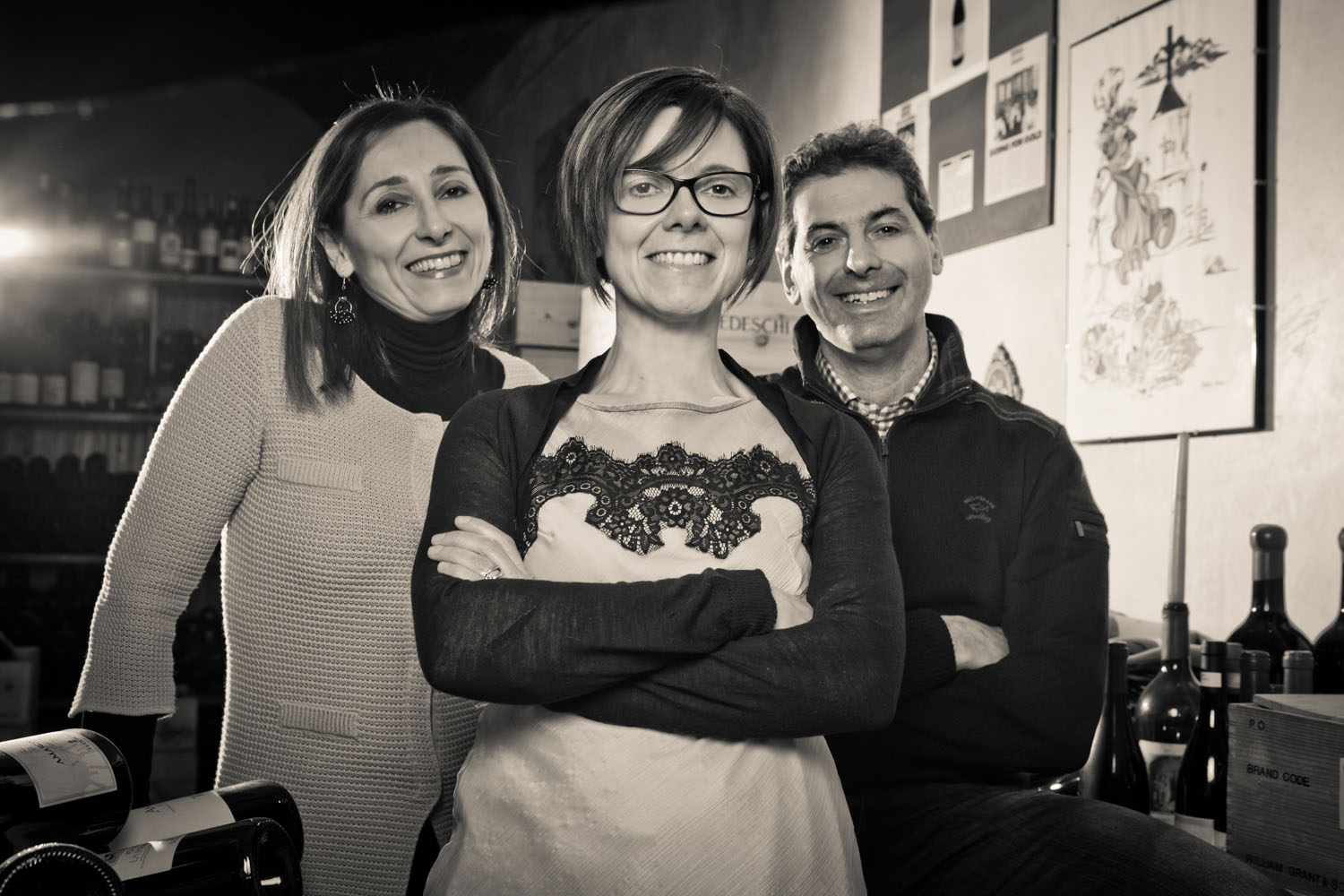 Notwithstanding the strong family orientation, inheritance is not taken for granted by them, as Sabrina brings out:
There is no doubt that family is important to our business right since the beginning. But it does not imply that the responsibility of shouldering our heritage passes on automatically across generations. I joined my family enterprise only at the age of 34 after having worked elsewhere until I thought that I was ready to take on my responsibilities. Similarly I and my siblings have adviced our next family generation to feel free to join the family business only when they feel the passion for it deep within.
Tedeschi in India
Four of Tedeschi wines have been introduced in India through their importers Prestige Wines and Spirits Pvt Ltd. I sampled these wines at the dinner with Sabrina that saw a well-curated menu by Executive Chef Neeraj Tyagi of the Shangrila Eros hotel. The wines are available in major Indian cities both in retail as well as hospitality spaces.
---
Apart from the "official wines" at the dinner, the hosts also announced a "special" wine ferried personally by Sabrina to be served towards the end of the dinner. Our anticipation knew no bounds even as we saw the first of the wines poured at the gathering.
---
Tedeschi Capitel Tenda, Soave DOC Classico 2017
Grapes: 100% Garganega
ABV: 12.5%
Price: ₹ 3300
This wine is made with grapes from vineyards located in the commune of Monteforte d'Alpone – the oldest area of origin in the Soave Classico region.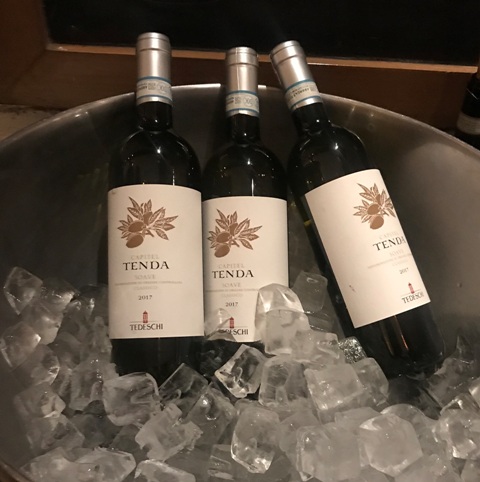 The wine was clear pale-lemon with an expressive floral and fruity aromas. Crisp on the palate with flavours of peach and dried apricot, it worked extremely well with a creamy-umami Tuna Tartare on a bed of Avocado Mousse.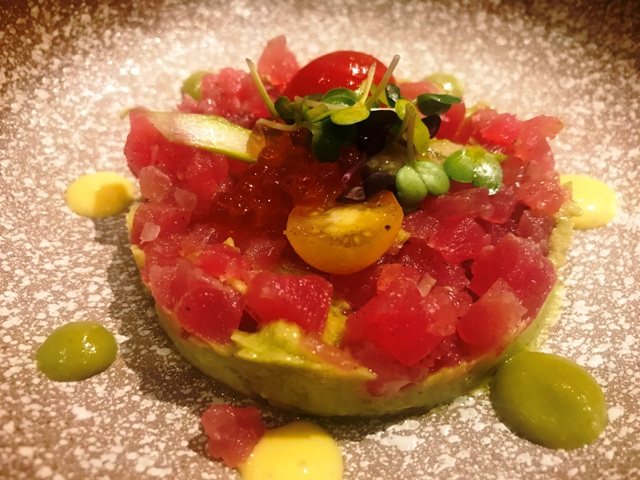 Tedeschi Valpolicella DOC Superiore 2016
Grapes: 35% Corvina, 35% Corvinone, 20% Rondinella, 10% Rossignola, Oseleta, Negrara, Dindarella.
ABV: 13%
Price: ₹ 3300
As compared to a basic Valpolicella wine, a Valpolicella Superiore implies a higher alcohol content and a minimum one-year ageing. Accordingly, Tedeschi Valpolicella DOC Superiore is aged in Slavonian oak barrels for a year followed by 6 months in the bottle.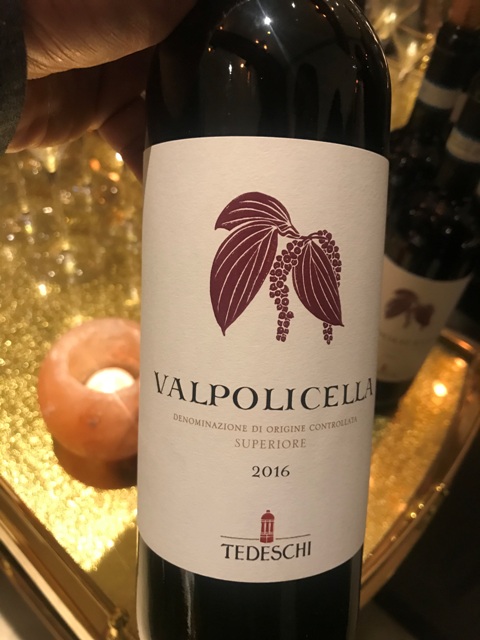 The wine was served as an aperitif during the evening but many of us at the dinner decided to also sample it with the first course alongside its official pairing with the Valpolicella Ripasso.
With a deep ruby colour, the wine expressed aromas of red fruits and sweet spice. On the palate, it had firm and rounded tannins with flavours of red cherry and raspberry finishing on a grippy and warm alcohol note. Some found this wine as a better pairing with The Risotto Al Pomodoro rather than the officially paired Valpolicella Ripasso, but my preference stuck with the original.
Tedeschi Capitel San Rocco, Valpolicella Ripasso DOC Superiore 2016
Grapes: 35% Corvina, 35% Corvinone, 20% Rondinella, 10% Rossignola, Oseleta, Negrara, Dindarella.
ABV: 14.5%
Price: ₹ 4050
Ripasso implies an ancient winemaking technique that involves "repassing" Valpolicella wine produced the preceding autumn, on the unpressed skins of Amarone wines after these have been decanted in March. The technique renders additional flavours and alcohol to the Valpolicella wine.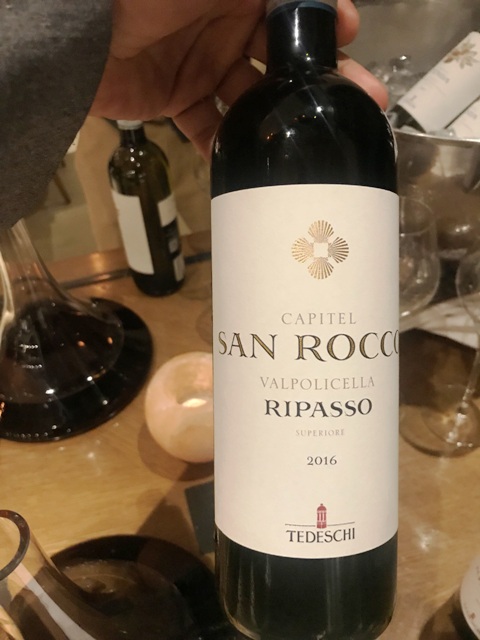 I found this wine to be highly complex and great value for money for the power it packs. The wine was deep ruby in colour with aromas of blackberries and fruit jam. It had weighty on the palate with a full body, supple tannins and a lasting finish. Like I said above, the Ripasso wine worked well for me with the Risotto Al Pomodoro on the evening's menu.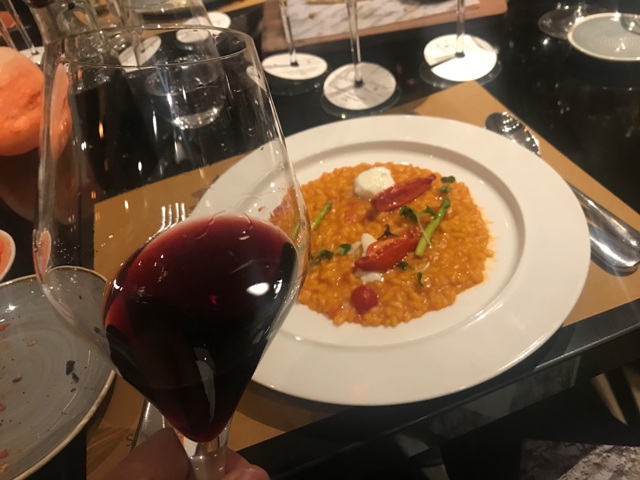 Tedeschi Amarone della Valpolicella DOCG 2014
Grapes: 35% Corvina, 35% Corvinone, 20% Rondinella, 10% Rossignola, Oseleta, Negrara, Dindarella.
ABV: 16%
Price: ₹ 10000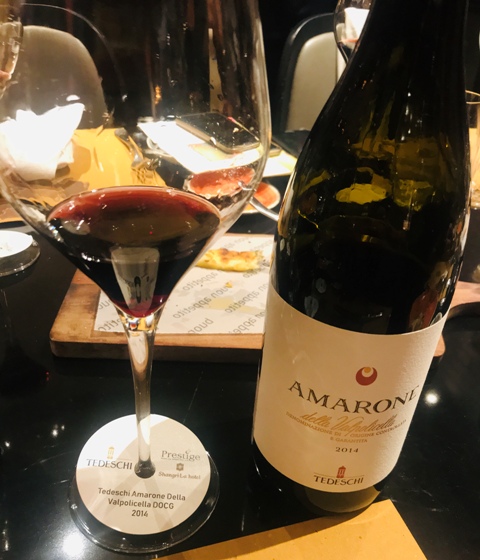 Amarone wines are in a class of their own with their laborious elaboration well justifying their cult status. These wines are made with partially drying out (a process called apassimento) the harvested grapes before they are crushed and fermented. The resultant berries have a higher concentration of sugars and an enhanced organoleptic profile that results in wines with higher complexity and alcohol levels.
The grapes for Tedeschi Amarone della Valpolicella DOCG are dried in controlled humidity for 4 months after which they are soft pressed and fermented for 40 to 60 days. The resultant wine is aged in Slavonian oak for about 3 years followed by bottle ageing for 6 months.
---
Recall the "special wine" ferried by Sabrina to be served towards the end of the dinner as elaborated above in this article. It turned out to be a prized Tedeschi Amarone della Valpolicella DOCG 1995 that was decanted an hour plus in advance. It gave us an excellent opportunity to compare the two Amarones almost two decades apart- an exciting proposition for any true wine lover. Here are the tasting notes side-by-side:
---
Tedeschi Amarone della Valpolicella DOCG 2014
Colour: Ruby with a garnet rim. Nose: Dark fruits and raisins with a hint of spice. Palate: Full bodied with approachable tannins and dense flavours of berry compote. A little bitterness towards the finish gave the wine a great balance with the condensed fruit flavours.
Tedeschi Amarone della Valpolicella DOCG 1995
Colour: Clear, deep garnet. Nose: Black fruits, balsamic and ferrous notes. Palate: Well structured with velvety tannins.Flavours of prunes, figs and caramel.
From the food pairing options of Herb Crusted Lamb Rack, Pan Seared Black Cod and Truffle and Ricotta Filled Crepes with the Amarone 2014, I went for the Black Cod, being inquisitive as to how this robust wine would fare with the fish (the other two being apparent no-brainers).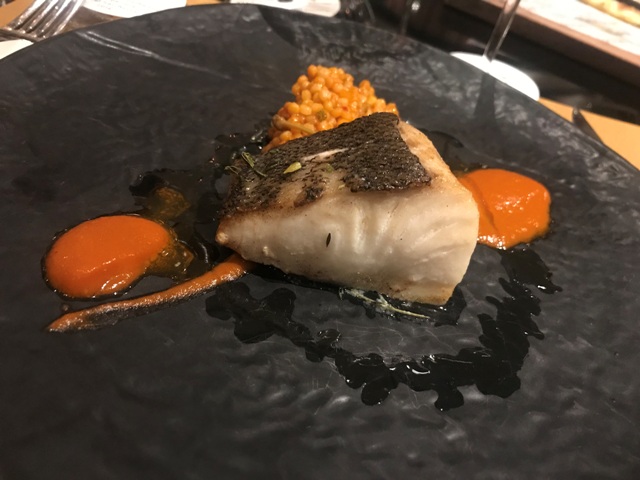 I was pleased to find that the pairing worked well enough- if not famously. The well done Cod had ample texture that was further bolstered by the Sardinian couscous and lobster tomato bisque.
As for the Amarone 1995, it was optimally matured, having a smoothness and complexity that made it enjoyable on its own, or with food. An apt description of the wine came from Subhash Arora, President of Delhi Wine Club who was seated beside me at the dinner. In his words: "an aged Amarone like this is nothing short of a meditative wine with which you could spend hours after dinner over a cigar". Meditate we did, but substituting the cigar with assorted cheeses.
A kind of "pairing" that Tedeschi would hope to achieve with wine lovers in India.