This summer,  I was quite fortunate to be in Buttrio, a commune in Udine, a major province of Friuli Venezia Giulia, Italy during the period when their regional wine fair was on. It was the perfect occasion to sample a host of wines from the Friulian region under a single roof which would otherwise not be possible for a random visitor on a tight itinerary. It was also a moment when I silently  wished to witness such wine fairs in India with a carnival like atmosphere, where you just enjoy the wines in a carefree manner, soaking in the vibrant atmosphere,  without having to worry about taking notes etc.
Surprisingly, my wish came true a bit sooner than I  had imagined. To top it, not only with wines but spirits as well!  The occasion was "Globe in a Glass Roadshow 2016" in New Delhi organized by Sula Selections, the import arm of Sula Vineyards, India's largest winemaker. The event  showcased Sula's import offerings  supplemented by their domestic portfolio "under one roof"- in this case the big blue sky.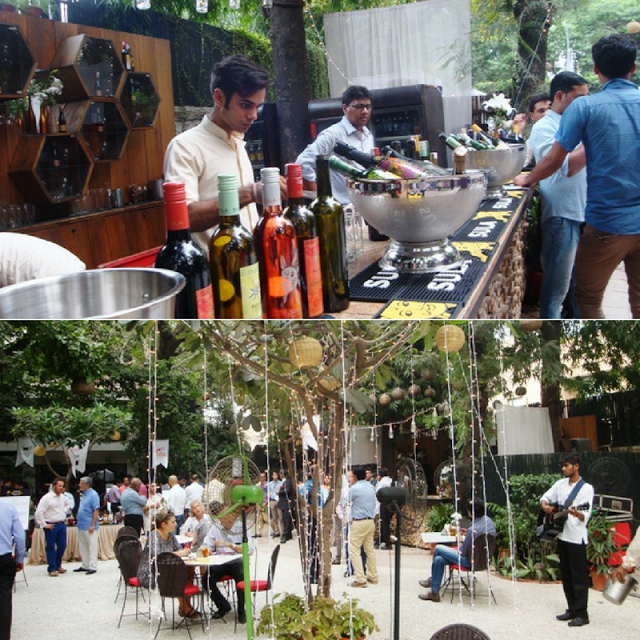 The Event
The Delhi fixture of Sula's roadshow was the first in the series of three- the other two to be held in Bangalore on 5th and Mumbai on 7th Oct 16.  As I publish this piece, the Bangalore version is likely to be in its full bloom. Leading wine and spirit producers from different corners of the world have joined hands with Sula for these day-long events, offering guests  the opportunity to sample Wines, Liqueurs, Cognac, Tequila, Brandy and more while meeting the people behind the brands.
For the Delhi version, the venue was  'Lodi – The Garden Restaurant' located in the serene precincts of one of the greenest spots of the Indian capital. The event truly resembled a carnival, with music and food adding to the charm of the liquid pleasures while people from different industries, diplomats, industry leaders and socialites mingled to strike conversations while they enjoyed the wide range of offerings.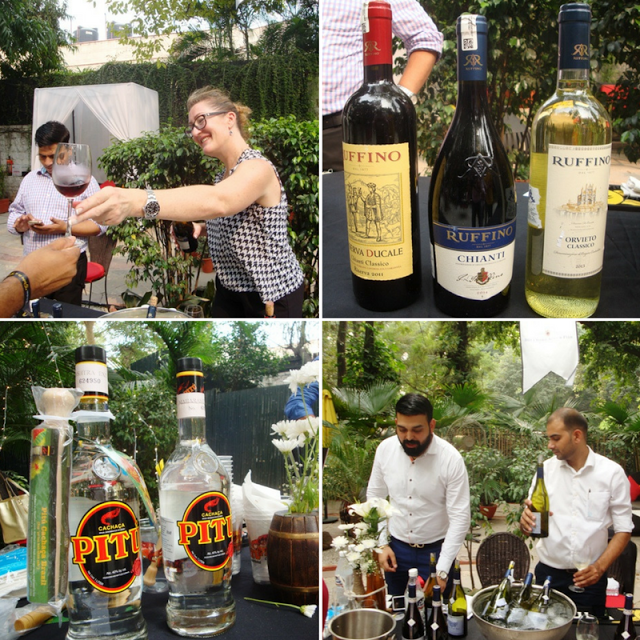 The Offerings
Almost the entire Sula Selections portfolio was showcased at the event- only exceptions being their labels which are not registered in Delhi State. Guests could sample Mud House from New Zealand, Hardys Australia, Trapiche Argentina, Cono Sur Chile, Kumala South Africa, Antica Sambuca, Remy Martin Cognac and St Remy Brandy France, Ruffino Italy, Cointreau France, Don Alejandro Tequila Mexico, Mount Gay Rum Barbados, , Volare Italy, Pitu Cachaça Brazil, Bouchard Aîné  & Fils France, and Le Grand Noir France.
A distinct feature of the event was cocktails made exclusively from Sula's spirits brands which silently conveyed the versatility of their portfolio capable of whipping up famed cocktails like Side Car, Mimosa, Mai Tai, – and their signature Cointreaupolitan (a Cosmopolitan sans vodka) entirely on their own. It also afforded them to display the main ingredients of the respective cocktails through their brand logos facilitating a strong consumer recall (image below).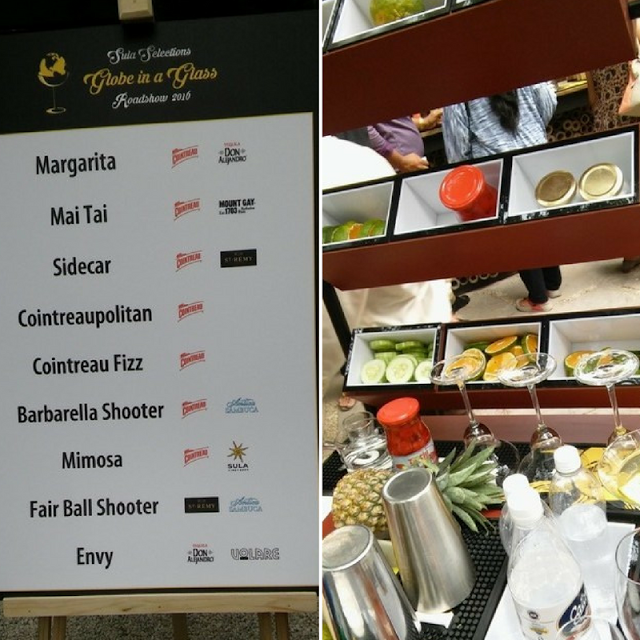 The Genesis
Speaking on the occasion, Noi Cecilia Oldne, VP – Marketing & Global Brand Ambassador at Sula Vineyards, said "This tour was put together for our valued customers, bringing wines and spirits produced or imported by Sula, and the people behind the brands all under one roof.  Sula is today not only the leading wine producer in India but also one of the top wine and spirits importers. This was a great opportunity for Sula, suppliers and customers to engage."
That India is a promising market for Wine has been repeatedly acknowledged by global wine entities through their continuing engagement with the country. With respect to Spirits, India is already the fifth largest consumer in the world and likely to overtake Philippines as  fourth largest by 2017 (source: IWSR report for 2012-2017). It  therefore makes sense for importers in India to develop a diverse portfolio of wines and spirits that meet the aspirations of the world's fastest growing economy.  A market outreach is essential to keep the sales volumes at a viable business levels and Sula's roadshow did just that with ingenuity- more significantly considering the restrictions applicable on advertisement and promotion of alcoholic beverages in India.
For wine and spirits lovers the carnival has just begun.