There are certain things that instantly evoke images of romance and strawberry is definitely one of them. Apart from their appealing bright red colour which comes from phytonutrients and flavanoids, strawberries  are also an excellent source of vitamins C and K,  fibre, folic acid, manganese and potassium. You can eat them in salads, with cream, make them into a compote or even on their own- the possibilities being endless. I recently tried this strawberry cake which turned out a delicious way of availing the aforesaid benefits . Here is the recipe: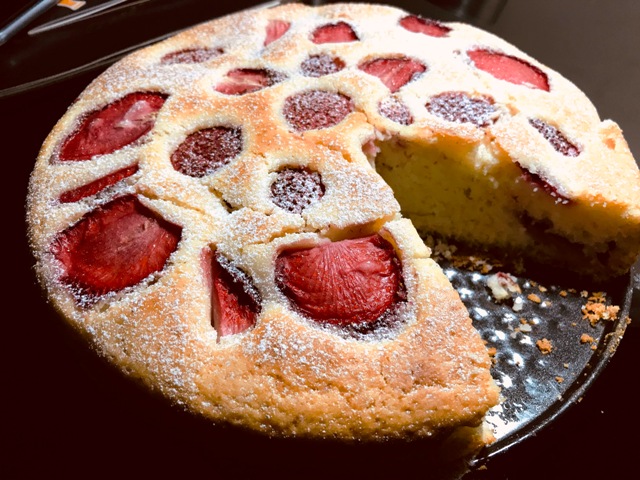 Ingredients
2 cups all purpose flour
2 whole eggs
1 cup fine granulated sugar
3/4 cup curds
1/4 cup cream
1/2 cup cooking oil
2 tsp baking powder
1 tsp salt
1 tsp vanilla essence
rind of 1 lemon
juice of 1 lemon
3/4 cup chopped strawberries
1/2 cup sliced strawberry (to top the cake)
Preparation
Mix eggs and sugar together  in a blender until it attains a nice pale colour.
Add the curds and cream and blend again for about a minute.
Add oil and blend again to make a homogeneous mixture.
Next, add lemon rind, lemon juice and vanilla essence and mix again.
Sift the flour, salt and baking powder in a separate bowl.
Add half of the flour mix to the wet ingredients and mix thoroughly.
Add the remaining flour mix, mixing again thoroughly.
Pour half the batter in a greased and paper lined cake tin. Top with chopped strawberries.
Pour in the remaining batter.
Garnish the top with sliced strawberries.
Bake in a pre heated oven at 180 degrees centigrade for 45 minutes or till a skewer comes out clean.
Let the cake cool down, then optionally dust with icing sugar.
Wine Pairing Suggestion (By Colonel Joe)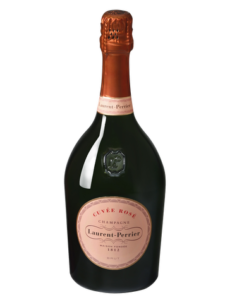 Laurent-Perrier Brut Rosé
One of the most reputed non vintage rosé champagnes, Laurent-Perrier Brut Rosé is made from 100% Pinot Noir from 10 different villages in the Montagne de Reims area of Champagne district, known well for its inclination towards Pinot Noir grapes. This is one of the few champagnes still being made using the saignée (bleeding) method that extracts colour directly from the skins of grapes rather than the more common assemblage (blending) method.
The wine is delectably perfumed with aromas fresh red berries , reaffirming on the palate with strawberries, raspberries and red cherries. It is subtly crisp on the palate, catering well to the mélange of sweet-sour flavours of the cake. The result is  tremendously satiating, urging you to repeat the experience soon enough.