Mention French Wines and the invariable response is WOW! Such is the image of this beautiful denizen of France that it immediately invokes images of quality and class. So when my French language trainer Monsieur Haru Mehra of Frehindi Foundation asked for the possibility to include French wines in his regular French Café afternoons- an interactive platform on French culture, I could not, but nod my head in affirmation- and so was born the French Wine and Café Evening (note that the erstwhile Afternoon was replaced by Evening to make it more conducive to Wines especially so, in the Indian milieu).
The issues to be addressed however were:
Where to get the wines from (preferably on sponsorship)
Whether to use proper wine glasses or paper cups. (since the tasting was to be in a classroom setup).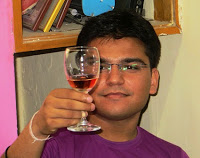 After initial frustrating attempts to get the wines sponsored (as nobody would risk it on a non-commercial concept), the old adage of Fortune favouring the Brave manifested, with both the issues getting automatically resolved by Mr. Rajiv Singhal- the Champagne Ambassador to India and Editor of the uber chic Fine Wine and Champagne,India magazine, very kindly proposing to sponsor a Champagne and a Red Wine with the aim of highlighting two vastly different wine producing regions of France and what's more- the glasses too!
As goes the Urdu couplet- Rasme Duniya bhi hai, Mauka bhi, Dastoor bhi hai (The timing befits the situation and purpose) the grand event debuted on 14 Jul 12  being the anniversary of the French Republic also known as Bastille day. The overwhelming response from prospective attendees forced us to have a morning session in addition to our planned evening session. So while the morning session saw a très young crowd jive to the tune of French numbers and tasting some sprightly wines, the evening one had professionals from all walks of life doing some really serious wine analysis.
Coming to the Wines, one was a Taittinger Champagne quite obviously from the Champagne region which is the northern-most wine producing area of France and the other, Corbières, a  Red wine from Languedoc ,the southern-most region.

Wine: Champagne Brut Réserve
Producer: Taittinger
Year: N.A. (Non Vintage Champagne)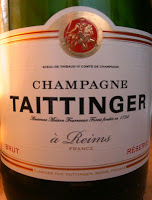 Putting it Simply
A lively and refreshing sparkler with a distinctly toasty palate true to the Champagne pedigree. An indisputable  party starter.
Tasting Notes
Crystal clear pale lemon wine that pours with an impressive mousse- the bubble beads being persistent and a delight to observe. An intensely toasty aroma unveils right from the pouring of the wine and continues as a major highlight throughout the experience, though not overwhelming so as to dominate the other delicately floral and peachy aromas. The palate is light bodied and dry with just the right level of acidity for a highly appetizing and refreshing experience.
Wine: Corbières
Producer: Les Terroises
Year: 2006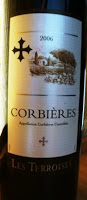 Putting it simply
A robust yet gentle wine that is just perfect to be drunk now. Good for pairing with with Tandoori and Mughlai cuisines or herbed pasta.
Tasting Notes
Deep garnet and earthy brown appearance depicting good age. An intense fruity bouquet of red fruits, spice, cedarwood and dug up earth. A dry, medium bodied palate with well rounded tannins, complementing acidity and a smooth long finish.
While the guests dwelled on the characteristics of the wines on offer, there were interesting discussions on numerous topics like storing, serving and pairing wines as also comparison between wines from different countries. The event concluded with the bright prospective of having more such events that promote wine enthusiasm.