Is he a business tycoon, a vintner or both? It was not easy for me to sum up the wine passion of GS Sareen, my army buddy when Reva K Singh, Editor of India's foremost wine magazine Sommelier India put forth the idea to do a story on him. It took me all the way to Singapore and discuss the concept with him over some prized wines.
The stature of the story demanded cover attention and a lot of collaboration between us (Sareen, I and Reva).  After working on it for about a month, the inspiring wine saga is out in its full glory in the April-Jun 18 issue of the hallowed magazine. Click here or on the magazine cover image given below to access it.
Through these annals, I also express sincere thanks to Reva K Singh for allowing me to share the story that she has presented so beautifully!
P.S. Some of my favourite wine moments with my longstanding buddy are also shared towards the end of this post.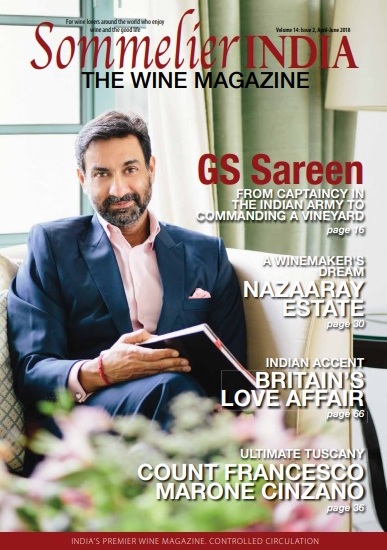 Click here or on the above image to read the article
GS Sareen