By: Nishant Choubey, Corporate Chef, The Roseate, New Delhi
About
A traditional Italian preparation of stuffed pork originating from central Italy and prepared in variations all over the country.
Ingredients
3 kg pork belly (skin on)
2 kg pork loin boneless
3 tbsp fennel seeds
2 tbsp red pepper flakes
2 tbsp fresh sage
1 tbsp fresh rosemary
3 garlic cloves minced
Kosher salt
½ orange deseeded and sliced
1 bottle red wine
Preparation
Place pork belly skin side down and marinate with red wine, kosher salt and Black pepper. Keep it overnight and let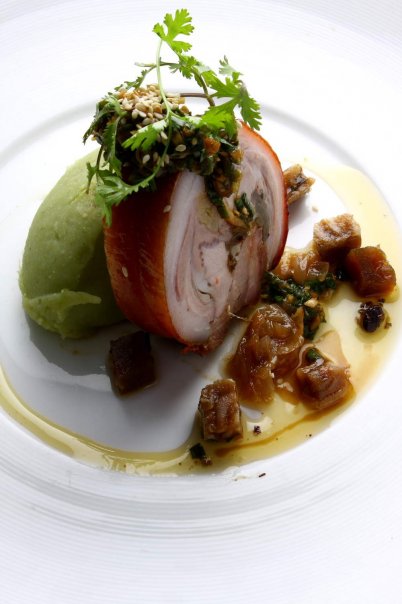 the meat cure .
Slice the boneless pork loin  into small cubes, add toasted fennel seeds,red pepper flakes ,sage, rosemary, garlic cloves and kosher salt. Let it too rest for the night.
Next day flatten the pork belly and assemble the seasoned pork loin inside. Roll it like a cylinder . Truss it with butcher's twain.
Let the roll rest for 12 hours.
Preheat the oven to 500 degrees centigrade,roast on rack while  periodically turning it  so that the porchetta attains a brown colour similar to searing meat. It will take approximately 35 minutes.
Lower the oven temperature to 150 degrees and cook further for around 1-1.5 hours to ensure that the meat is cooked evenly. To determine, run a knife inside and make sure no juices are oozing off.
Take the porchetta out on a dry rack and let rest until cool to handle.
Cut open the twain and slice. Serve hot garnished with a slice of orange.
---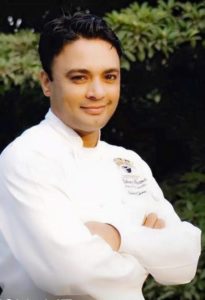 Currently heading culinary operations for The Roseate New Delhi, Chef Nishant Choubey started his career with the Oberoi Rajvilas, Jaipur. Two years later, he moved to Dubai to join the Jumeirah group as a pre-opening team member for Madinat Jumeirah. After three years with Madinat, the chef moved back to Delhi and joined Olive Group where he was  a key member of the pre-opening team for the group's various properties.
Chef Nishant has won many laurels during his career, major among them being the 1st prize at Bocus d' Or competition and Chef Of The Year 2015  by Outlook Traveller magazine. The chef also has the distinction of representing India at Madrid Fusion 2015 and several other international culinary fixtures.
An alumnus of Bhopal Catering College in Madhya Pradesh, Chef Nishant Choubey describes his motto as "giving a gourmet experience to my esteemed guests where the food conveys the unique character of my repertoire!"
Significant among Chef Nishant's current pursuits is a TV programme called "The Great Chefs of India" and a book on Ayurveda linked food gastronomy that he is authoring in association with a prominent publisher.