Promoting responsible drinking is an important aspect of the wine profession. The latest initiative on this front happened this 16 Nov 2017 in London, by the coming together of Wine in Moderation (WiM), a global wine social responsibility movement  and the Wine and Spirit Education Trust (WSET), world's leading wine and spirit educational provider.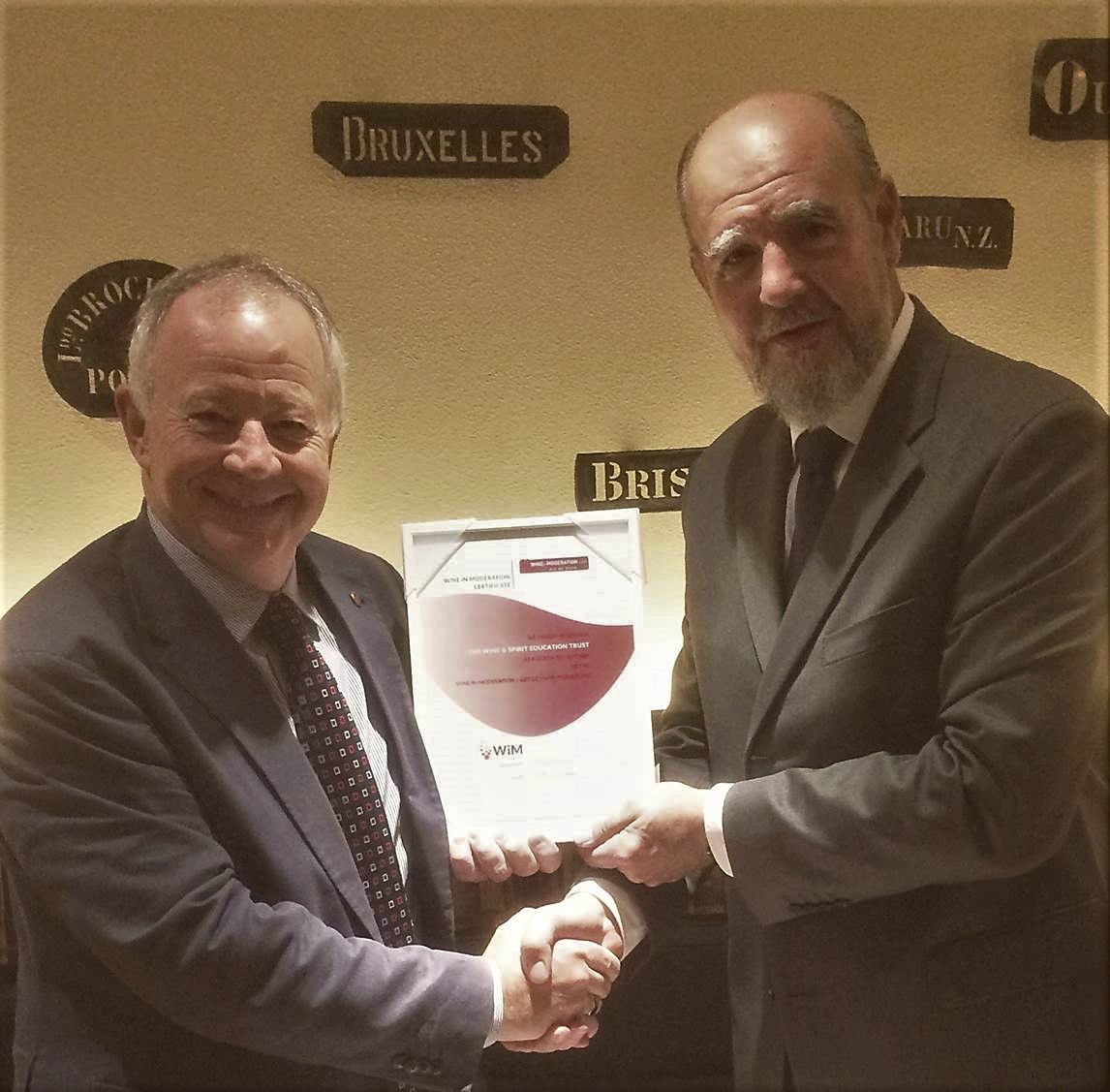 The partnership aims to provide tools and knowledge that will not only help professionals to develop more competencies in areas like wine and health, responsible serving and communication, but  also to help consumers to better understand why wine represents a culture of moderation.
On this new alliance, Ian Harris, Chief Executive of the Wine & Spirit Education Trust said:
WSET is delighted to become an Associated Partner of the Wine in Moderation – Art de Vivre Programme. Social Responsibility is a key part of all our teaching programmes and we are committed to ensuring that our students are aware of the Wine in Moderation programme, its objectives, and particularly the guidance it gives to those who are serving alcohol. The Wine in Moderation programme will ensure that we have a thriving business for the future and WSET is very pleased to be able to spread the message to all our stakeholders around the world.
George Sandeman, President of the WiM Association added:
Education is at the centre of the Wine in Moderation movement, this partnership is the next logical step to increase presence among wine professionals and illustrate the importance of social responsibility. We are therefore extremely happy to welcome WSET as new Associated Partner and look very much forward to starting this important collaboration.
About the two organizations
WiM Association
The WiM Association is an international not for profit association founded by wine sector associations and leading wine companies, that centrally coordinates the Wine in Moderation programme and expands its reach and impact throughout the world.
Wine in Moderation–Art de Vivre  programme has been created by the wine sector to inspire healthy lifestyles and well-being, and contribute to the reduction of alcohol related harm.
The Wine in Moderation programme builds on scientific evidence, education and self-regulation to organise and empower the entire international wine value chain, in raising awareness and knowledge about responsible drinking patterns and moderate wine consumption.
The Wine & Spirit Education Trust
The Wine & Spirit Education Trust (WSET and WSET Awards) is an awarding body and registered charity devoted to the development and delivery of qualifications and courses in wines and spirits. Established in 1969 for the UK wine trade, WSET has since grown to become the global industry leader.
(With excerpts from a Press Release by Wine in Moderation)