In yet another step towards demarcating quality wine producing specific regions, Austria has recently announced its newest DAC  (Districtus Austriae Controllatus) as Rosalia, which is located south of the Leitha Range in Burgenland. The newly defined Rosalia DAC had been a Grosslage (large collective vineyard site) until now.
Know about the updated Austrian Wine law in my earlier blog post here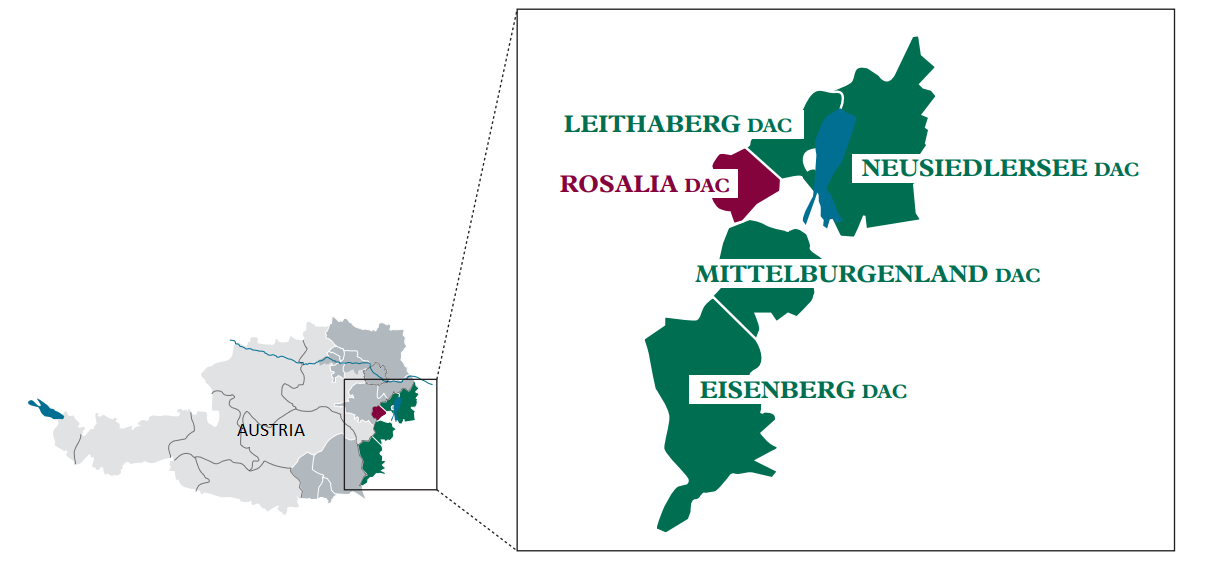 Comprising of  297 hectares under vines in the administrative district Mattersburg, Rosalia DAC will henceforth yield region specific Rosalia DAC Reserve Red wines, as well as distinctively conceived rosé wines bearing the designation Rosalia DAC Rosé.
Rosalia DAC and Rosalia DAC Reserve
According to the now ratified DAC regulation – and retroactive as of the 2017 vintage– the regionally typical grape varieties Blaufränkisch and Zweigelt may be vinified as monovarietal wines with the designation Rosalia DAC, so long as the wine demonstrates a minimum alcohol content of 12% per volume and a maximum residual
sugar content of 4 grams per litre. Élevage must take place in steel tank or in wooden cask; the wine should demonstrate a complex and regionally typical aromatic profile as well as a flavour characterised by finesse, fruit and spiciness.
Only at the level Rosalia DAC Reserve will the indication of a single vineyard (Ried) onthe label be permitted. With regard to alcohol, Austria's general statutory criterion for the designation 'Reserve' applies here; the wine must therefore have a minimum of 13% alcohol by volume.
Rosalia DAC Rosé
The second category of the regulation defines Rosalia DAC Rosé. This wine must be vinified from one or from multiple red Qualitätswein (quality wine) varieties. Indication of a grape variety on the label is not permitted, but the name of a Ried may be designated. Vinified dry in steel tank or in wooden cask, Rosalia DAC Rosé is characterised by its bouquet of red berries and a fresh, fruity and spicy flavour.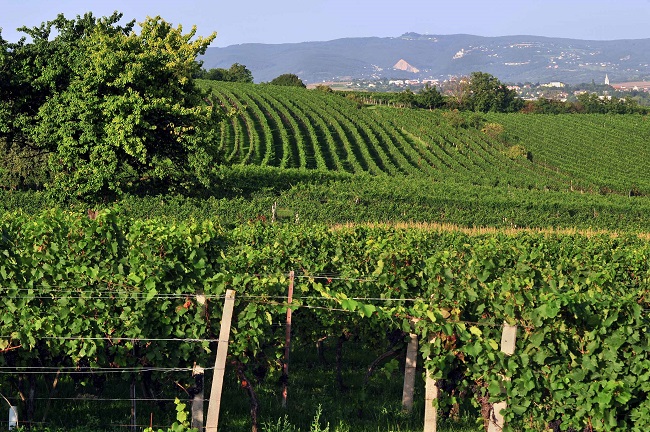 The winegrowing region of Rosalia DAC
The newly created DAC owes its name to Rosaliengebirge i.e. the Rosalia Range. These Alpine foothills are situated on the state line between Niederösterreich (Lower Austria) and Burgenland, rising to an elevation of 750 metres. Thanks to the prevalent Pannonian climate as well as fertile brown-earth soils layered over a foundation of loess, Rosalia is considered ideal for the cultivation of the Blaufränkisch and Zweigelt varietals.
With inputs from a press release issued by the Austrian Wine Marketing Board