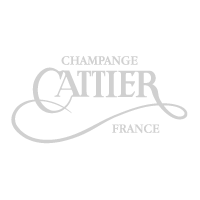 After a hearty gourmet lunch at  Billecart-Salmon (see previous blog post), we headed towards the Champagne house Cattier, which is located in a beautiful village called Chigny les Roses between Reims & Epernay. As our vehicle took the turn on Rue Dom Perignon, one thing appeared very distinctive to our all Indian contingent – the roads were vacant as if the traffic had been diverted due to VIP movement- but unlike back in India, that was not the case. The density of population and various other factors like orderliness (a debatable issue) were the reason for the all pervading solitude.
Reaching the Cattier house, a meticulously maintained grape press of yesteryears greeted us. These presses were used for extracting the juice from grapes until the advent of more advanced pneumatic presses. At the glittering reception area replete with colourful Champagne bottles all around, we were greeted by none other than the owner M. Jean Cattier and the Director Commercial, M. Philippe Bienvenu. They suggested to us, a wine tasting followed by visit to the cellars or the other way round. Knowing well that we desperately needed some exercise after the gourmet indulgence at Billecart-Salmon a short while ago, we opted for the latter and braced ourselves for climbing some really steep steps in the  150 years old Cattier cellars that are 3 floors deep and happen to be one of the deepest in Champagne. Our young guide named Gauthier Bongras who spoke English rather well contrary to his modest admission, escorted us to the place that was designed using three different architectural styles- Renaissance, Romanes que & Gothic. The cellar expedition was  not as difficult  though- going by the sheer beauty of the place. The area where the famous prestige cuvee Armand de Brignac rests before seeing the outer world is full of razzmatazz with the colourful bottles reflecting the carefully placed lights. For a mo
ment you feel you're in Vegas!
The visit to cellars concluding, we were escorted  back to the Cattier bureau for dégustation  As we sank into the plush pristine white leather sofas in the dégustation area, Gauthier placed the glasses and opened the first bottle which was a Brut Blanc de Blancs Premier Cru. Our first sip coincided with  M. Cattier and Philippe arriving and we thought it was a good idea to move to the beautiful illuminated Bar  for more animate discussions across the bar counter The degustation progressed as follows:-
Brut Blanc de Blancs Premier Cru
A lovely lemon-gold colour that can be appreciated from the clear bottle itself. Citrus and green fruits aromas with a hint of flowers.  A super refreshing palate with sensations of green apples, pears and dried fruits that make for a complex character. Overall a refreshing wine that can be an excellent aperitif but I suppose the fruits on the palate would emerge more after three to five years for optimally balancing the high levels of acidity.
Brut Vintage 2003 Premier Cru
A blend of 40% Pinot Meunier, 35% Pinot Noir and 25 % Chardonnay, this Vintage Champagne is another good wine as an aperitif as well as an accompaniment with poultry and sea food. A deep golden colour with a generous mousse, the aromas are of citrus and green fruits with  biscuit  and bread nuances. The palate is fruity, light and refreshing and the finish is medium with a touch of spice.
Brut Blanc De Noirs
This one turned out to be my favourite wine tasted with Cattier.  Blanc de Noirs means 'White wine from Black Grapes' and true to its name, this wine is produced from a 70:30 blend of the two black grapes of Champagne i.e. Pinot Noir & Pinot Meunier. The wine has a seductive peach-pink colour and pours with a strong but restrained mousse. The nose is complex with aromas of black currants, ripe plums and a distinctive feel of spice. The palate is medium bodied and rich with an immense fruity feel. Well structured wine fit to be paired with a wide variety of meats and other robust textured food.
Clos du Moulin Brut Premier Cru
This is the prestige cuvee of Cattier and grapes for producing this wine come from an exclusive 2.2 hectares parcel near Chigny les Roses. This cuvee is always made from 3 vintages selected for their quality and ageing capacity. The composition of the wine is  50% each of Pinot Noir and Chardonnay.
The wine is medium gold in colour with an amber tint. The nose is delicate yet firm with fruits and pastry shop aromas. The mouth feel is creamy and vinous with lush fruit. The wine lingers in the mouth for a long time  and hence would qualify as a good food-wine. Overall a delicate, complex and full bodied wine that would do well with seafood and rich creamy textured dishes.
The dégustation culminated with talks of the possibility of Cattier coming to India. Presently, the annual production of the house is around 1 million bottles, of which 60 percent is exported to 70 countries. The main deterrent for exporting to India seems to be  the same old story- stiff trade barriers in India. But things look positive on that front owing to hectic parleys between the European Union and India on effecting mutual concessions.
Breaking News: Just received  a mail from Philippe that Cattier has entered into a contract with a Sri Lanka based company having Indian ownership for exporting their Champagnes to India. So there's more to cheer about the Bubbly space . Let them sparklers illuminate the scene!