Anticipation is bound to be high when a creator presents his creation. So when Familia Torres patriarch Miguel A Torres arrived in India this May to conduct a vertical tasting of Mas La Plana– their flagship wine, there was excitement in the air. As wine aficionados seated themselves behind neatly arranged glasses in a classroom setting, the masterclass started dot on time. Surely a big deal in the Indian capital given its notorious traffic jams and a generally accepted stretchable time. But then, this was no ordinary masterclass!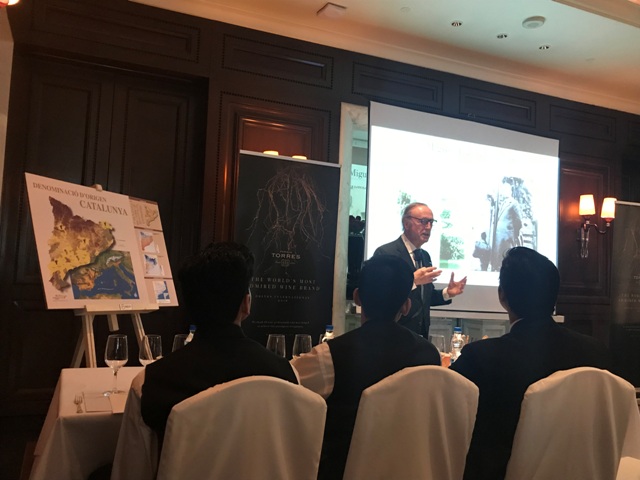 For me, there was an additional charm to the master class. Having already been a guest of Mr. Torres in Catalunya in 2014, this was an opportunity to pick up the threads of our conversation of the yore. This time though, rather than talking about his wines, I decided to converse with him on globally relevant issues related to the wine industry. Issues that only wine leaders of his stature can address. I was also keen to know his perception of India as a wine market.
Watch the video below for this exclusive interaction of mine with Miguel A Torres.
Transcript of the Conversation
---
Note: For better readability, suitable insertions/ amendments have been made to the transcript vis-à-vis the video, which was recorded in a natural flow. 
Legend
M: Miguel A Torres
R: Ravi Joshi
---
R: <approaching the meeting venue> Hello and good evening, this is Colonel Joe and today I am at the Leela Palace, New Delhi, for a tasting of Torres Wines, which has just been concluded. It was by none other than Mr. Miguel A Torres, President of Torres vineyards, one of the biggest winemakers of Spain and the most admired wine brand of the world. I have a one-on-one interaction with Mr. Torres, so I'm opening the door , expecting to get some answers, forthcoming only from people of his stature.
As you can see, I have entered the hall and Mr. Torres is seated over there. I would not like to come in the frame right now because I would like to get answers straight away from him!
R: Welcome, Mr. Torres, to India once again, and thanks for sparing time for this interaction.
M: I'm delighted!
The Interview
How well has the Wine scene in India evolved?
M: Well, I think the evolution has been positive. In the two days that I've been in India, visiting restaurants or hotels, I've seen bottles of wine, I've seen glasses of wine, I see a growing interest! You've seen these people in the afternoon that came to our talk, and they were asking questions. Ten years ago, while presenting wine, people had no questions because they didn't know what to ask! Now, you know, people are feeling like they know the subject and they can raise questions.
R: So generally, you are enthused about the scene?
M: Yes
Your perception of Indian wines? Any recommendations for the Indian Wine Industry?
M: Well, regarding Indian wines, I actually didn't have the opportunity to taste wines these two days, but last year I still tasted some wines in Spain. I think the quality is getting better.
R: That's great!
M: Yes, I feel the volume is getting just a little bit more, but it is still very low. I don't see a boom in the consumption of Indian wine as yet. It is actually a paradox. I have brought with me the case of China <shows a bar chart>.
Why China? Well, you know, like India China it is a big country. Though both of them differ in their political structure, the Chinese wine example maybe something to emulate. When it comes to duties and taxes on wine, the Chinese, in 2004, almost abolished taxes, coming to only about 10% in the present day. The short-term payoff of this step was an improvement in imported wines sales. But the main advantage accrued in the long run, where a drastic improvement in the sales of Chinese wines was witnessed.
<showing the graph> It is incredible! Look at this, in green colour. When China reduced duty tax in 2004, wine sales increased to almost 250 %! And China, today, happens to be the second largest country in the world in terms of vineyard acreage. A fantastic achievement indeed!
They (the Chinese) are somehow helping Chinese wines wine by allowing more imports. Why so? Because people are beginning to get interested in wine, and Chinese wines are getting more accessible to them .
I wonder that why India is not doing so? I think that a similar approach will be good for Indian wines, and for the health of Indian people. If we get people to drink more wine than hard alcohol, it will be better for them.
Has Paris Climate Summit 2017 delivered any direct benefits to the wine industry?
M: Well, the Paris agreement, of course, was a consensus for the first time, among different nations of the world to sign such an agreement. Even in the case of the U.S.A., I think that they will come back to the agreement basics.  In practical terms, the US states and US companies happen to be moving ahead, reducing their emissions.
---
Long-term Environmental Initiatives by Torres
A roadmap to cut 30% emissions by 2020.
Use of Biomass, Photovoltaic panels and Electric Vehicles, reducing the use of fossil fuels.
Carbon-di-oxide Capture and Reuse (CCR) to reduce greenhouse gases.
Develop new vineyard sites to adjust viticulture to global warming. Tremp at 970 m and Benabarre at >1000m are two such examples.
Operate vineyard tractors on methane gas.
Reward global environmental initiatives under the Torres and Earth programme.


---
I read yesterday in the Indian press that in California by 2020, every new building or a new house is going to be totally sustainable. They will generate no emissions, make their own electricity with PV (photo voltaic) panels. That's a fantastic example for the world ! <smiles>
So I'm proud of having a small vineyard (Marimar Estate), run by my sister in California  .
So, this is the world! We have to be neutral. We have to stop emissions. Coming back to the Paris agreement, I think it is a very good intention that probably will develop more. But to reduce emissions to 50% by 2050 is not enough. It should be zero.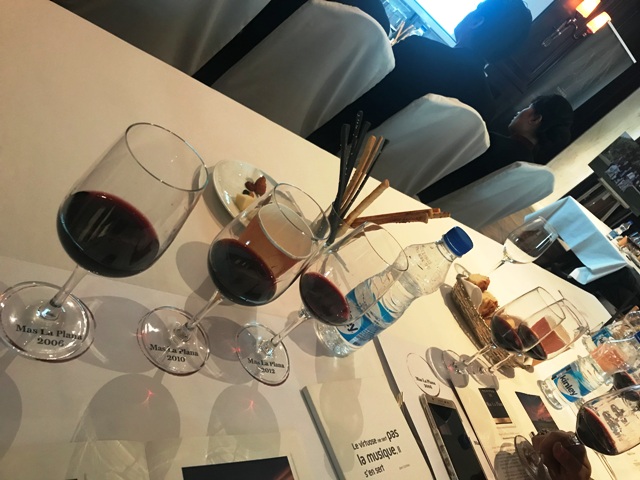 With Gen next of Familia Torres in saddle, do you foresee any new innovations?
M: As regards the next generation, I am proud to say that both my children, my son, Miguel the CEO and my daughter Mireia, Head of Innovations and also of Jean Leon wine company, are doing an excellent job. Therefore I can work much less than before <smiles>
R: <laughs> But you are working very hard, as it is…
M: <smiles> I can dedicate time to other things like languages and guitar but anyhow- I'm very proud of them.
Of course, they are making changes. I think we both agree on the long-term vision of the company. We agree on the values and the DNA of the company, which is not to be changed. But then having said that, they do make certain changes. I'll give you an example:  <indicates towards a poster placed on an easel>
In the olden days, we bought the Milmanda castle, and then planted the Chardonnay vines, thereafter producing our first Milmanda wine, In those days, I didn't consider the market opinion at the outset. I just knew I could make a top barrel fermented Chardonnay, produced it, and then went to the market. The market too bought it.
The next Torres generation does things differently. Today they talk to the market, trying to find out what the market is looking for, and then they come back to see if they can make such a product. So, you know, there are many changes. They have also changed the labels a little bit, and the company structure. But I also have to see that they are conservative where required so that the good relations that we have established over the years are maintained. Like that we have with Prestige Wines and Spirits in India.
---
Did you know?
Miguel Torres Foundation that undertakes social projects around the world has invested $ 5,00,000 in 2018 alone for creating housing for underprivileged children in Anantpur, Andhra Pradesh, India. The foundation was created in 1986 and is presided over by Waltraud Maczassek Torres, wife of Miguel A Torres.
---
What is your take on the Catalan independence movement and certain enterprises shifting base from Catalunya?
M: I think that the Catalan problem as we see today could have been avoided with a better will for negotiation from both sides, rather than to impose one side over the other. I think the idea that was explained on some stages by some pro-independence people that an independent Catalonia will be welcome by Europe has proven to be wrong! Europe doesn't want that.
I think this week or the next week, we will finally have a president for the Catalan government. Finally! After several months. And I hope, after that, after we have established a government in Catalonia, Madrid will sit down to negotiate. It has to be negotiated at the end with a long term view, maybe for 25 years. Let's do it!
We also need to change a little, the mentality of centralization. For example, all the fast speed trains, are going to Madrid but we still don't have trains like these to the north, to Valencia, or to Alicante. Everything goes to Madrid. This should change.
Why can't we also have an important part of the government like the Senate based in Barcelona for at least 6 months of the year, to give Catalonia a bit of relevance. I wish that the King of Spain- and I know him- would like to come more often to Barcelona once all these things are arranged.
Mas La Plana Vertical Tasting with Miguel A Torres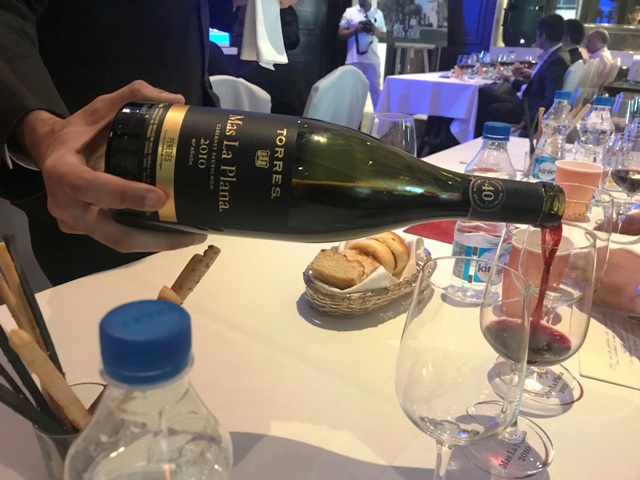 About the wine
Located in D.O. Penedès, Mas La Plana is Torres' single vineyard, producing an eponymous wine from the Cabernet Sauvignon varietal. The 29 hectares vineyard was planted in 1966 when Miguel Augustin Torres, having completed his studies in viticulture and oenology in Dijon, Burgundy, arrived back in Spain with the idea of producing a wine made from an international varietal on Spanish terroir.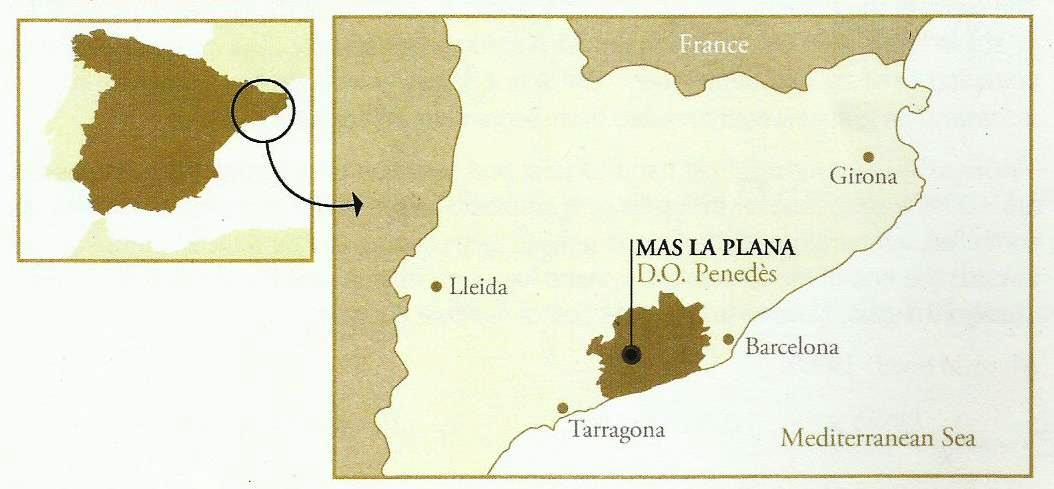 After a lot of convincing to do with his father Miguel Torres Carbó, who was skeptical about the possibility of an unconventional Spanish Cabernet in a Burgundy bottle, Miguel A Torres finally succeeded in creating a wine that is recognized as one of the most respected Cabernet wines from the Spanish terroir. The wine has won many awards in the global arena, including the Paris Wine Olympics of 1979 where it emerged the winner amid some of the most famous wines of the world-the best of Bordeaux included.
---
The "Masía Torres" situated on the Mas La Plana estate is currently the home of Miguel A. Torres and his wife Waltraud Maczassek.
---