If you are asked to name a drink from Mexico, most probably you will name Tequila. It doesn't matter whether you go through the motions of sucking lime and licking sea salt or blend it into a frozen Margarita, Tequila is Mexico's identity as much as its Tacos and Enchiladas.
But do you know Tequila is a type of Mezcal? The same way a Single Malt is a type of Whisky? Sergio Inurrigarro, President of the ProMezcal Association of Mexico arrived in India specially to drive this point home. Joined by Melba Pria, Ambassador of Mexico in India, Sergio went about showcasing some unique Mezcals, some of them already being imported in the India by 100 Proof-  a drinks marketing company founded by Food and Beverages professional Tarun Sibal.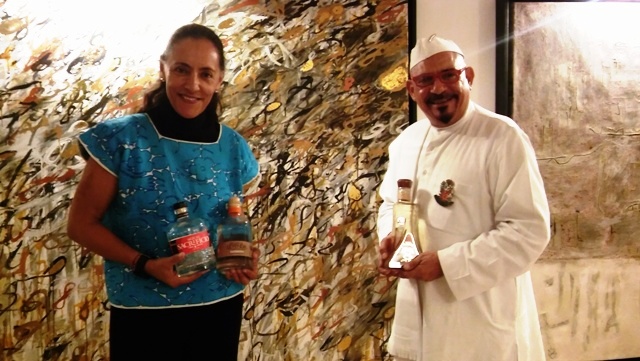 A Little Nostalgia
My significant last brush with Mezcal was two and a half decades back when as a young Captain in the Indian Army I was posted somewhere on the Indo-Chinese border. Once, while on leave in my home town, a close relation gifted me a bottle that had a neat caterpillar kind of worm immersed in the liquid . I was told that the drink was similar to Tequila and that my army mates would enjoy it even more with the worm's intrigue. I took the bottle back to my Unit and introduced it in the same words. The chill of the snowbound environs became suddenly more tolerable as we polished the bottle dry- saving the worm for souvenir. A lot many elixirs have flowed through my glasses ever since, but the excitement over such authentic drinks has remained fresh as ever.
I was hence delighted to receive an invitation from the Mexican Embassy in New Delhi to sample a range of Mezcals from different parts of Mexico, including Guanajuato, Guerrero, Michoacán, Oaxaca and Zacatecas. The showcasing was a part of a Mezcal Preview Tour- a 7 event jamboree in New Delhi- with the aim of creating a buzz on Mezcal, pitching it far beyond casual drinking.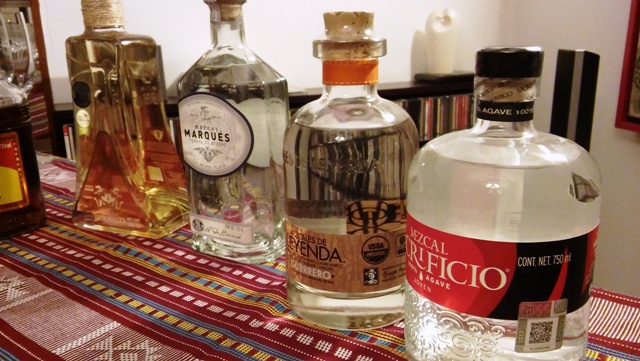 Do you drink Mezcal like Tequila?
Before we consider how to drink Mezcal let us see how Tequila is  drunk. You would probably wonder- "aren't you supposed to drink Tequila as shots with the lime and salt ritual?" Something that has been deeply ingrained in our psyche through Hollywood movies and practiced rather boisterously in umpteen bars across the world?
While downing Tequila shots is undoubtedly a cult phenomenon paralleled by few  beverage rituals, it is also a fact that without Tequila, you cannot imagine iconic cocktails like  Margarita and Long Island Iced Tea.  In my opinion, how you drink Tequila depends on its application and your personal preferences. I for example, would prefer a rustic unaged tequila in my cocktails whereas a more chic and mellowed variety as a shot.
Mezcal goes a step further. Being an artisanal drink of immense  variety and complexity, each batch of Mezcal is known to have its own unique flavour. Like Tequila, Mezcal is made from the Agave plant. Unlike Tequila however, which is made solely from the Blue Agave, Mezcal can be made from a variety of over 200 species (some shown in the graphic below)-  something that makes it a subject of interest to connoisseurs. Sergio emphatically drove this point by thundering- "you don't drink a good mezcal as a shot, you deliberate on it!"
---
White, unaged Mezcal is called Joven that sometimes comes with a worm inside the bottle (Con Gusano). Reposado Mezcal is aged for six months and Añejo is aged for a year or more.
---

The Tasting
This one was not a run of the mill tasting. First distinction being that Sergio was dressed in something strikingly similar to the Indian traditional attire of Kurta Pyjama-Gandhi topi. His Mexican credentials though, were betrayed through the colourful accoutrements related to the ProMezcal association pinned on his ensemble. Even as I wondered whether Mexico had similar sartorial traditions as India, Sergio revealed his efforts earlier in the day to procure the dress from one of the Khadi Ashrams (stores founded on the handloom ideology of Mahatma Gandhi). An Indian connect was already established.
The uniqueness of the tasting though, was not limited to the host's attire. As Sergio's histrionics and humour held the audience in rapt attention,  H.E. Melba Pria was humility personified,  showcasing the bottles personally to all the guests in sync with the ongoing description.  Use of  traditional Indian earthen lamps called diyas ensured just the right tasting measures (around 20 ml) of Mezcal to be poured  while at the same time enhancing the artisanal appeal of the liquids. Informative sheets were placed all over  the place to offer mezcal knowledge in a nutshell (image above) with a scandalizing description of the potion in different languages including Hindi (image below).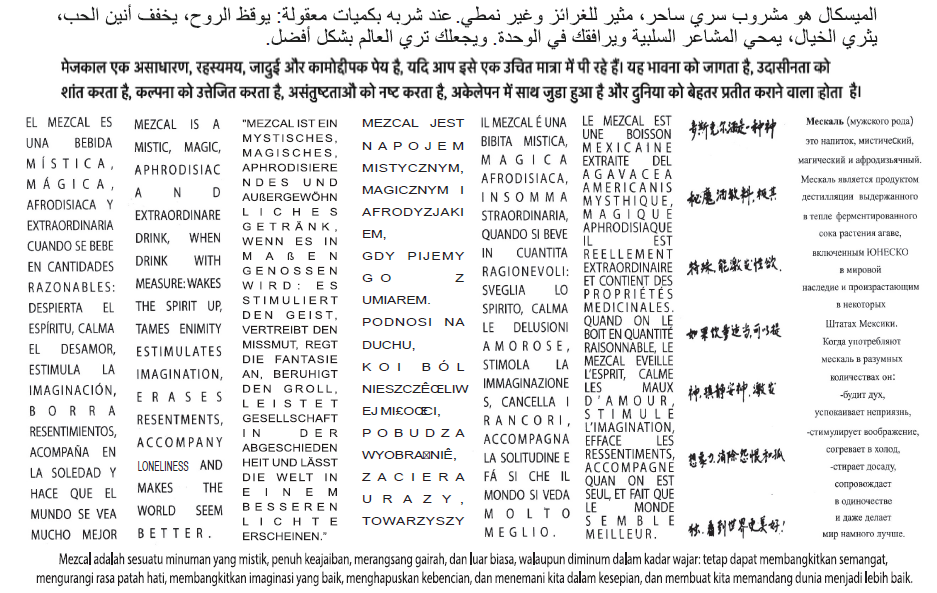 Tarun Sibal, Director 100 Proof said- "we are  bringing some of these mezcals as a niche option to people who are looking at unique and pure experiences. Our target market would be Premium Bars, Travel Retail , Select Retail and Star hotels. To start with, we will import two silver Mezcals from two different houses,  followed by another silver, a Joven and a Reposado- all from different houses and states of Mexico."
According to Tarun, the starting price range of these mezcals will be between ₹ 8- 10 thousand (approx $ 120-150 ). The pricing appears stiff but Tarun is confident that the niche exists in the Indian market.
From a humble drink to a refined potion, Mezcal seems to have come a long way. It is now for the consumers to warm up their snifters to it.