The difference between a wine producer and a fashion designer is that the latter can produce something good for 24 months, after which a new design is necessitated. In contrast, a grapevine planted today will bear fruit not earlier than 4 years, with the wine being available for consumption in another 2-3 years. Wine hence, is always a long term perspective.
These words of Mario Piccini came fresh to my mind as I shared lunch with him on a pleasant November afternoon in New Delhi. Barely a few months back Mario had made this interesting comparison during my one-on-one conversation with him  in Castellina in Chianti from where he presides over his wine empire, exporting to 72+ countries worldwide.
Back then, Mario had signed off with a promise to visit India in November 2016 and invite me to share a meal with him. True to his stature, the promise was kept and I received a special invite from Prestige Wines and Spirits- Piccini's importer in India- requesting me to attend a lunch with him during his day long visit to New Delhi.
My conversation with Mario Piccini featured in this post largely took place in his Valiano estate in Chianti, but I waited to gather some more 'pearls' during his then upcoming India visit. I was not disappointed as I was able to capture this video where Mario raises a toast to the cultural affinity between India and Italy.
The Interview
What enthuses you about the Indian market for wine that brings you to the country on your maiden visit?
Mario Piccini (MP): When we last met in Tuscany, I had mentioned about the relevance of  long term perspective applicable to wine. In the Indian context, though the initial market size may be small,  I would still like to invest resources in the country for the promise that it holds. We would like to do that largely through customer education initiatives- by having brand ambassadors who can present our wines in the right fit of Indian culture and cuisine.
What would you like to see as changing in India related to the wine business atmosphere apart from the all obvious travails of taxation?
MP: Addressing the high taxation issue  remains an important issue, because one can always guide people on drinking wine but not put money in their hands to buy it.
The other important thing is to create an impression that wine is more about culture than plain indulgence. Wine is all about sharing good moments with friends, acting as a social binder. Needless to mention, it  also brings extra value to one's dining experience.
I would like to see such a culture developing in India. The need of the hour is to guide wine lovers  not only on what to drink, but how to drink ! We would like to see a whole range of Indian food being paired with our wines. As my experience holds, a Tandoori Chicken goes really well with a nice Rosé wine .
When I was 6 years old, my grandmother would make a concoction of wine with water in a 20:80 ratio and offer it to me with some bread at 'Merenda' – a meal time between lunch and dinner  in Italy . This gives an idea of  how closely wine is integrated in the Italian culture.
Coming to Indian food, which are your favourite preparations? Apart of course from the Tandoori Chicken that you just mentioned.
MP: I love Indian food and have tried many preparations. I do not remember the exact names but I can describe a particular mutton dish which had lemon, mint and some curry served with lemon rice on the side. I also like various vegetable and chicken preparations and Indian breads like 'Naan'. In fact this Saturday I will be in London and have asked my daughter to book a table for us in one of the Indian restaurants in that city.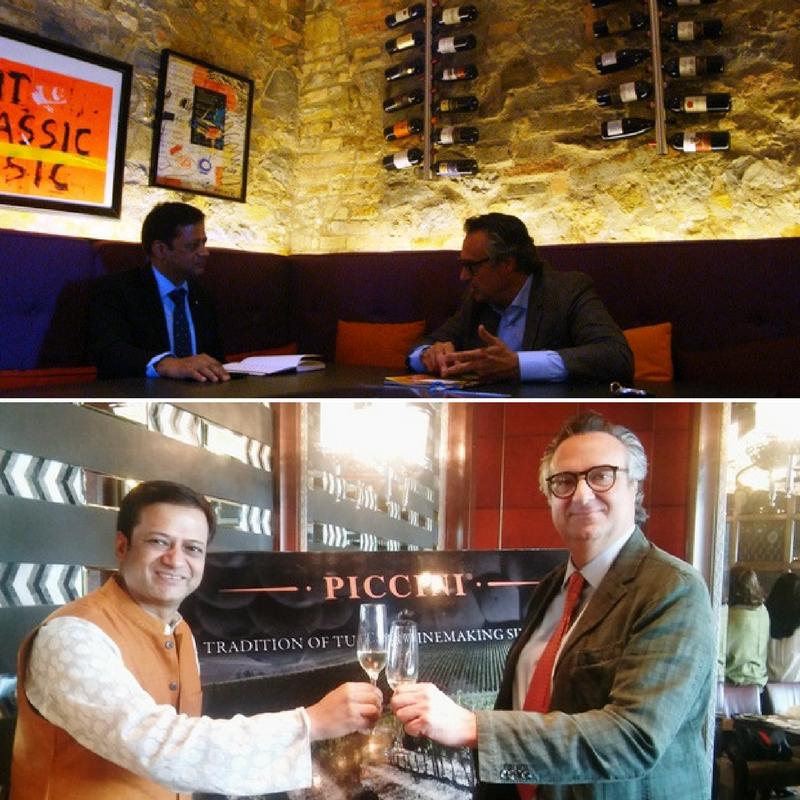 Being a major producer from Tuscany, what is your take on traditional versus Super Tuscan wines?
MP: I think each of them is in its own league. The old denomination Chianti, Chianti Classico, Brunello, Vino Nobile di Montepulciano etc are the important foundation of Tuscany's heritage. They have been around for hundreds of years and are uncompromising.
Super Tuscan wines on the other hand prove the versatility of terroir . They are just to give an idea on how to become contemporary in history. A 100% Sangiovese as Brunello or arriving at a beautiful blend of Sangiovese with Cabernet like Sassicaia both work very well. My perspective on such innovations is that as long as these give stimulation to the producer to go for something better on quality and consumer appeal, they always turn out good.
I happened to try one such innovation as a wine produced by you called Memoro Rosso. What was the idea behind it?
MP: We created the Memoro label to convey the idea that quality cannot solely be defined through Denomination of Origin. Under the sun and nature anything is possible- variable being the human penchant for innovation. In Memoro Rosso, the idea was to have a quality reunion of different grapes produced in large volumes in different regions of Italy. Hence we have a blend comprising of 40% dried late harvest Primitivo di Manduria, 20% Nero d'Avola to render the fruit (plums, cherries, strawberries), 20% barrel aged Montepulciano di Abruzzo to impart the structure and 10 % Merlot del Veneto for light and fresh flavours.
Further, consider this overwhelming scenario of wine service: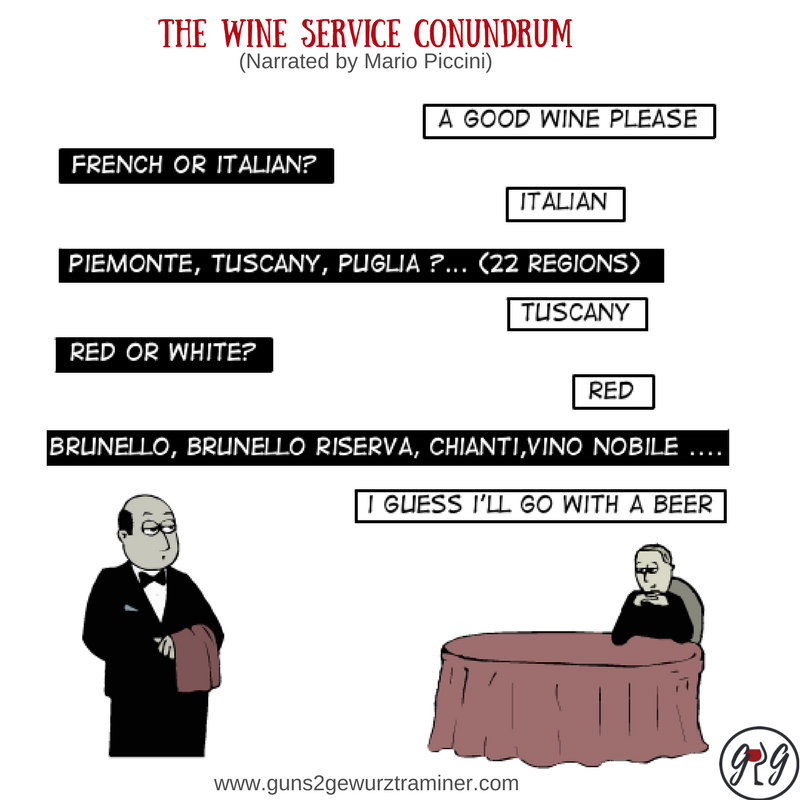 With Memoro Rosso, we intended to alleviate  situations similar to the aforesaid and offer a wine that even a novice can order as an "Italian Red Wine".  At the same time, we wanted to create a blend that is easy to pair with a variety of cuisine.
Being present in various regions of Italy, does Piccini have any expansion plans into other Italian wine regions?
MP: We are indeed exploring some other areas within Italy for our next generation. Tonight I am leaving for one of the prospective regions with my son Michelangelo (smiles) though I have asked him whether he would agree to pay for the proposed new venture.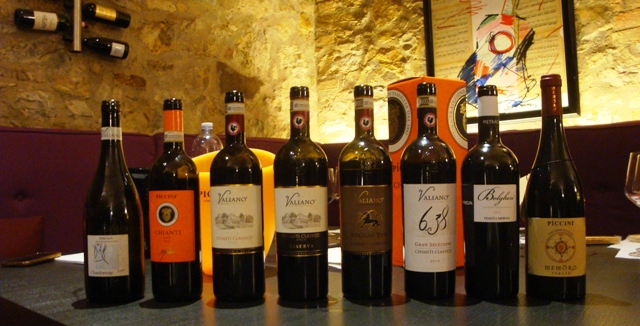 Organic wines are being accorded a lot of importance in these times. What has Piccini's approach been towards these?
MP: We have gone about organic viticulture in a big way. We feel that the focus should not just be to maximize production through factoring every resource available to us in the modern times. They have to be analysed with due consideration towards sustainability. I think that in the next 10 years, everybody will have to revert to earlier days of organic farming irrespective of around 15% of production getting lost in the bargain. As for Piccini, majority of our estates viz. Chianti Classico , Brunello, Aglianico, Bolgheri and Etna are in their 3rd year of organic adaptation. By the next harvest (2017) all our wines will be produced organically .
What about biodynamic wines? Do you think they are good idea?
MP: For producers with large vineyard areas, biodynamic wines are not easy to manage- their suitability restricted to little parcels in the current day . The logical costs involved in producing these wines push them beyond the reach of the average wine consumer. Since wine is more of a social than a classy drink it is important to keep costs in check so that it can remain affordable to the majority of wine lovers.
That said, biodynamic wines are in a distinct niche and a wonderful option for people who can afford to buy them. But until the costs are optimized, their relevance will only be restricted to a select few.
---
Did you know?
Piccini's striking orange label was adapted as a consequence of a debate between Mario and his sister Martina who wanted to incorporate red and yellow colours respectively. Elisa, the youngest of Piccini siblings intervened and made them settle on an orange label that has ever since become a hallmark of Piccini's Chianti wines .
---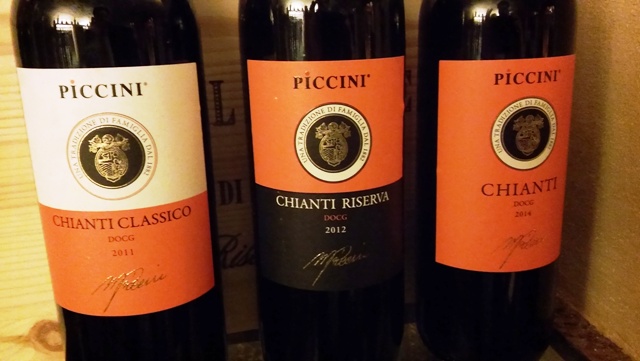 How do you think that the global climate change has been affecting your vineyards? What measures have you incorporated to counter its effect?
MP: When I was a little child, I remember that we had harvest in Chianti Classico region during end October- early November. Today the global warming has pushed harvest timings to at least fifteen days in advance, at times even a month. These changing patterns have made us to adapt  measures like choosing the right clones to plant and incorporating sufficient foliage to protect the grapes from harsh UV rays. Earlier we would go to the vineyards in September to prune excess foliage, but if we do it in today's climate, we would only be doing passito wines (laughs).
I remember my father worrying  before harvest every year  "Is this year going to be difficult?". The difference is that today we worry "How difficult is this year going to be?"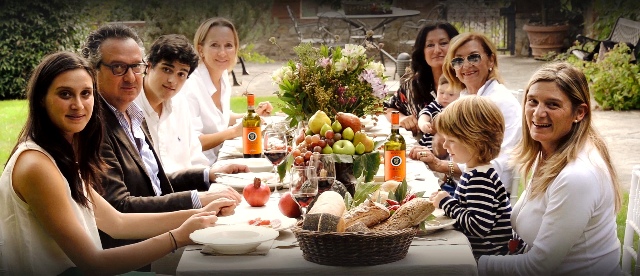 But has the fruit quality been affected because of climate change.
MP: It is precisely to maintain the fruit quality that we have gone back to the organic way of farming. We have been spending more time in the vineyards than the winery- to continuously check the crop as to when it is ready for harvesting.
There are also situations where we cannot do much, like in case of the thin skinned Sangiovese grapes getting damaged beyond redemption during heavy rains. However, we have to take things in our stride.  To look at the positive side, we treat each vintage as a different baby that develops in mother nature's womb and comes out at the right time with its unique identity among billions of beings.
---
Mario Piccini's philosophy of  life
Unfortunately we do not know how our respective lives will finally belong , but one can surely decide how large it can be. The person who lives more is actually the person who has happy memories. Every morning I wake up, I consider it as my first day. I want to learn everything possible in that day.
---
Photo Feature: Piccini Wines