Partaking in wine tastings and dinners is arguably the most glamorous part of the wine profession. However, at times things get so hectic that you have to skip some in favour of others. For me, priority tastings are those where  winemakers arrive themselves to share their stories. After all wine is much more than an alcoholic beverage, isn't it?
My latest wine outing- the first one of 2018- quite befittingly involved sharing a paired dinner with Anna Abbona, the fifth generation owner of the iconic Italian wine house Marchesi di Barolo. The dinner was organized by Brindco and La Cave Fine Wines and Spirits (my hosts), in association with the Taj Mahal Hotel New Delhi.
Though I have tasted wines from Marchesi di Barolo several times, this occasion was rather special. How else would you describe a tasting where the winemaker shares gems of information you would otherwise not come across routinely? For instance did you know that the Barolo commune has only about 700 residents? Humorously, Anna also shared that at times she meets more people in her wine dinners than in Barolo!
The Delhi outing started with rounds of Champagne Bollinger Special Cuvée -my preferred style of Pinot Noir heavy champagnes. The champagne is imported in India by Brindco and exclusively available at the La Cave store.  Anna was her hospitable best, mingling with guests, especially those like me whom she had not met earlier. Her ease with everyone conveyed that she was a people's person- certainly a desirable trait for passionate winemakers on an outreach mission.
Following the aperitif rounds, we moved to the dining area where a four course paired dinner, with even more courses awaited us. After a brief introduction by Madhulika Bhattacharya, owner La Cave Fine Wines and Spirits, Anna shared the history of Marchesi di Barolo to orient the guests towards the dinner.
Marchesi di Barolo: Founded on Love
Situated in Piemonte in the Barolo town of Langhe (meaning a strip of land), Marchesi di Barolo is the house that started it all. It evolved a distinct style of wine that came to be identified with the richness and ageing potential typical to the Barolo region. It also proliferated Barolo wine throughout the world to make it one of the most famous wines from Italy.
And all of this started with a love story- between an Italian Noble man and a French noble lady.
A Story Every Wine Lover Must Know
In 1807, Carlo Tancredi Falletti , the Marquis of Barolo married Juliette Colbert de Maulévrier, grand daughter of Minister of Finance of King Louis XIV. Juliette brought with her the knowledge of wines from France and noticed the great potential of wines of Barolo. She envisaged that these wines could be better produced in a drier style as opposed to the then prevalent sweet/sparkling styles. She believed that such an approach would bring out the qualities typical of the soil of the region as well as the Nebbiolo grape variety. Her vision indeed came true and the famous Barolo wine of today was born.
But Juliette also possessed another great skill indispensable to any commercial venture.  Thanks to her penchant for marketing, she was able to promote her wines in the court of Turin and other royal courts of Europe.
---
Legend has it, that Juliette Colbert dispatched 325 barrels of wine (one for each day of the year minus 40 on account of assumed abstinence during Lent) to the court of Carlo Alberto- the king of Savoy when the latter expressed his keenness to taste her wines. That is probably what gave Barolo wines the title "the king of wines and the wine of kings" – a phrase well identified in context of Barolo till date.
---
Time and tide wait for none and Juliette passed away in 1864, marking an end of the prestigious Falletti dynasty. She did not have any children, but had enough foresight to create through her will, Opera Pia Barolo, a charitable entity to preserve her cultural and economic heritage. Her foresight went even further, seeing the Opera  become her universal heir.
A New Beginning
Destiny though, had greater fame in store for Barolo wines. In 1929 the Abbona family who had their own wine cellars next to the Castle of Marquis Falletti decided to acquire Agenzia Tenuta Opera Pia Barolo.
Pietro Abbona, his brother Ernesto and sisters Marina and Celestina took charge of the ancient cellars of Marchesi di Barolo with the dual intent of preserving its illustrious legacy and to proliferate it across all possible shores of the world. Pietro Abbona effectively helmed the widespread reach of Barolo, an acknowledgement of which can be found in Massimo Martinelli's book Barolo As I Know It :
---
Of the personages connected with the name Barolo, some may be considered of historic importance, real and true pioneers…[of these] people first place goes to Pietro Abbona, undisputed patriarch of Barolo…who, as an unquestionable stand-bearer, made the wine of his region known throughout the world.
---
An Onerous Responsibility
According to Anna, it was not easy for their family to acquire the Marchesi di Barolo estate and preserve its heritage. Owing to this illustrious legacy, she feels even more committed and special to carry forward the work of her forefathers. Today, Anna and her husband Ernesto represent the fifth  generation of the Abbona family. They are absolutely hands on with their work, be it production, marketing or other functions. Their children Valentina and Davide are already in the groove- being actively involved in various aspects of the business.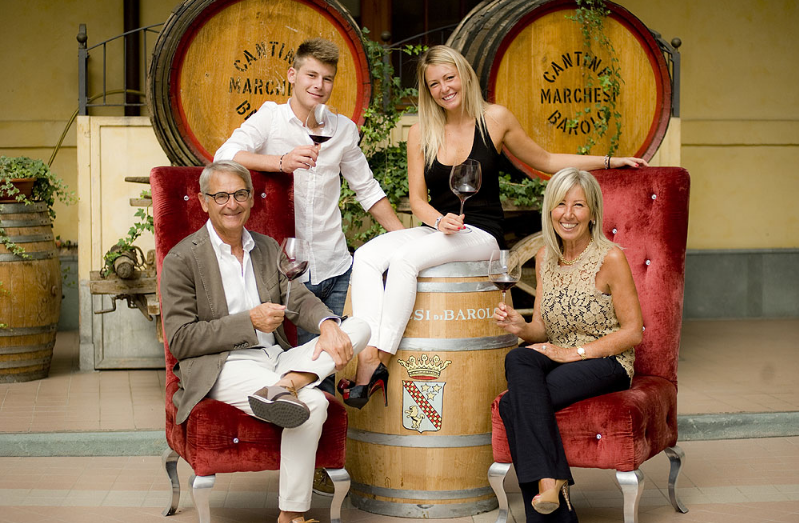 Marchesi di Barolo Dinner Pairings at New Delhi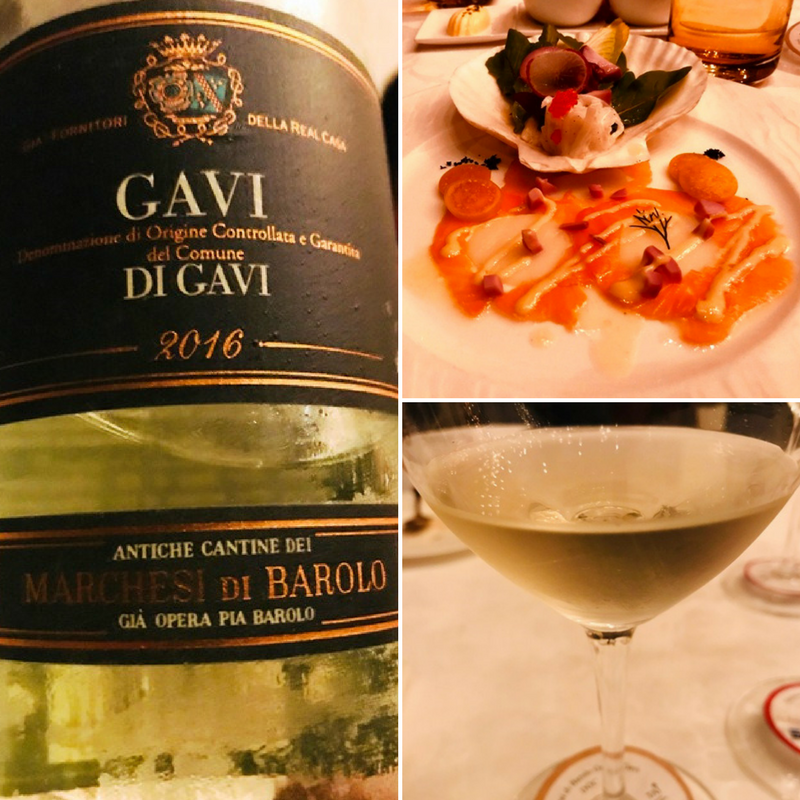 Marchesi di Barolo, Gavi di Gavi DOC 2016
Gavi wines are made from the Cortese grape varietal. Gavi di Gavi goes a step further in quality, in that it can come only from the Gavi commune in Piemonte.
The wine displayed an initial aroma of rock salt, developing further into tropical aromas of passion fruit and pineapple. The palate had decent acidity (not over the top), clean and neutral mouthfeel and a fruity-minerally finish. It worked well with the Norwegian Salmon and Sea Scallop Carpaccio supplemented by pickled egg white and cape gooseberries.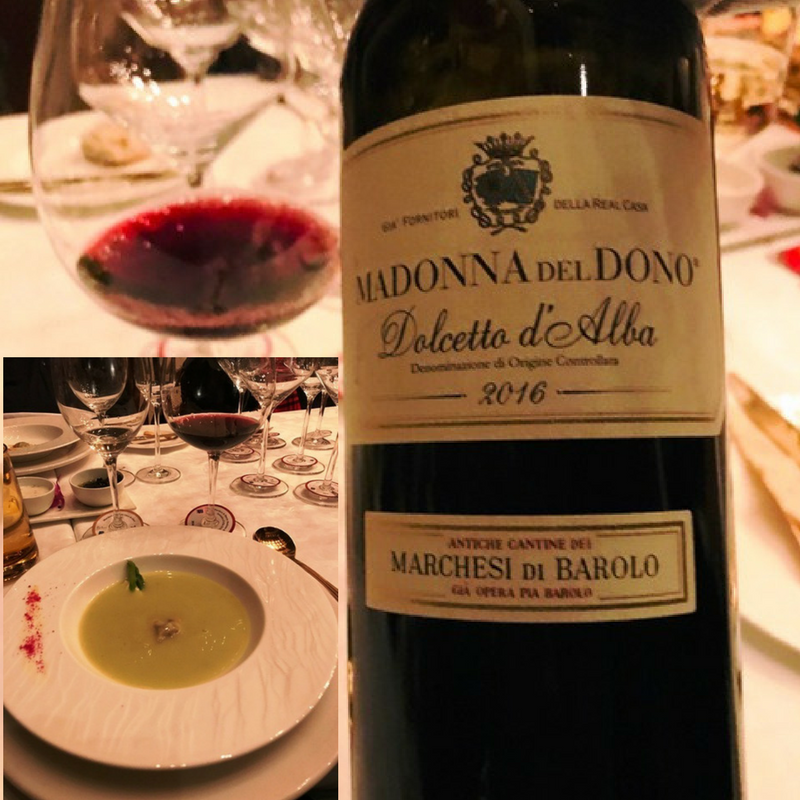 Marchesi di Barolo, Madonna del Dono Dolcetta d'Alba DOC 2016
While the world knows a lot about Barolo and Barbaresco wines from Piemonte, Dolcetto wines are the ones drunk by the Piemontese  on a day to day basis.
The wine is made from 100% Dolcetto grapes (a grape varietal not to be confused with the word Dolce in Italian meaning 'sweet').
At the outset, the wine exuded appetising aromas of fresh raspberries and red cherries. The palate was luscious and juicy with red fruit characteristics. This wine can stand on its own or with food. Though it was not a misfit with the Green Asparagus Soup served with Edamame and Morel Ravioli, I preferred the soup more with the Gavi di Gavi remaining in my glass from the earlier course. Some food accompaniments for this wine that I can think of can be a Canneloni, paneer tikka (grilled cottage cheese) or similar soft and creamy dishes.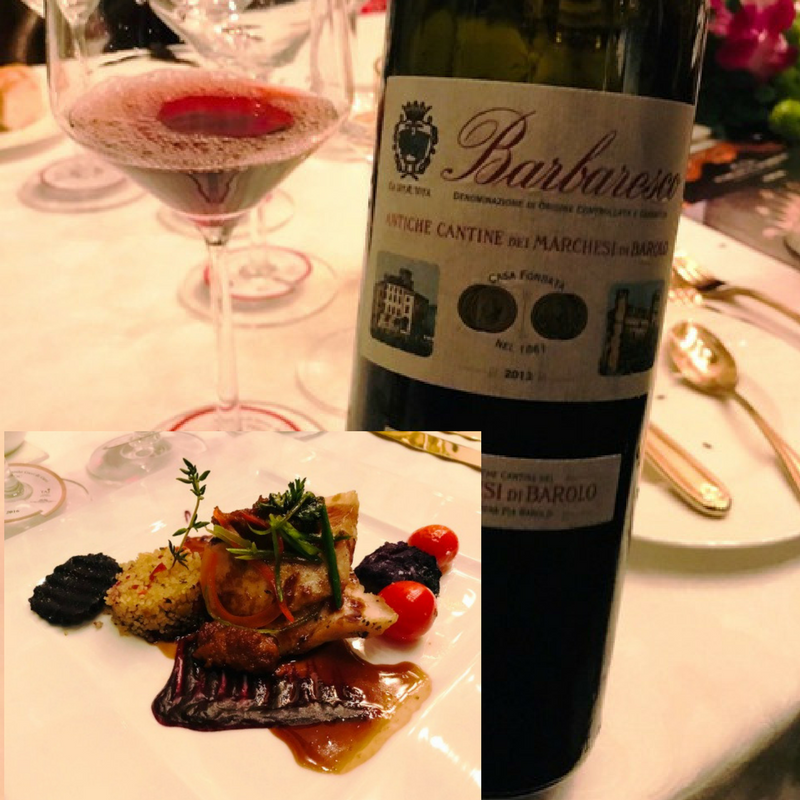 Marchesi di Barolo, Barbaresco DOCG 2013
---
Like in war, where heavy artillery is mobilised to pummel fortified targets, Anna  announced the arrival of the 'big boys' when their Barbaresco and Barolo started pouring to match the robust main courses .
---
It is largely true that a Barbaresco is a softer style than Barolo, though both are made from the same grape varietal i.e. Nebbiolo. Barbaresco is often drinkable much earlier than a  Barolo and hence is more approachable. These differences reinforce the premise of different terroirs where each of these wines represent the soil and climate characteristics  typical to the Barolo and Barbaresco communes of Piemonte.
Marchesi di Barolo Barbaresco 2013 lived up to its expectations of a rounded character replete with floral, earthy and chocolate flavours.  The tannins were grippy towards the finish with flavours of mulberry and plums.  It did full justice to the Tumbled Chicken Breast with Black Carrot, Sundried Tomato and Jalapeno emulsion served alongside Moroccan Cous Cous.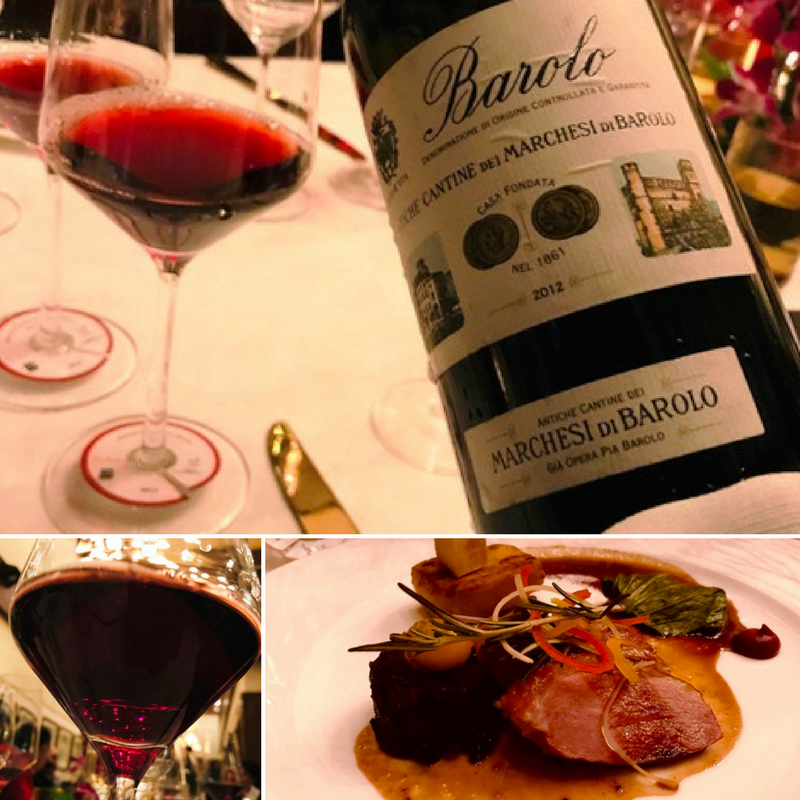 Marchesi di Barolo, Barolo DOCG 2012
Undoubtedly the flagship wine, this one packed all the punch, and you could sense it on the nose with its unbridled power waiting to  let loose. A little 'closed' at the time of serving the wine started developing slowly into aromas of blackberries, black cherries and chocolate. It reaffirmed on the palate with rounded steely tannins and an oaky finish.
The wine worked like magic with the power inducing Smoked Duck Breast served with Jewel Potato Fondant, Wine Poached Pear and Fennel Compote.