Being the scion of an illustrious enterprise comes with its privileges as well as burdens. It is even more challenging when a particular domain is dictated by gender stereotypes. People who overcome such challenges are invariably well equipped to steer the next phases of their organization's evolution. One such example is Karishma Grover, the third generation of India's pioneering winemaker Grover Zampa Vineyards (GZV).
Karishma- whose name literally means "miracle"- is India's representation of wine generations successfully advancing their family businesses with diligence. A graduate in Viticulture & Oenology, Karishma earned her degree in wine making from University of California, Davis. She quickly followed it up with an internship with the reputed Cakebread Cellars (read my earlier interview with Bruce Cakebread here)  in the Napa Valley, California.
Back at home, Karishma continued to hone her skills, working closely with Michel Rolland, the renowned consulting oenologist hired by her company to craft their wines. All that learning from the grassroots and getting the hands dirty, paid off in the form of numerous accolades that her company has been winning on the global stage.
Karishma was in Delhi sometime back. Amid her crazily packed schedule I grabbed the opportunity to fire a volley of 10 questions at her, which she fielded and responded-to with aplomb:
Terroir or Cépage? What do you identify with more? Do you think some day a blended wine à la "old world" can be produced to represent Indian terroir?
I am quite open to both. I think the ultimate goal is an amazing wine to drink, and the best way to get that differs from region to region and winemaker to winemaker. At this point, I think Indian wine industry is too young to get compartmentalized into one or the other!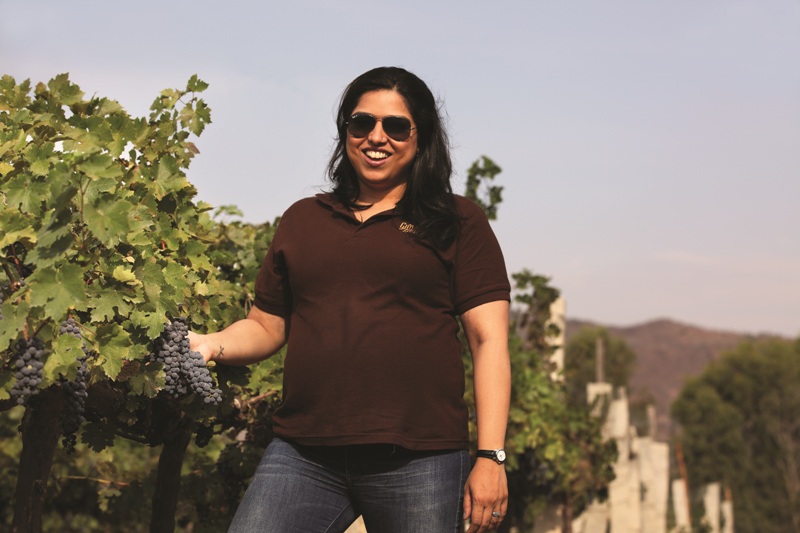 One thing you would desperately want to change about the wine business in India.
The wine industry faces many challenges to grow and flourish in India. The one thing that I would like see changed is the high selling expenses as a percentage of wine price. If that happens, we could dedicate more resources on improving quality, exploring new varietals, educating consumers etc.
Do you think easing down of trade barriers on foreign wines will be beneficial for the domestic industry due to better competition benchmarks?
Yes and no. There is a general perception in India that non-Indian wines are better, though the whole Make in India campaign is working to change that. Abundant availability of international wines, before the Indian wine industry gets a chance to establish, is risky. There are lot many cheap and low quality wines available worldwide, posing a risk for an emerging wine country like India to become a dumping ground. Hence, barriers need to be engineered so that good quality foreign wines are available at affordable prices, while keeping plonk wines away.
---
Significant awards won by GZV under Karishma's tutelage 
9 awards at Decanter Asia Wine Awards 2014.
A first time International Trophy for GZV Art Collection Sauvignon Blanc 2014.
16 Medals at  Cathay Pacific Hong Kong International Wine and Spirit Competition 2014. At the competition, GZV broke all records of medals for Indian wines, creating history by bagging 15 out of the 19 medals.
---
Without any formalized standards on winemaking how do you think that the consumer can be reassured on quality/consistency aspect of Indian wines?
I think that the consumer is intelligent enough to discern the presence or absence of quality . It is in this backdrop that no serious winemaker can afford to ignore the quality/consistency aspects if long term sustainability is envisaged. Hence even in the absence of formalized wine quality regulations in India, prominent producers including us have been exercising self regulation so as to be able to compete not only in the Indian, but also the world market. The results are already showing with Indian wines increasingly winning medals and being listed in restaurants worldwide. All these factors go a long way in establishing consumer confidence.
Reds or whites-what is your inclination?
There is nothing better than a nice white or rosé wine on a hot afternoon at the poolside, beach or brunch. A big strong red on the other hand will work well with something like a perfectly cooked steak! My preference is absolutely based on what is happening around me.
Would it be good idea to include a lower priced charmat method sparkling wine in GZV's portfolio? Also a dessert wine which is conspicuous by its absence in your offering?
Certainly. However, I am more for doing fewer things best, rather than many things average. But we can possibly consider such projects in the future.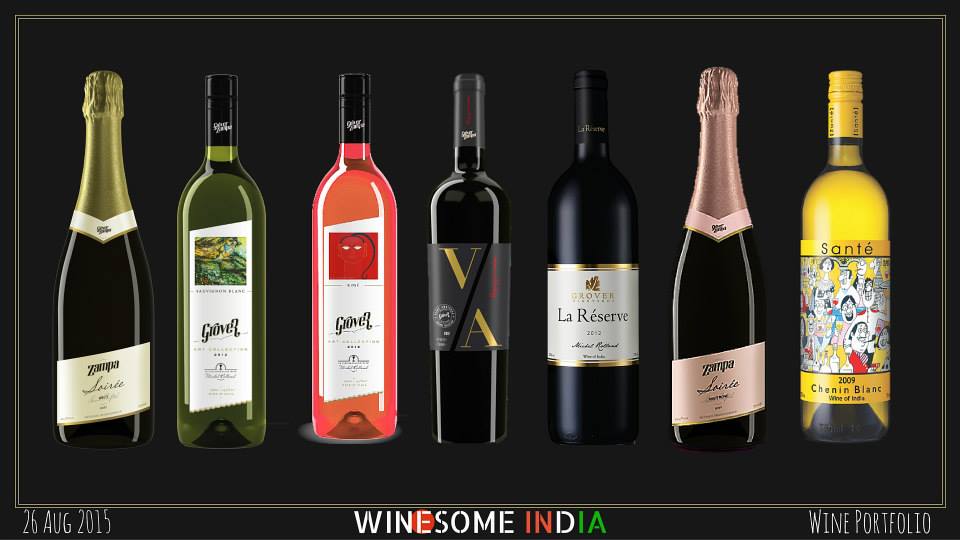 What is your take on biodynamic winemaking? Would it be worth the effort in India?
I am a bigger champion of organic viticulture practices. Viticulture in India at the moment is in the nascent stage. We also face the unique challenges of a tropical climate and the monsoon phenomenon. We need to be working cautiously towards being sustainable, and biodynamic winemaking can certainly be a way ahead.
Which other varietals than the popular ones already present do you think can be cultivated well in India?
I am sure the warm climate varietals would do well in India, for example, Malbec and Sangiovese.
What career path do you recommend for a person from India who wants to take up viticulture/oenology?
If possible, I am a big supporter of formal education. There aren't any really great programs in India, so getting some experience in wineries is a good way to start. Harvest being seasonal is a great opportunity to travel the world and intern at various wineries. Taste wine as much as possible, and then see what interests you most. Follow it up with formal qualifications available internationally.
Being the third generation member of GZV, what is one key value that you have imbibed from the previous generations?
There are many, but to specify one, I would say- a real love and passion for wine, combined with an attitude of working hard!