Icons of any vocation inspire generations to come. Miguel A Torres is one such personality of the wine world. The 4th generation head of Torres wines. that is credited with reviving the fortunes of wine in Catalunya, is known universally for his path breaking service to the wine cause. Among other achievements, his initiatives on sustainability have sensitised winemakers across the world to adopt practices that have since become benchmarks for preserving our natural resources for future generations.
Having been recognized through various awards over the years (see graphic below), it was just a matter of time that Miguel A Torres received a Lifetime Achievement Award. The moment came during Vinexpo 17 when the award was introduced by Patrick Schmitt MW, editor-in-chief of the Drinks Business and presented by Jane Masters MW, chairman of the Institute of Masters of Wine.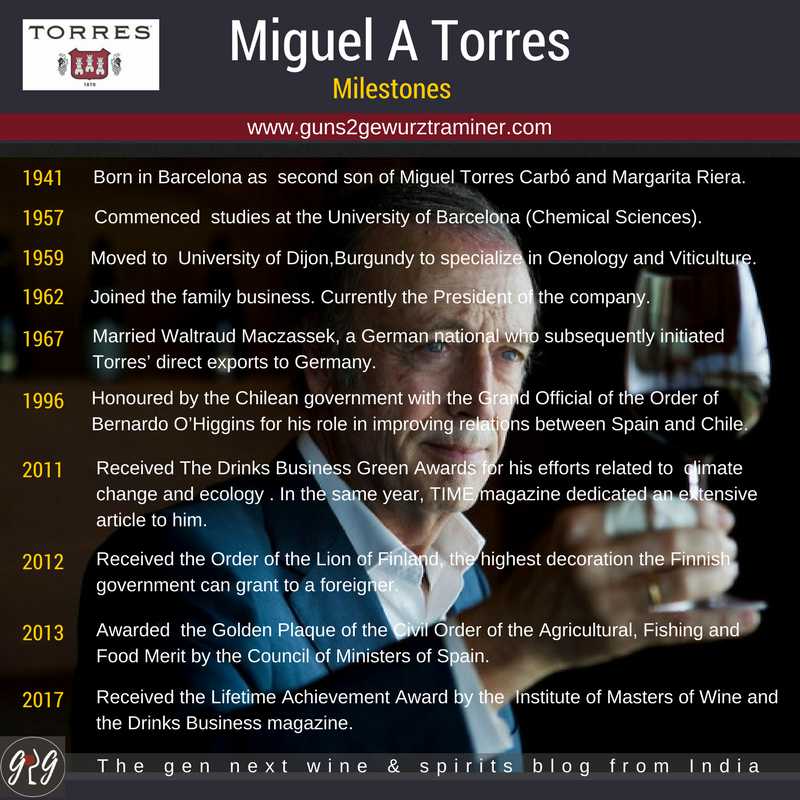 Background pic: //charliemahoney.photoshelter.com
The Lifetime Achievement Award, by the Institute of Masters of Wine and the Drinks Business magazine, recognises wine personalities for their contribution to the world of wine during their whole career span. The previous recipients of this award are Robert Mondavi (2005), Marchese Piero Antinori (2007), Jean-Michel Cazes (2011) Baroness Philippine de Rothschild (2013), and Hugh Johnson OBE (2015).
Apart from expressing gratitude to the award conferring agencies, Mr. Torres acknowledged the contribution of the complete Torres family (professional as well as personal) towards this singular honour:
I especially would like to highlight the extraordinary work, effort and dedication of our worldwide Torres team and my family. They all actually made it possible where we stand today as a winery. But allow me to give a very special thank you to my wife Waltraud, who helped build our winery (and the German market!) and raise our three children – Anna, Mireia and Miguel – and of course my sister Marimar and my brother Juan-Maria.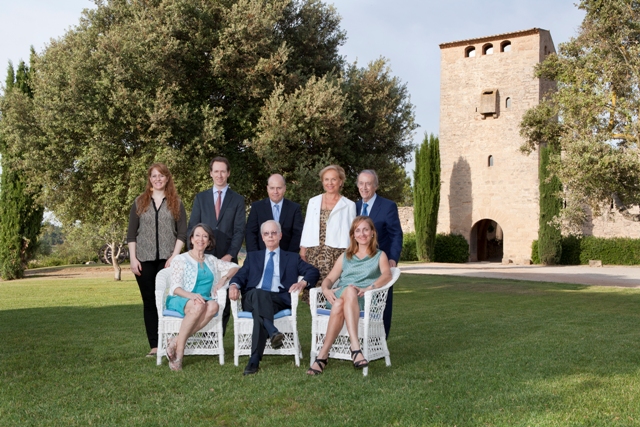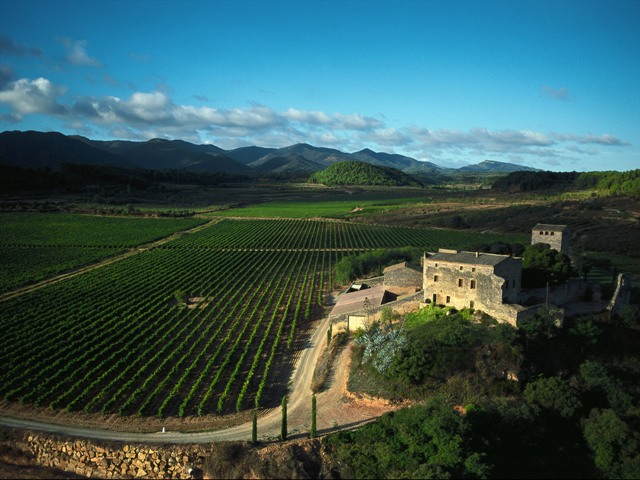 The news of Miguel A Torres being conferred with the Lifetime Achievement Award, brought back memories of my visit to Catalunya in 2014. It was then that this grand homme of wine, even though on a tour to Germany, took the trouble of taking a flight back just to share a meal with me and my fellow wine journalist from India.
Apart from Mr. Torres' humility flooring us at the outset, we silently admired his  leadership persona, even as the afternoon progressed methodically with minimal directions passed around.  His motivated staff with happy faces and  "spring in the step" silently spoke of the work culture that makes Torres one of the most respected wine companies of the world.
Not to miss out on the opportunity, I had arrived prepared for my one-on-one conversation with the "czar of wine" requested earlier to his office. The interaction remains as one of my top cherished experiences of the wine world.
Note: Since this interview happened in 2014 and published for the first time in 2015, a couple of dated elements have been updated by me at the relevant places(text in italics). However, most of the interview is timeless.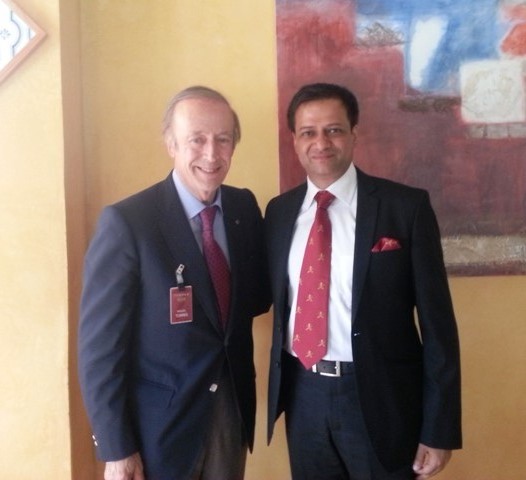 Q: Congratulations on Torres being adjudged the Most Admired Wine Brand of the World by Drinks International magazine. What is your next milestone? (Torres was adjudged the Most Admired Wine Brand for two consecutive years- 2013 and 2014 and now in 2017 for the third time).
A: Thank you, any recognition coming our way is obviously delightful but we have consciously never been vying for titles. It also remains a fact that in the previous years, somebody else received this honour, and in the coming years, it may well belong to someone else. What is important for us is to sincerely keep doing what we are best at and that will be our effort.
Q: I have seen the "holy trinity" of Parellada, Macabeo and Xarel lo grapes in your estates. Yet, I am intrigued why Torres has not thought of producing Cava?
A: To tell you frankly, the first batch of Cava is ageing in our cellars as we talk. The project is being closely supervised by my daughter, Mireia, who has crafted a super-premium wine. We have waited all these years, as we wanted to adequately research the optimum production methods, even though we have already gained quite some experience in Chile, making the rosé sparkling "Santa Digna Estelado" from the País varietal.
Q: We are in the Mas Rabell estate, and in the vineyards I saw some varietals that do not have a name but a number. Could you please elaborate on that?
A: We have been consciously trying to revive many of the native Catalan grape varietals that have been lost into oblivion over a period of time on various accounts. They have a number, because they most probably never had a name. The collection you saw forms part of a project that we started in the eighties to recuperate "disappeared" Catalan grape varietals, some of which have their provenance in the nineteenth century.
These "disappeared" varietals were actually more or less hidden in nature, often in the middle of nowhere. Mostly, natural barriers like mountains protected them from being attacked by phylloxera for more than a century.
To identify them, we worked together with the Universities in Tarragona and Montpellier to determine whether a "lost" varietal was really unique because sometimes, it could well be that it already existed elsewhere in the world. Until today, we have discovered 32 "lost" varietals in Catalonia, but we have registered only 8 of them, because we believe that these have the potential to make a top quality wine. The latest "lost" varietal, "Querol", was named after the municipality where it was found.
Q: International grape varietals being increasingly cultivated in many world regions, including your own vineyards, are these native grape varietals under a threat of extinction?
A: Not at all! On the contrary, since the last thirty years, our priority has been to nurture the native grape varietals irrespective of the international varietals plantings that we also have. The aim is to protect our patrimoine (heritage) which is centuries old and I am determined to see that it is handed down to the next generations.
Q: Torres seems to emphasize sustainability. What is your vision on this and how is it implemented?
A: (Gestures the Maître to fetch something) The whole idea is to be a nurturing custodian to the valuable resources at our disposal. We want to pass these on to the next generations – if not augmented then at least in an undepleted state. At the same time we need to be compassionate enough to give something back to the society in the present day.
(The Maître arrives with a mounted graphic) This is our company's DNA, describing what makes us tick as a winery, as a company. The 8 core elements are People – Ecology – Fair Trade – Giving Back to Society – Clients – R&D – Closeness to End Consumers and a Close Knit Family Company, which are self-explanatory.
You might have noticed these in some form or the other during your visit, but "Giving Back to Society" is something that I will explain. Each year we are participating in numerous social projects around the world to create better living conditions for underprivileged women and children in our society. This is through the Miguel Torres Foundation which was created in 1986 and is presided my wife, Waltraud Maczassek Torres.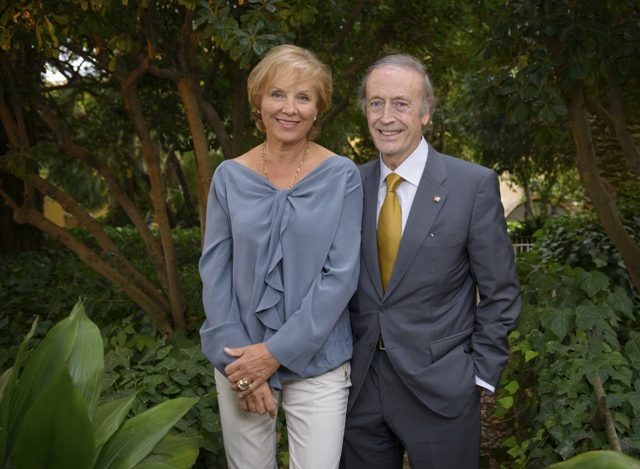 In Guadalajara, Mexico we just laid the first stone for a refuge home for neglected and "at risk" girls, with a contribution of €275,000. In Anantpur, India we have contributed towards education and housing for children, and created a home for abandoned women.
Q: The Torres family revived the wine fortunes of Penedès, post phylloxera and the world wars. And boldly grew their footprint into other Spanish wine regions and overseas. Can we expect to see more expansion?
A: Internationally we have had vineyards in Chile and the US since long. In Chile, we have recently expanded to the southern part with a 200 hectare estate with a nearby river assuring water supply in Itata, which is very well suited to Cabernet Sauvignon. Chile has afavourable climate for producing organic wines as the region does not get rains in the summer, hence the absence of many vine diseases. So we are betting very strongly on Chile, and the project is being overseen by my son, Miguel Torres Maczassek. (In the current day, Miguel Torres Maczassek has taken charge of the overall functioning of Torres S.A. while Miguel A Torres has assumed an advisory role).
Speaking of Spain, we have vineyards in the Denominación de Origen (denominated origins) of Penedès, Conca de Barbera, Priorat, Jumilla and Costers del Segre. Our idea is to represent the best wine areas of Spain, bringing out the uniqueness of each region. We have just bought the winery which we had hired to produce our Verdeo wine from Verdejo varietal in Rueda. In Rias Baixas in the Galicia region, my daughter Mireia, is progressing very well with our project of Albariño wine called "Pazo das Bruxas".
Q: You have been doing business in India since 2001 and have a unique partnership with Prestige Wines & Spirits. The Indian wine industry has recently seen some international giants like Moët Hennessey set up local ventures. Could we possibly expect to see a Torres footprint in India?
A: The fact that every state of India has different rules related to the alcohol trade is a major hindrance, and maybe it is time to change to promote healthy competition that will eventually benefit the local wine industry. It is difficult to make long-term predictions, but the basic premise of our production philosophy is "Focus". We prefer to stay committed to the regions where we are already present. We would not want to start producing wines in every possible region of the world. Even within Spain, we will not venture into the most famous fortified wine, Sherry.