Let's face it. The ease of drinking beer is unparalleled in the world of beverages. That's why "chugging beer" is such a popular phrase. But mind you; approachable it may be, the world of beer can also be full of complexities that could at times put even a snooty wine to unease. With humungous choices of beer across the world, this is well nigh impossible.
India, of late, has woken up to the beer phenomenon like never before. From just a few "plain Jane" options until a few years back, the country has witnessed a craft beer revolution of sorts- at least in the major cities. The latest one to hop on this bandwagon is Hopper- an authentic Belgian craft beer that comes from the 124-year-old Brouwerij (Brewery) De Brabandere located in Bavikhove, Belgium.
So, what's new about Hopper?
Hopper is not as simple as another beer imported in India. It is the result of a partnership between Brindco– India's prominent alcoholic beverages importer and the Brouwerij De Brabandere. Together, they have developed the beer by perfecting a 100 year old recipe that was handed down five generations of the  De Brabandere family. Even the bottle design of the beer is bespoke, inspired by traditional Gothic architecture. The beer is available in two variants- a Witbier and a Blonde, in retail as well as on the tap in bars/restaurants.
---
Witbier
Dutch for "white beer" it is named so for its usually turbid appearance due to it being unfiltered. It is a Belgian style Ale with a high level of wheat, and sometimes oats content. Witbier is mostly spiced, generally with coriander and orange peel.
Blonde
A generic reference to a pale coloured beer, often clear, crisp, and dry.  A Blonde beer can come as both an Ale (top fermented) or Lager (bottom fermented).
---
Aman Dhall, the owner of Brindco and Co-founder Hopper, is known for his penchant for details. Before Hopper arrived on the Indian shores, he went around Brouwerij De Brabandere, understanding its ethos and experiencing all the steps of production processes. It was only when he was satisfied with the right fit of the brew for the Indian market that he decided to go full throttle. Going by the initial response at the launch, he may  feel encouraged already.
Famously launched
At the expansive lawns of the Belgian Ambassador's residence in New Delhi, Aman and his wife Madhulika Dhall (also the head of Brindco's retail arm La Cave Fine Wines and Spirits) enthusiastically received the guests even as copious amounts of Hopper did the rounds. Ambassador François Delhaye highlighted the prominence of his country in producing a vast range of beers (more than a dozen styles and 1000 brands) and welcomed the gathering.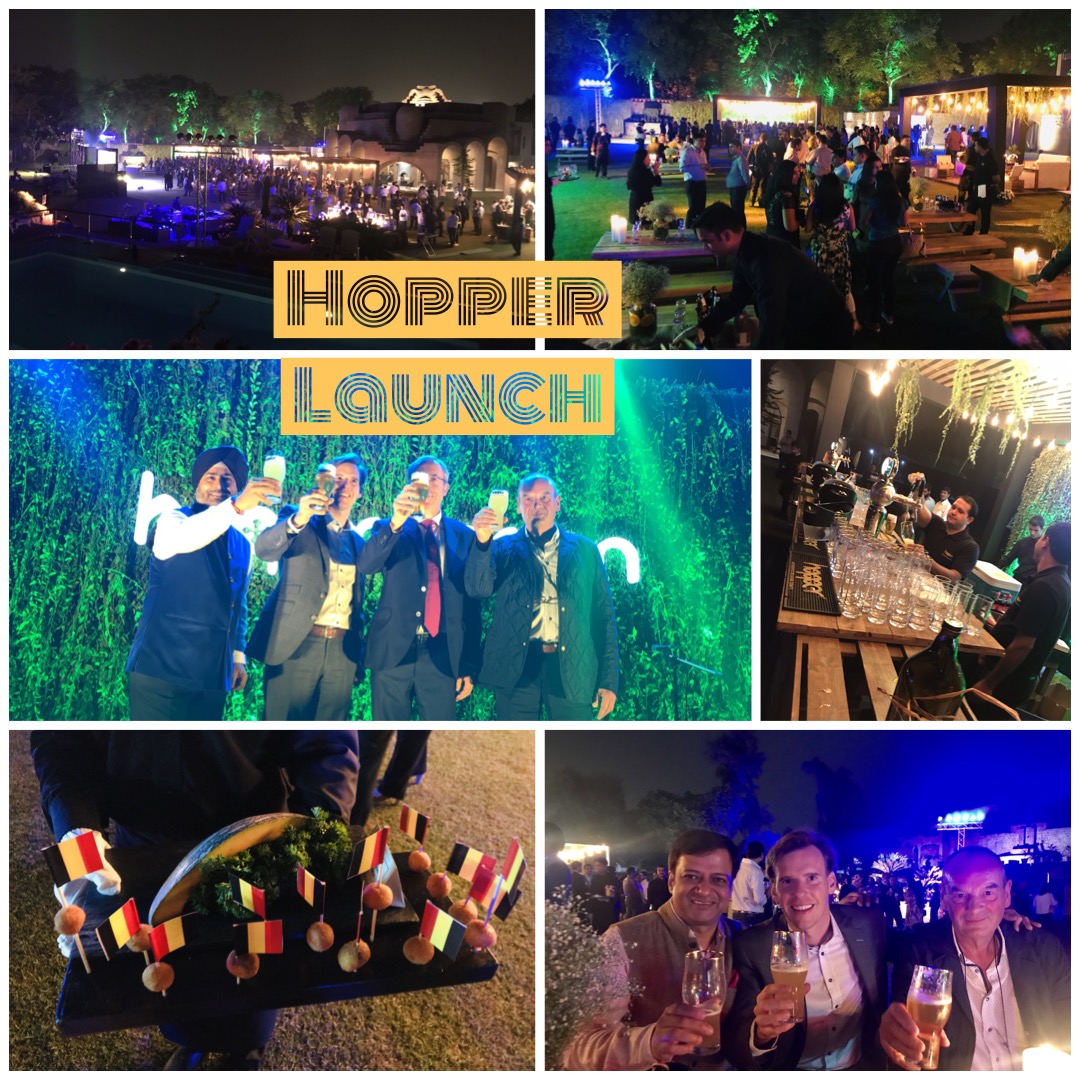 For the launch event, the brewery's 5th generation Albert De Brabandere and Head  Brewmaster Chris Van Acker flew down specially to interact first hand with beer aficionados. They passionately answered queries ranging from the technical to historical. A live band pepped up the evening and food stations buzzed with action all through the evening.
The Variants
(Both the variants are priced at approx ₹ 150/-  in retail across major Indian cities. Also available on tap in bars/restaurants)
Hopper Witbier
The USP of Hopper Witbier is in its full body and smoothness. The beer pours with a dense foam and comes across as extremely refreshing. Its citrus and coriander nuances accentuate the freshness factor well. According to the producer, the brew for their Witbier is fermented for 7 days and matured for 25 days, making it round and smooth.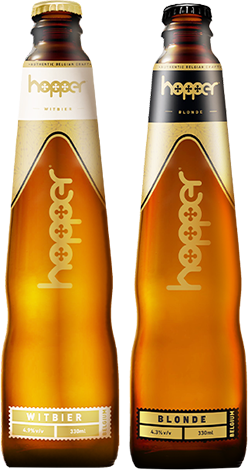 Hopper Blonde
The producer specifies this as a "true Belgian lager" made with 100% malt. Hopper Blonde is clean, crisp and refreshing with a long finish.  The high-quality hops are evident in the beer with well-integrated floral aromas. The blonde version is fermented for 8 days and matured for 30 days.
Which one is for you?
At the launch event, opinion on preference was divided between the two variants. But there was a slight tilt in favour of the Witbier, apparently because Indians have consumed lagers for long whereas wheat beers are still considered a novelty. If you set aside the novelty aspect, I would recommend the lager with food for its palate cleansing capabilities, and the Witbier as a thirst quencher for parched palates. Of course, there would be several more ways in which you could enjoy these beers.
Chugging being one of them.