The world of single malt whiskies is as myriad as it gets. In India, specially in the past few years the, inclination towards single malt whiskies has increased. The top factors  contributing to this  trend are- ever increasing disposable incomes and better consumer awareness.
Being the largest whisky consumer in the world, India also qualifies well to be on the radar of top whisky producers.  It is  therefore logical, that such producers remain in contact with the Indian market to foster knowledge of  their brands.
A latest such engagement  was a master class by Robin Coupar, Global Brand Ambassador of Glen Grant whisky. The whisky is being imported in India by Aspri Spirits, a prominent importer of fine wines and spirits.
Robin, who  also represents the  Campari Group 's (a Milan based alcohol major ) overall whisky portfolio, was here last year as well. On his latest trip,  he conducted  master classes  in the key whisky consuming cities of Chennai, Bangalore, Chandigarh and Delhi. I was invited to attend his session in New Delhi at The Roseate House– a relatively new hotel on Delhi's landscape .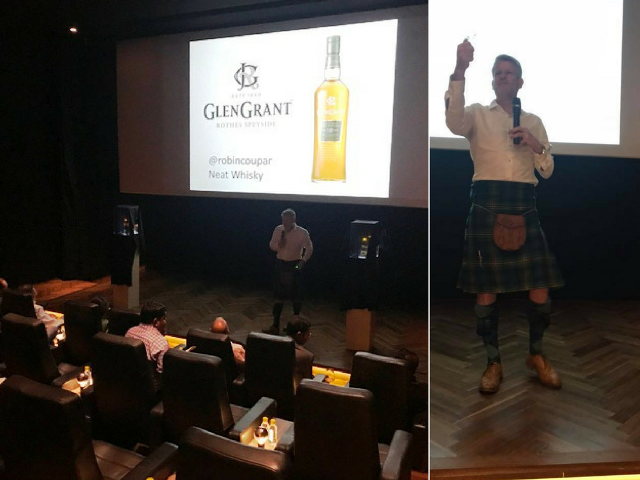 The Glen Grant Whisky Story
The mention of Scotch whisky often conjures up images of kilts, bagpipes and the rolling lush green landscape of Scotland. Robin brought all these aspects  in his presentation alive with the latter two depicted on screen while he conducted the session, proudly sporting a kilt. With his characteristic witticism he regaled the audience as much as he educated them. Walking down the Glen Grant history lane literally felt like a breeze.
From illegal to legal: Glen Grant's legacy
The Scotland of early eighteenth century was beset with discriminating laws imposed by the English rulers on the alcohol trade. To evade these laws , illegal distilleries sprouted all around.  So much so, that at a given point of time there were around 400 illegal distilleries in Edinburgh alone!
The moonshining  scenario continued until early nineteenth century.  The "powers that be" finally sought to modify the impractical policies, with the aim of fostering compliance. In 1823 a new excise policy was born, which cut down drastically on alcohol taxes of the preceding years. This paved the way for a legalized alcohol trade in Scotland that we see today.
It was in this milieu in 1840, that brothers John and James Grant, erstwhile bootleggers, applied for a distillery license. The foundation of Glen Grant distillery was laid.  Its  situational advantage of being nearer to the port of Garmouth and barley-growing plains made it prosper well in the following years.
---
Grant was heavily involved in the construction of the first Northern railroad; as a result, in 1851 one of the locomotives on the Lossimouth-Elgin-Rothes line was named Glen Grant.
---
The era of innovation and communication
After the death of the founders by 1872, the legacy of Glen Grant passed into the hands of young James Grant who was born in 1847. Also known as The Major courtesy his rank held in the local Rifle Volunteers, James proved  to be a worthy successor of the Grant enterprise. His technological innovations like  tall slender stills with purifiers define Glen Grant whisky to this day. Also thanks to him Glen Grant was the first distillery of the region to have electric light.
The flamboyant James Grant was also an excellent communicator and a manipulator. He worked  things to his advantage by endearing himself well to the society through charities and largesses. At the same time he knew how to  keep the authorities in good humour.
How Glen Grant Whisky is Unique
Every well produced whisky has its distinctive character and Glen Grant is no exception. Robin highlighted Glen Grant whisky as "crisp, clear, fresh and light" as compared to some heavier and more robust single malts". He  attributed these characteristics to various factors, elaborating them further:
Purifires – an invention by Glen Grant
Glen Grant whisky undergoes a unique distillation process. It is distilled in incredibly tall stills, ensuring that only the lightest spirits find their way into the final product. The purifiers attached to these stills invented by "The Major", let only the purest vapour  to pass through.   The resulting whisky from these purifiers is fresh, and  light . Glen Grant also happens to be the only distillery to use purifiers in both distillations.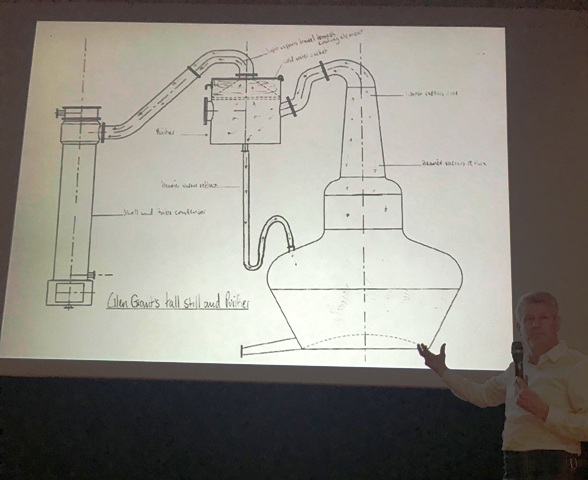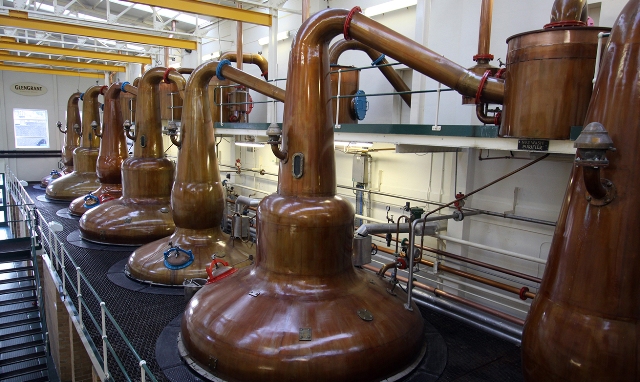 Grain and water- the key constituents
Ever since its inception, the Glen Grant distillery has used the same variety of barley in its production which is characterized by a dry, crispy, crumbly, and aromatic character. This makes the whiskies consistent in their character.
Also, despite being situated on the banks of river Spey, the Glen Grant distillery uses natural spring water coming from the Scottish Highlands in their own back burn. This lends the whisky a pristine character and a fresh taste.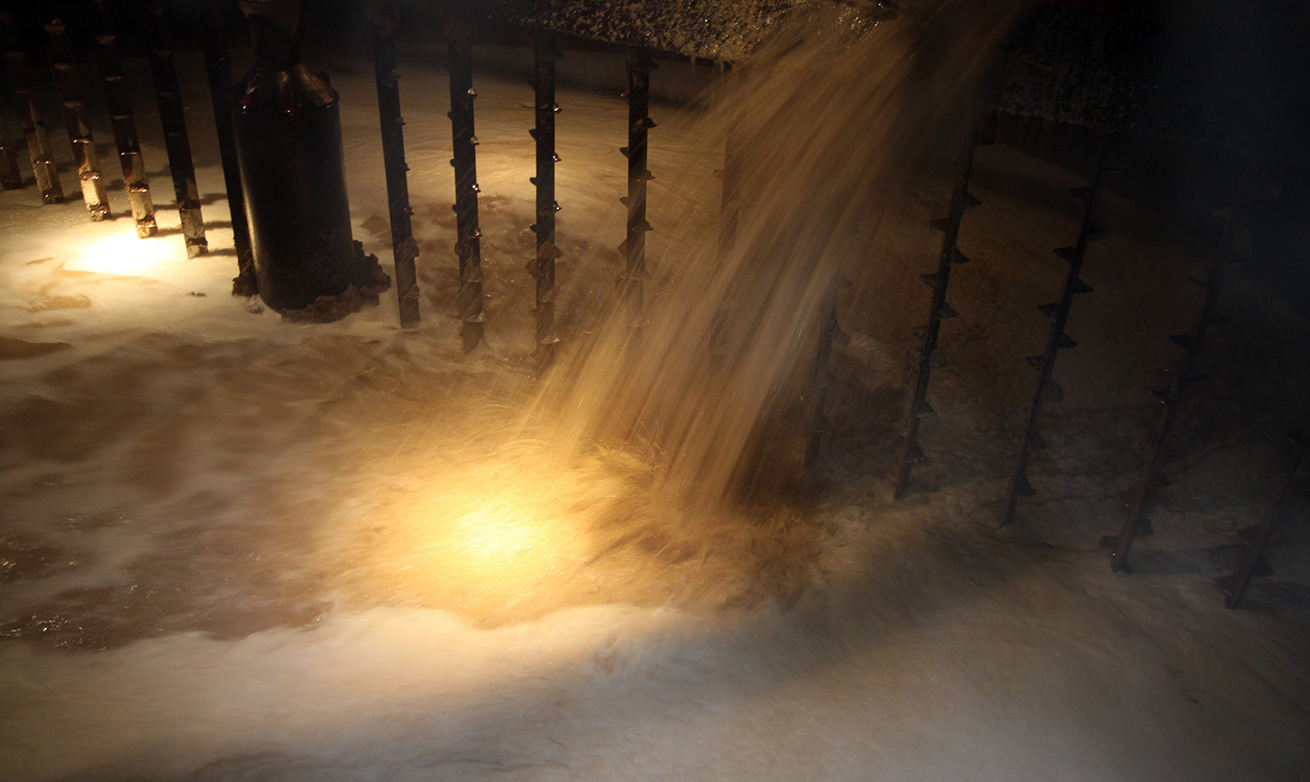 Oregon Pine for fermentation and Bourbon/Sherry casks for maturation
Unlike most distilleries of modern times that use steel fermentation tanks, Glen Grant uses Oregon Pine for fermentation. While steel fermentation tanks have their own USP of easy maintainability; the wooden fermentation vats give Glen Grant whiskies an unparalleled organoleptic character so distinctive of them.
For maturation, Glen Grant uses top class Bourbon and Sherry casks only for a certain number of times. The slow ageing process in quality oak casks gives Glen Grant its unique colour and decidedly fresh and fruity flavour.
Above:  The making of a Glen Grant whisky. Video: Glen Grant
A Distillery Manager par excellence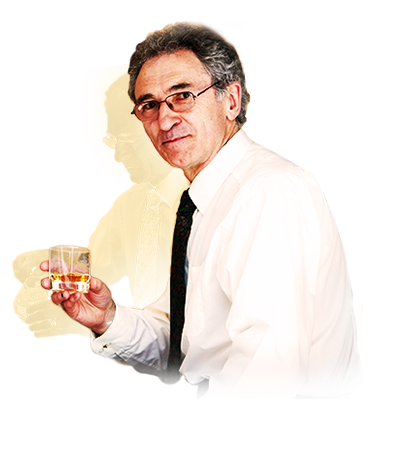 This article would be incomplete without the mention of Dennis Malcolm, the Distillery Manager of Glen Grant.
As a person who was born in the distillery grounds,  Dennis followed his grandfather and father's legacy by working in the Glen Grant distillery. He joined the distillery as an apprentice cooper at a young age of 15, and went on to become a key person in shaping the Glen Grant of today.
With more than five decades of stellar work behind him, Dennis has earned   many laurels including the award of  OBE  (Officer of the Order of the British Empire) for his services to business and the community in Speyside.
Dennis  has also  been responsible for the creation of the distillery's new 12-year-old and 18-year-old expressions,and a non-chill-filtered 12-year-old for travel retail.
Glen Grant Whisky in India
Two of Glen Grant whiskies viz. 10 Years and 18 Years Rare Edition  are available in India. We tasted them during Robin's master class and afterwards amid social interactions.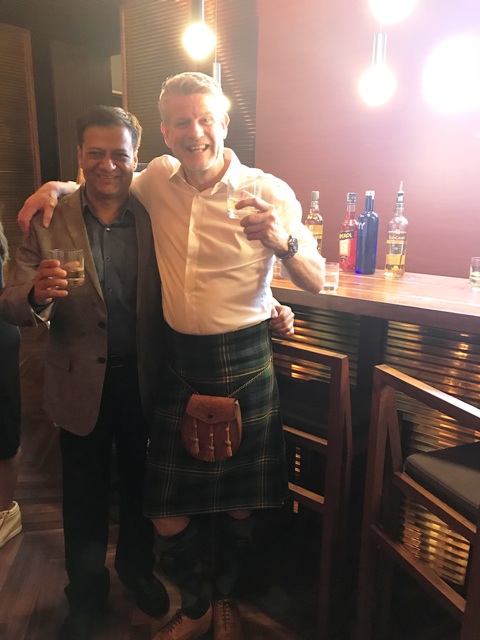 Glen Grant 10 Years (INR 5400)
---
Glen Grant 10 Years was awarded as the Best Single Malt Scotch Whisky in the  "10 Years and Younger" category for last  six years by renowned whisky critic Jim Murray's Whisky Bible.
---
A bright gold coloured whisky with aromas of citrus fruits, tree fruits, malt and vanilla.  The palate is light bodied,  and perceptibly malty along with flavours of apples and dried fruits.
Glen Grant 18 Years Rare Edition (INR 19760)
---
Glen Grant 18 Years Rare Edition was awarded as the Scotch Whisky of the Year  in 2017 and 2018 by renowned whisky critic Jim Murray's Whisky Bible.
---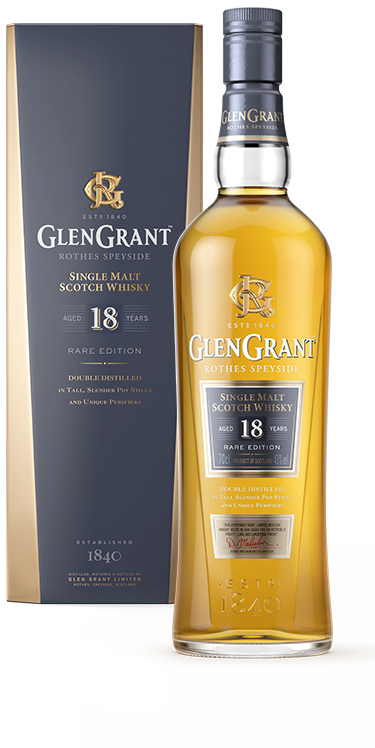 Pale gold colour, rich and floral with oaky overtones. A lingering palate of dried fruits, caramel, vanila and sweet spices.