Coravin- the world's most fancied wine gadget has arrived in India. And it is brought in by none other than Brindco – the country's leading wine importer. For a gadget that was launched in 2013 and already present in more than 50 countries it may appear a delayed entry, but considering India's early stages of wine evolution, Coravin's arrival can be considered very much timely.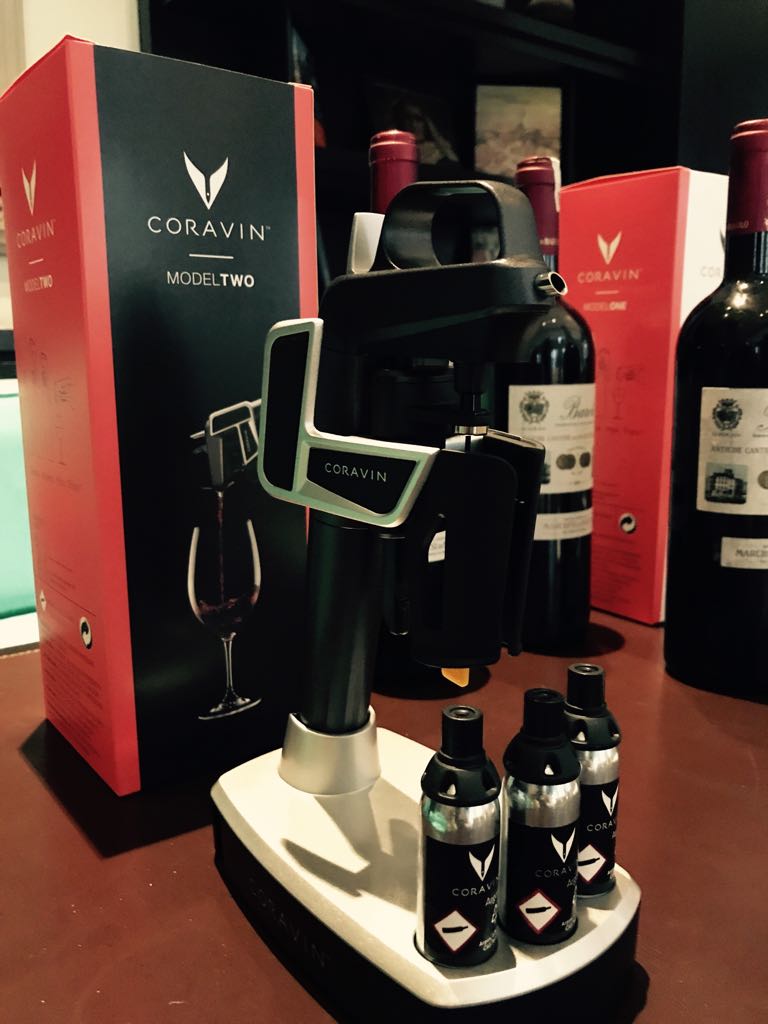 My first brush with Coravin was in 2016 at the Austrian wine fair VieVinum in Vienna. The device evoked my inquisitiveness, largely incumbent on my engineering background. However, I realized soon that unless one went into the aspects of metallurgy and atomic valencies, the functioning of Coravin was pretty simple to understand. Isn't that what technology is supposed to do? Make life easier for average consumers.
Simple as 1-2-3
So what does Coravin exactly do? To put it verbatim in Coravin's terms:
The Coravin System is a wine access tool that allows the desired quantity of any wine, from any bottle to be poured and enjoyed by the glass, without uncorking. By preserving the wine with the patented Coravin technology, the remaining wine is kept unspoiled and in pristine condition.
Coravin does so in three simple steps:
1. A fine hollow medical grade needle pierces the cork closure (or a Coravin cap for screwcap bottles) and injects Argon- a harmless inert gas- into the bottle.
2. The pressure created within the bottle pushes wine out through the same needle. When the desired amount of wine is poured, the needle is withdrawn and the gas is left in place to prevent oxidation.
3. The cork reseals itself naturally and the wine does not aerate, meaning any amount of the wine can be tasted at any point and the last glass will taste just as good as the first.
This is how Coravin works
But the engineering devil in me was hard to satisfy. Why Argon? Why not another inert gas like Krypton or Xenon? I am sure similar questions would have come to Coravin inventor Greg Lambrecht's mind when he was developing the system. It turned out so, that Argon is by far the most easy and economical to produce as compared to other inert gases. And price is certainly a factor for a product being developed to be sold in the market.
---
An inert gas ensures non reactivity with wine while at the same time protecting it from contact with oxygen, as oxidation is the main enemy of wine.
---
Lambrecht, a versatile proponent of physics, nuclear power and medical engineering combined his expertise in technology and love of wine to create Coravin. In his words – "the Coravin Wine System can be enjoyed in numerous settings, with restaurants and bars embracing the technology that allows wine-by-the-glass programs to expand without fear of wasted wine. Diners and wine drinkers can also enjoy a wider selection of premium wines and can pair multiple bottles with their meal, instead of committing to just one bottle."
Significance of Coravin's Import in India
As Aman Dhall, the suave Chef d'Entreprise of Brindco demonstrated the product during its launch in New Delhi, I felt relieved learning that I didn't end up buying the product in Vienna , as it would have entailed confiscation by Indian customs- Argon gas being listed as 'hazardous' in the country. Needless to say, the device would have been useless without the gas capsules.
The import of Coravin in India hence becomes even more significant as now people can buy a functional system legally in the country. Given the notorious reputation of Indian bureaucracy, getting a green flag for import was steeply uphill as Aman informed that they had to obtain clearances from several ministries of the Indian Government before the equipment could land in the country!
---
The most significant advantage of Coravin's import in India is that you can buy the device and its expendables legally in the country without worrying about the expendables running out.
---
The launch event
The India launch of Coravin happened at The Lodhi, New Delhi – a destination which has recently been named as the top hotel in Asia and number 2 in the world by the Condé Nast Readers Travel Awards 2017. The wines to serve the demonstration too, added to the charm.   Who would complain of accessing a Pouilly Fuisse and a Barolo at a demonstration just to showcase the capabilities of Coravin?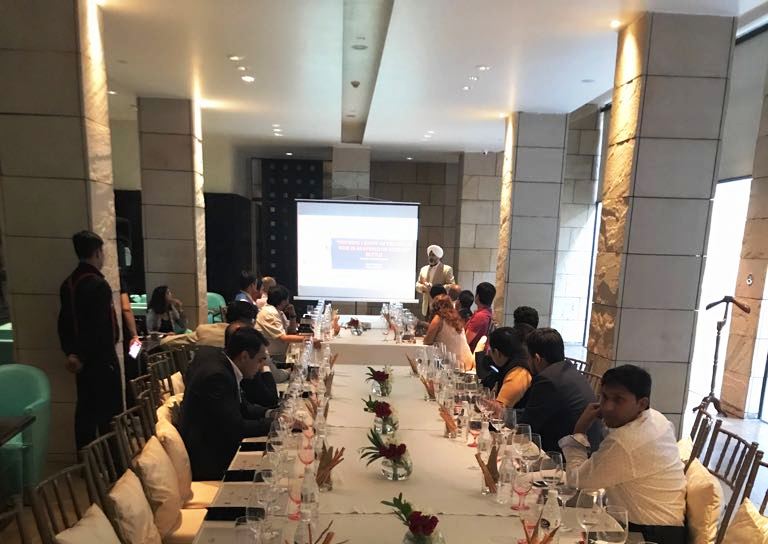 Aman along with Madhulika Bhattacharya Dhall a.k.a. Madame LaCave, who spearheads the La Cave Fine Wine Store, Brindco's retail arm where Coravin is available, demonstrated the device and encouraged all attendees to try their hands at it. We did so with glee, reaping the rewards of our effort by relishing the delightful wines. An exquisite food pairing spread ensured that the wines didn't  feel alone.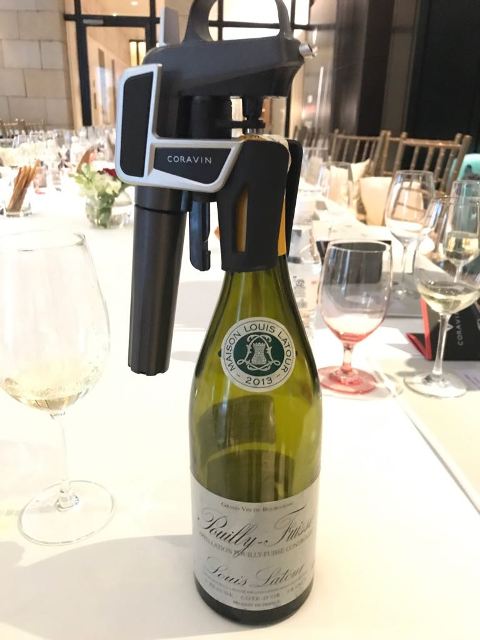 To Coravin or not to Coravin?
Beauty lies in the eyes of the beholder, so let us take this question contextually. Sometime back, I had written a post on this blog discussing the merits and demerits of buying a premium range of glassware. It concluded that price was not the only consideration when customers bought a niche product of its domain. Same applies here too. In a nutshell, Coravin  is likely to find favour with people who regularly open good wines but are compelled to expend them fully, even if they would want to save them for later.  Some typical scenarios where one would like to use Coravin would be:
#1 High Value Wines
The main premise of Coravin is to be able to access a wine without affecting its cellar life, and the longest lived wines are invariably high valued. If you could enjoy a cherished wine on more than one occasion without having to worry about bottoming it, your dexterity for savouring the wine would surely go up manifold.
#2 More wines less people
How many wines do you open for a group of say- four friends at a five course paired dinner? Most likely five. Even in case of three wines (if you are repeating wines across courses) it means that the bottles have to be expended soon. With Coravin, you can get over that hurdle and preserve your wines for yet another round of wine bonhomie.
#3  Prized, not necessarily pricey wines
A wine I recently opened was Hardys Stamp Collection Merlot autographed and presented to me by none other than Bill Hardy himself! Despite being an inexpensive wine, it was one of my most cherished possessions that I would have liked to share with some true blue wine friends, who would be excited about it the same way I was. Since it was unlikely that all vino friends would be available en masse to share the wine, Coravin could definitely have helped in preserving it across multiple sittings.
#4  Wines by the glass in restaurants
Many restaurants across the world have already started using Coravin systems to expand their 'wine by the glass' offerings. As compared to static and bulky wine dispensing and preservation systems, Coravin's portability makes it possible to serve the customer right at his table , with the wine being poured out in full view.
#5  Storage space considerations
You have cellaring space for sealed bottles but what about the ones that have been opened but not exhausted? The most common approach in such cases is to store the partially opened bottles in the fridge. Unless you have a dedicated refrigeration space for wine bottles, this approach is fraught with problems like ambient aromas, space limitation etc. With Coravin you could just put the bottle back in the cellar like it was resting  earlier.
Coravin Models in India
All models of Coravin essentially perform the same function i.e. dispense wine from a sealed bottle using the same mechanism. From the initial model launched in 2013, a lot of refinements have taken place in its build, accessories and needle engineering. In the recent models, a thinner hollow needle now offers more output of wine per unit of time.
(Sequentially) Model 1, Model 2 and Model 2 Elite
Coravin Model 1 ( ₹ 21,624)
Available in blue/white combo. Includes two premium Coravin capsules.
Coravin Model 2 (₹ 29,496)
Sports a modern look with a dark graphite finish. Includes two premium Coravin capsules.
Coravin Model 2 Elite (₹ 32,150)
Available in three distinctive colors- red, gold and silver, all with chrome finish. Each includes two premium Coravin capsules.
Coravin Capsules  (approx ₹ 1500 for two) One capsule lasts upto 15 glasses of 150 ml pour each.
Click here to know more details on usage and maintenance of Coravin wine access systems