That wine and food have a hand and glove affinity would be an understatement. Ever since mankind has known wine, food has played a key role in bringing out its characteristics in full glory. This is probably the reason why reputed wine enterprises establish in-house culinary setups. Brian Streeter, Culinary Director  Cakebread Cellars– a reputed Napa Valley wine producer- reinforced this point this March in India.
Brian arrived on a multi-city visit to India on invitation from Cakebread's India importers Brindco and their retail frontage La Cave Fine Wines and Spirits. Curating special menus in Delhi and Mumbai, he personalised the Cakebread experience for wine lovers in both cities alike.  I attended the dinner at Delhi courtesy Madhulika Bhattacharya aka Madame La Cave, owner of La Cave Store.
Madhulika,  known well for her consumer wine sessions titled Unwined with LaCave has been creating a strong buzz in the wine space of India. Brian's session was yet another of her endeavours to connect wineries directly with the consumer.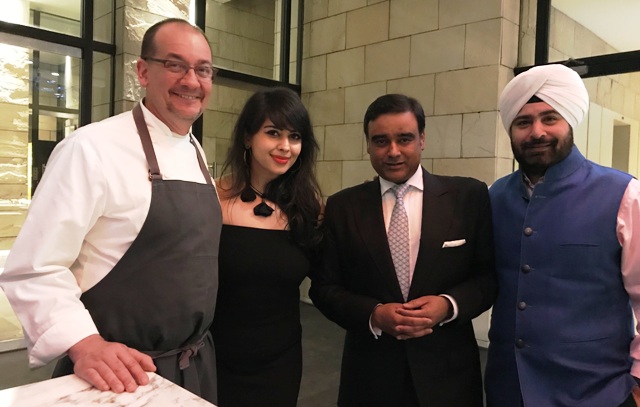 A quarter of a decade with Cakebread Cellars
Having been with Cakebread Cellars since 1989, Brian has been highlighting their wines with seasonal, product-driven menus. Known particularly  for his affinity towards the Mediterranean cuisine, Brian uses well its historical linkage with wine. It was something which was noticeable on the menu at Delhi (detailed later in the post) where Mediterranean and Asian components of the cuisine were presented with a Californian touch.  It made me recollect my interaction with Bruce Cakebread last year where he highlighted the adaptability of their region to global cuisine.
In the US, particularly in the Napa valley, San Francisco and Bay area, people are liberal and open to innovation. This is probably why the Silicon Valley landed in the Bay area. These are the areas where you can expect a fresh Salmon or Cod from the Pacific coast prepared in an Asian way. It exhibits a keenness of wineries to experiment pairings with different cuisines, which in turn makes the appeal of their wines global.
– Bruce Cakebread in 2017
Click here to read my complete conversation with Bruce Cakebread during his visit to India last year.
My aperitif round with Brian Streeter
I recorded some exclusive moments with Brian before the dinner commenced. The interaction revealed Brian as having taken to Indian cuisine admirably well in a short duration. Watch the video below to know of his  maiden experience.  A highlight in Brian's words is:
Like a sponge, I am trying to to absorb the various flavors and textures of Indian cuisine.
Brian Streeter's Menu for New Delhi
The dinner started on a special note at The Lodhi's new Italian restaurant  Perbacco. A unique feature of the restaurant is an attached  Italian wines cellar established by La Cave that serves as many as 130 wines by the glass! To my knowledge, this would be the largest assemblage of wines by the glass from a particular country served in a five-star property in India.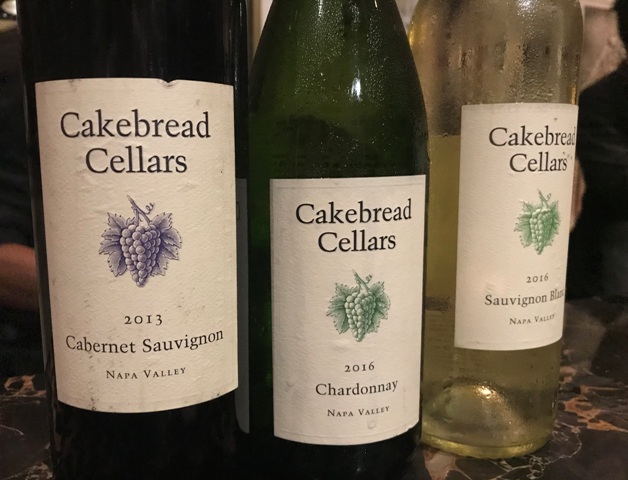 Three of Cakebread wines already present in India were served at the dinner.  In addition, Dancing Bear Ranch 2009, a Bordeaux style blend coming from Cakebread's prized parcels in the Vaca mountain ranges, was also served.
Course 1
Kimchi and Potato Pierogi
Served with: Cakebread Cellars Napa Valley Sauvignon Blanc 2016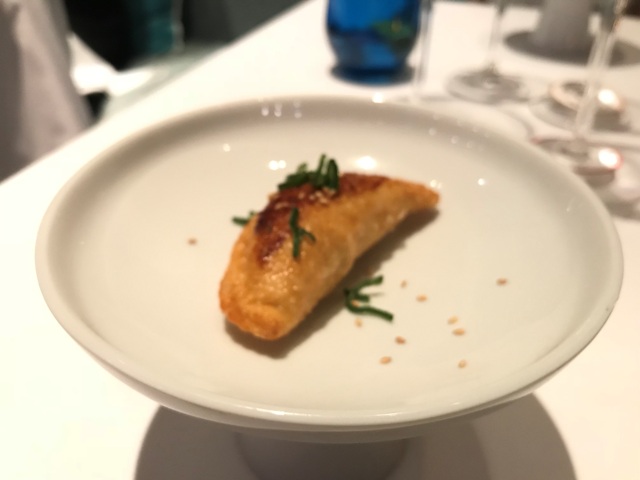 The herbaceous flavors of the wine, notably bell peppers, worked well with the savoury and tangy filling of the Pierogi- a dumpling originally from Eastern Europe.
Courses 2 & 3
2. Asparagus Red Flint Corn Polenta, Burrata & Pickled Mushrooms
3. Seared Sea Scallops with Carrot-Brown Butter Emulsion, Spinach, English Peas & Pumpkin Seed Dukkah 
Served with: Cakebread Cellars Napa Valley Chardonnay 2016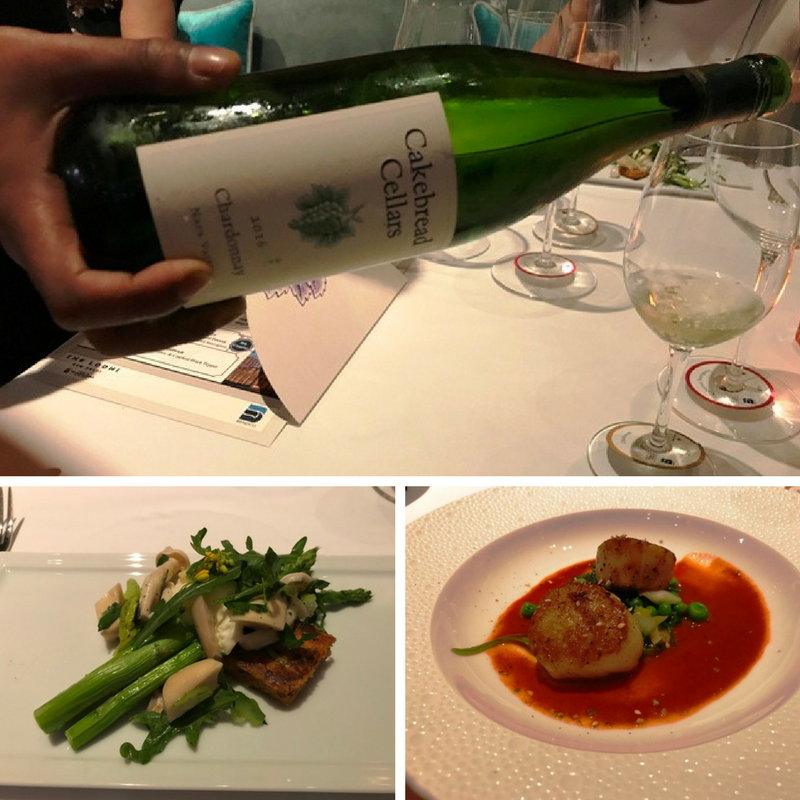 My neighbouring diner clearly preferred the Sauvignon Blanc from the earlier course with these two courses. For me, both the wines worked well, looking at the pairings from different angles.  The Chardonnay stood up well to the dense textures of polenta and the creaminess of brown butter emulsion. So did the Sauvignon Blanc that complemented the herbaceous elements with ease.
Course 4
Spice Rubbed Duck Breast with Fig Mostarda, Braised Radishes. Kohlrabi & Sugar Snap Peas
Served with: Cakebread Cellars Dancing Bear Ranch (DBR) 2009
"Good wine is a good familiar creature if it is well used," recorded William Shakespeare in Othello. Using a good wine with the right food can never be overemphasized.
The grapes for DBR blend come from some prized parcels on the Howell Mountain in the Vaca ranges of eastern Napa Valley. The vines are rooted in well-drained volcanic soils and enjoy excellent sun exposure, prompting their fruit to ripen earlier than those from Cakebread's valley floor vineyards.
---
The blend for DBR 2009 is 96% Cabernet Sauvignon and 4 % Cabernet Franc. The blend constituents are changed every year to give each vintage its unique character.
---
DBR 2009 worked extremely well with the powerfully textured Duck Breast served around a melange of sweet and spicy flavours.
The wine decanted well, which was evident in its expressive nose at the outset.  Due credit goes to Sommelier Nitin Raj who pranced around pouring the wine from the decanter. With an extremely active General Manager  Vikram Aditya Singh at the helm, a great level of service was quite expected too.
On the palate, DBR 2009 was robust and rounded with flavours of blackberries, blackcurrant, mint, vanilla and earthy tones. This course turned out my best for the evening.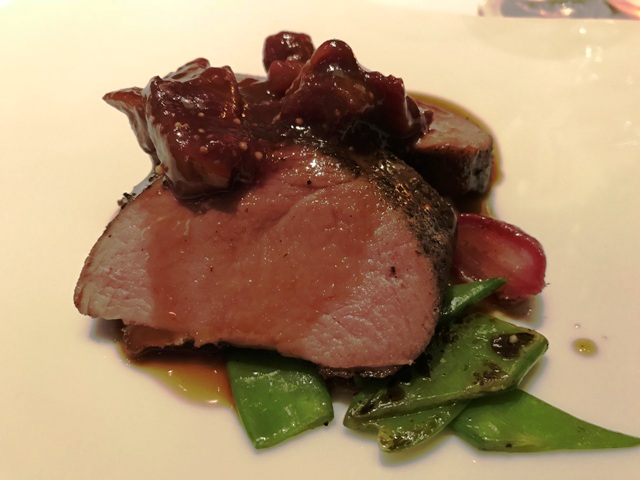 Course 5
Blue Cheese Soufflé with Wild Flower Honey, Garden Beets, Dried Persimmons & Toasted Pecans
Served with: Cakebread Cellars Napa Valley Cabernet Sauvignon  2013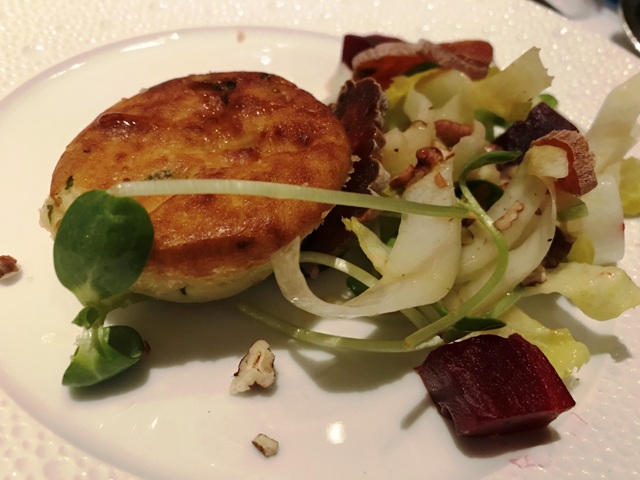 The biggest plus of this pairing was the exotic nature of the food incorporating a range of flavours and textures that went naturally well with the wine. The decadently crusted blue cheese soufflé drizzled with pure honey, complemented by crispy crunchy and juicy components, made it a heavenly indulgence. The wine didn't fail too, with a medium body, silky tannins and dark berry flavours coupled with distinctive mineral notes.
Serving this wine after the DBR 2009 though,  stole its thunder.  An order swap between the two courses would have been a good idea.
A sweet adieu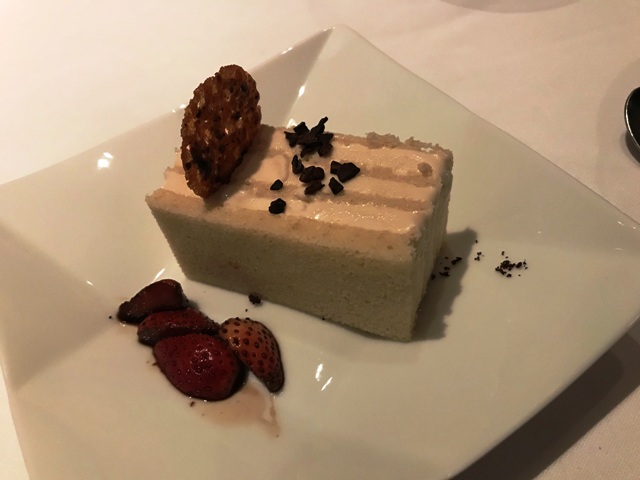 A decadent Cacao Nib Ice Cream Sandwich with Balsamic & Cracked Black Pepper (not discreetly paired with a wine)  topped the dinner experience for the day. The deeply satiating dessert was the best I've had in a while, so much so, that I already crave one as I write these lines.
I guess that's a befitting testimony to a well-curated experience.