That Indians love their whisk(e)y is well known . But do they really love whiskey more than whisky? It may surely be a debatable issue.
For the uninitiated, the American and the Irish pronounce the word with an extra 'e' while the rest of the world largely calls it 'whisky'. The difference though is more than just cosmetic, as all these whiskies stand out in their distinctive niche.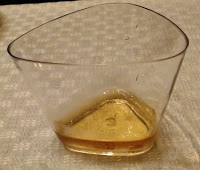 To strengthen the position of American whiskey among  beverages denizens of New Delhi, Shatbhi Basu, celebrity mixologist and American Whisky Ambassador in India, recently ramp-walked some popular American whiskies sans their oft associated pompousness. The whiskies were paired with Tapas styled Indian food with a Delhi essence by Vipul Gupta, Senior Sous Chef  WelcomHotel Sheraton. The venue was fit to the tee as "Delhi Pavilion"- the multi-cuisine restaurant at the hotel.
Shatbhi started the evening on a rather unconventional note. She urged the audience to rub some whiskey served in a shot glass in their palms and appreciate the aromas. The audience seemed to gel with her thought of equating the resultant  aromas to those of a quality cologne! Soon enough, other whiskies for the evening followed, embossing their individual personalities through innovative presentation and deliberate food thought.
Knowing American Whiskey
So what is special about American whiskey?  For starters Shatbhi dispelled some myths- the most common  being that American whiskey implies only Bourbon. She clarified that apart from corn, an American whiskey could also be made from other grains like wheat and rye or as a blend of more than one grain. Explaining further on the USPs of these whiskies, she highlighted that  majority of whiskey producing areas in America offer high temperature variations, resulting in much faster ageing (thrice as fast on an average) as compared to those from most other countries. She also brought out that these whiskies use only new charred barrels as opposed to second use barrels (significantly American) that are common with whiskies produced elsewhere.
The Tasting
Those pressed for time, may get a decent perspective on the evening through my FB album embedded as under. Just click on it to go through the individual photos with descriptions. However, those who would like to get a wee bit of extra whiskey punch, reading further is highly recommended.
https://www.facebook.com/ravikjoe/photos/a.1328241543857555.1073741874.605232199491830/1328241620524214/?type=3
First Course
Maker's Mark Red Seal, ABV 45%
Type: Kentucky Straight Bourbon
Presentation: Iced whiskey with a sweet dark date garnish
Maker's Mark is a  craft distilled product made from corn, barley and "red winter wheat" rather than the usual rye. It also goes at a lower strength into the cask at 110 proof as opposed to the more normal 125 proof. These variations aim at making the whisky (spelt here the Scottish way as they come from a Scottish heritage)  as mellow as possible without too much spice on the palate. The bottle is sealed twice i.e. capped and then dipped in wax for added protection.
Paired with:
Dilli chaat plate (Bhalla papdi upside down, Aloo Edamame tikki)
An Indian savoury snack incorporating various textures and flavours. The  honeyed/spicy characteristics of the whisky matched well with a mélange of sweet, sour and spicy flavours of the chaat. The bite of date lent it an extra savouriness.
Second Course
Jack Daniel's, ABV 40%
Type: Tennessee Sour Mash
Presentation: Iced whiskey topped by a citrus foam.
Jack Daniel's is a Tennessee whiskey from Lynchburg. Every drop of this whiskey is filtered through ten feet of activated maple charcoal and wool before being matured.
Paired with:
Kadak paneer, achari asparagus with fresh cress salad (V)- Crispy cottage cheese coupled with pickled asparagus and microgreens
Delhi fish fry, achari asparagus with fresh cress salad (NV)
Sipping the  iced whiskey through the citrus foam  made for a mellower experience which was good with the 'crisp outside, soft inside'  fish & paneer as well as the crunchy and tangy asparagus.
Third Course
Jim Beam White, ABV 40%
Type: Kentucky Straight Bourbon
Presentation: Cocktail "Pomegranate Sour" (recipe in image below)
Seven generations of the Beam family have been distilling at the Jim Beam distillery, making it the number one selling bourbon in the world. Jim Beam White is one of the cleanest, yet full flavored bourbons with caramel and vanilla sweetness followed by a peppery spiciness. Jim Beam is now bottled in India making it even more accessible.
Paired with:
Podi Idli with Upma cigarillo (V)
Steamed garlic pod centered dumplings, crisp cigarillo with mushy filling.
Chettinad chops with Upma cigarillo (NV)
Slow cooked succulent lamb chops, crisp cigarillo with mushy filling
"Pomegranate Sour" worked perfecty as a foil for the podi and chettinad spices- cleansing and refreshing the palate.
Fourth Course
Woodford Reserve, ABV 43.2%
Type: Kentucky Straight Bourbon
Presentation: Chilled, infused with a saffron strand and with an aam papad (semi dried mango pulp) garnish.
Woodford Reserve is the only triple copper pot still distilled Kentucky Straight Bourbon whiskey. It is made in small batches to preserve it's artisanal character.
Paired with:
Badam ki Galouti, mango kachumber (V)
Browned almond paste, Sprouted moong pistou, saffron flat bread, salad
Silvatte ke shammi, mango kachumber (NV)
Hand pounded lamb boti kababs, saffron flat bread, and salad
Shatbhi called this combination as "Lucknow meeting Kentucky".  The intensely dried fruit and sweet spice flavours of the Woodford, further infused with a hint of saffron and served with a bite of aam papad, blended effortlessly with the softly spiced galouti and mango kachumber.
Fifth Course
Jack Daniel's Liqueur, ABV 35%
Type: Tennessee Honey
Presentation: Chilled, straight up
Jack Daniel's Tennessee Honey is a whole lot of Jack with a little bit of honey. It has warm honey, caramel and vanilla flavours with a little nuttiness and hints of anise
Paired with:
"The Three Sweet Act"– an amalgamation of three cities on a plate. The Beetroot halwa from the Mughal era, the Alphonso payesh from the contemporary Bengalis and the saffron milk solids samosa from the northern India.
The iced Jack Daniel's Tennessee Honey complemented the trio of favourite Indian dessert flavours, with the rudder of balancing acidity.
The Showstopper
Even as the guests took charge of their mobiles to summon their respective wheels, Shatbhi urged them to stay put for a smokin' hot experience. 'Smokin' ' it was literally, and 'hot' it was on the chutzpah front. Choco Nut Madness (see recipe in image below)  aptly contained some of the favourite ingredients of the American way of life, wrapping up the evening on a lingering American note!
P.S. Recipes above have been deliberately put as images to facilitate downloading like any other image from the www. Please feel free to download  and share with fellow whiskey enthusiasts.